*UPDATE* 11/25/22.
The Costco Wine Advent Calendar from Costco is a fun advent calendar for adults. These beautifully designed boxes come with 24 half-bottles of wine from around the world that are curated by Flying Blue. Each bottle is 375ml, which is half the size of regular wine bottles.
The box top is labeled from one through twenty-four and if you want, you can follow along and start with bottle number one on December 1st and then try out bottle number two on December 2nd and so on until you get to your last bottle on Christmas Eve.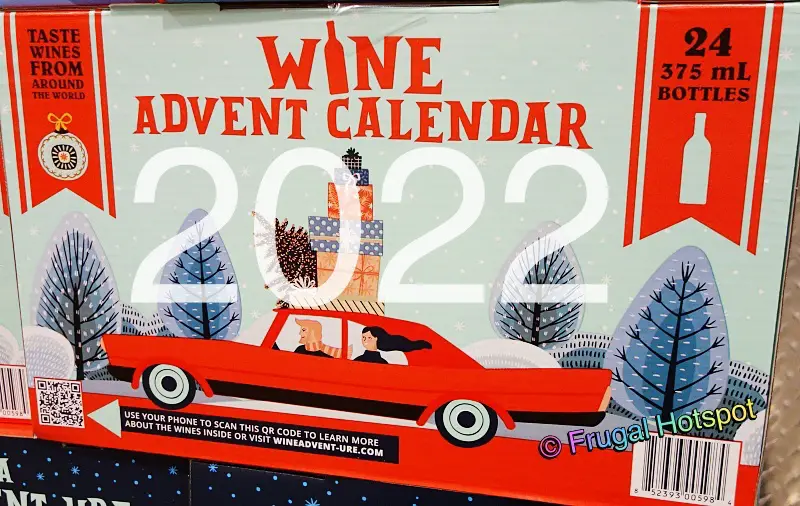 What's the price of the 2022 Costco Wine Advent Calendar?
*UPDATE* 11/25/22.
The 2022 Costco Wine Advent Calendar is on sale at select Costco locations for $79.99, now through November 30, 2022. That is $20 off Costco's regular price of $99.99. While supplies last. Prices, inventory, and sale dates may vary by location and may change at any time without notice.
How to Buy the 2022 Costco Wine Advent Calendar
You'll want to give your local Costco a call to see if they have it in stock. Ask about Costco item #1357643. If you have the Costco app, you can click 'Warehouse' at the bottom, and go from there to find your nearest Costco. When you click on 'See Warehouse Details', you can click on the phone number to call.
---
This product is for adults of legal drinking age.
---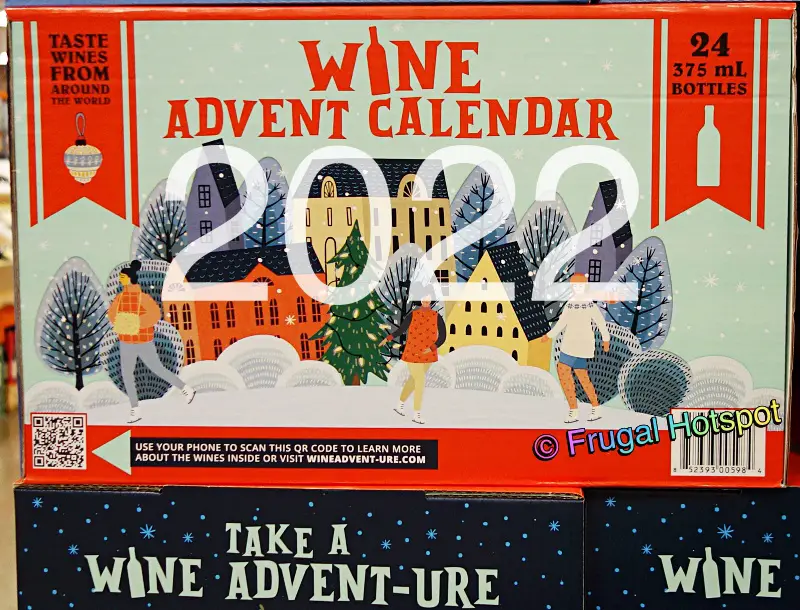 9/7/22.
The 2022 Costco Wine Advent Calendar has made an early appearance this year at some locations! They are expected to be in most Costco stores by the first week of October 2022. These do sell out very quickly so if you're in the market for one of these, pick one up as soon as you find it at your local Costco.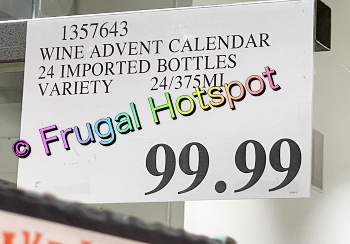 2021 Version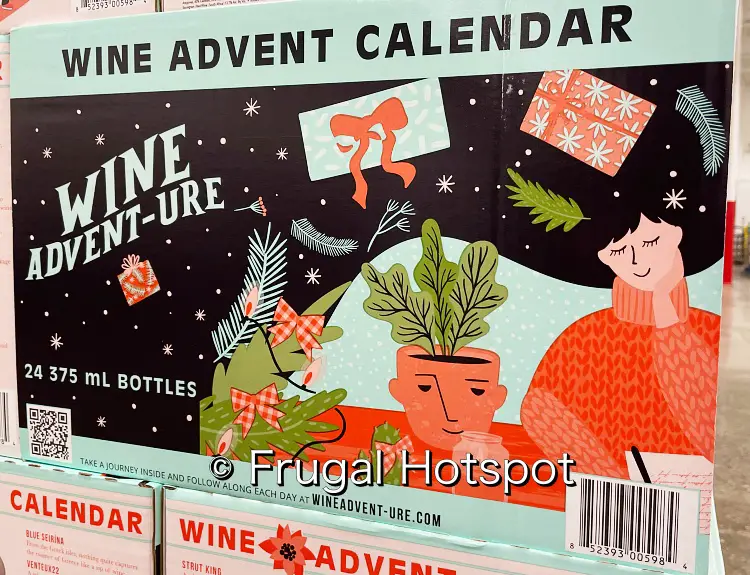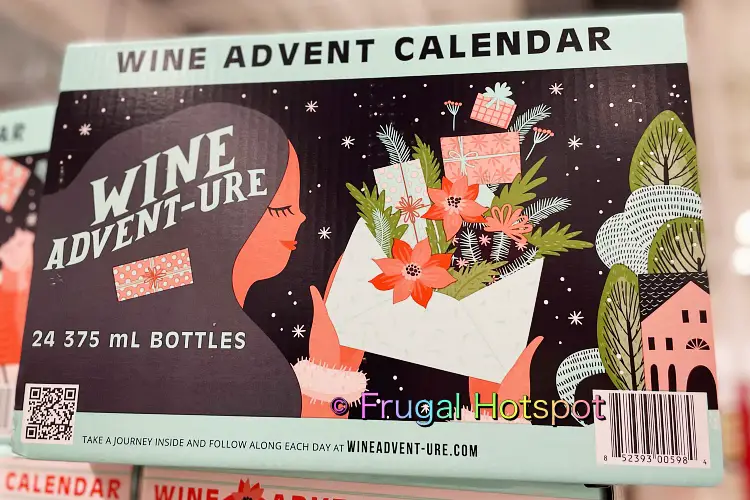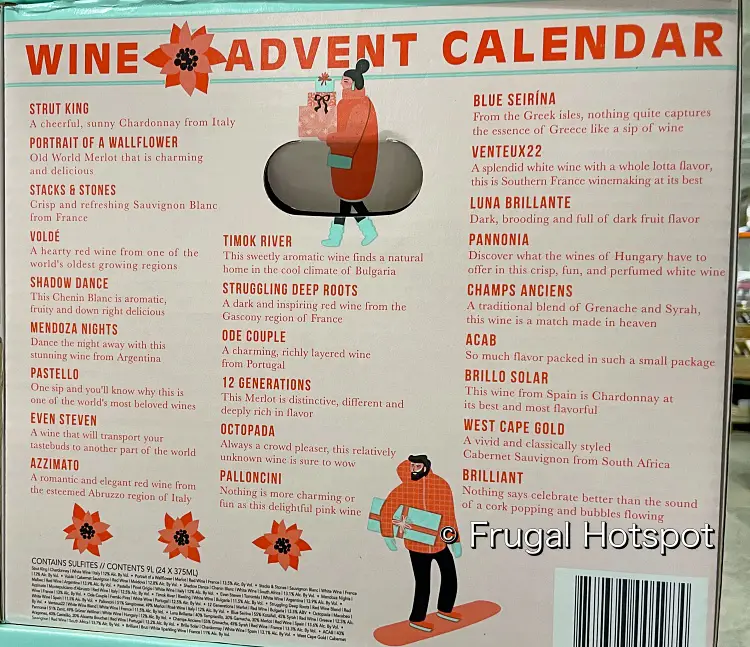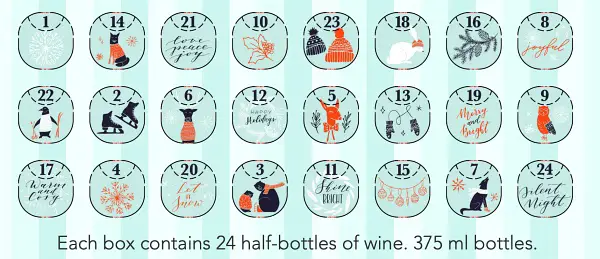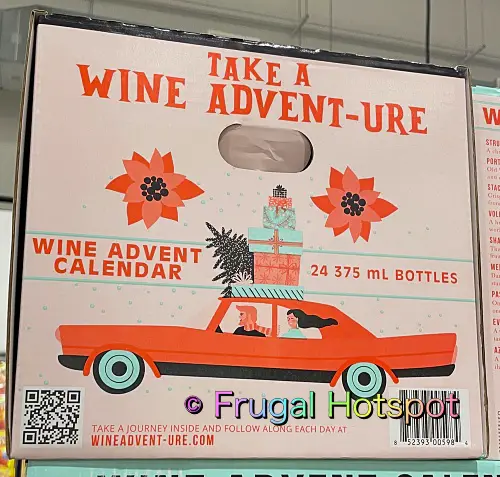 What wines are included in Costco's Wine 2021 Advent Calendar?
Day 1 – Strut King Chardonnay (Italy)
Day 2 – Portrait of a Wallflower Pays d'Oc Merlot (France)
Day 3 – Stacks & Stones Sauvignon Blanc (France)
Day 4 – Voldé Cabernet Sauvignon (Moldova)
Day 5 – Shadow Dance Chenin Blanc (South Africa)
Day 6 – Mendoza Nights Malbec (Argentina)
Day 7 – Pastello Pinot Grigio (Italy)
Day 8 – Even Steven Torrontés (Argentina)
Day 9 – Azzimato Montepulciano d'Abruzzo (Italy)
Day 10 – Timok River Riesling Semi-Sweet (Bulgaria)
Day 11 – Struggling Deep Roots Côtes de Gascogne (France)
Day 12 – Ode Couple Fernão Pires (Portugal)
Day 13 – 12 Generations Merlot (Bulgaria)
Day 14 – Octopada Macabeo (Spain)
Day 15 – Palloncini Rosato (Italy)
Day 16 – Blue Seirína Kotsifli+Syrah (Greece)
Day 17 – Venteux 22 Côtes de Gascogne (France)
Day 18 – Luna Brillante Navarra (Spain)
Day 19 – Pannonia Zenit Grüner Veltliner (Hungary)
Day 20 – Champs Anciens Grenache Syrah (France)
Day 21 – Aragones Castelao Alicante Bouchet Red Blend (Portugal)
Day 22 – Brillo Solar Chardonnay (Spain)
Day 23 – West Cape Gold Cabernet Sauvignon (South Africa)
Day 24 – Brilliant Brut (France)