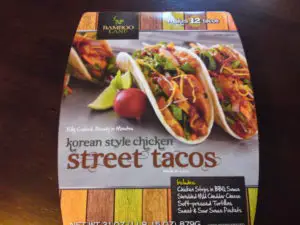 For some of you, this product hit your Costco shelves years ago but this is fairly new here. This is not a particularly budget-friendly item but I like trying new food products.
The kit includes ingredients to make 12 tacos and the prep is simple (heat in the microwave) and quick (a matter of minutes). You get 12 mini flour tortillas, pre-cooked marinated chicken, shredded cheddar cheese and 12 sweet & sour packets.
This makes a quick and convenient lunch but I wish it included some veggies like lettuce or cabbage and the tacos could have used a small kick of spicy sauce like go joo chang or Siracha. I like the idea of this product but I don't know that I would pay this much again for it.
While supplies last. Price and participation may vary so it might not be available at your local Costco.
Thanks for supporting my blog!