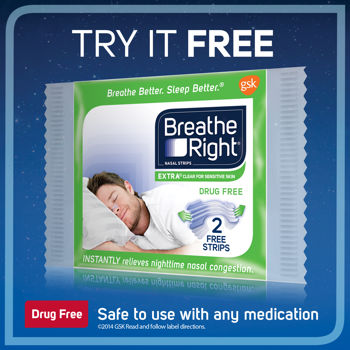 11/7/14.
For a limited time, Costco members can get a FREE sample of the Breathe Right Extra Clear Nasal Strips (2 strips).
Click here for the sample. It will take you to Costco's website. Then click on the blue link that says, 'Get a sample'. Have your Costco membership number available to order the free sample.
While supplies last.
From the manufacturer:
If you suffer from nighttime nasal congestion, Breathe Right nasal strips are a drug-free and clinically proven solution. Breathe Right nasal strips help lift your nasal passages, open your nose, and improve airflow the minute you put them on. Breathe Right nasal strips open airways up to 38% more than cold medicines alone. That's why millions of people around the world use Breathe Right nasal strips to breathe better, sleep better, and feel better. Instantly relieves nasal congestion due to allergies, colds, or deviated septum.
This is just a posting of a deal and not an endorsement or recommendation of any product or company. Please do your own research before ordering.
Thanks for supporting my blog!