*UPDATE* 7/23/23.
The Pop & Load Space Saving Collapsible Laundry Basket from Costco is very easy to use and store. Simply pop it up when you need it and collapse it down when you don't. It uses 70% less space when it's compacted, making it easy to store when you're short on space like in apartments and dorms.
Costco's Price
*UPDATE* 7/23/23.
The Pop & Load Collapsible & Store Space Saving Laundry Basket is available at select Costco locations for $9.99, while supplies last. Prices and inventory may vary by location and may change at any time without notice. To see if your local Costco carries this item, give them a call and ask about Item #187529.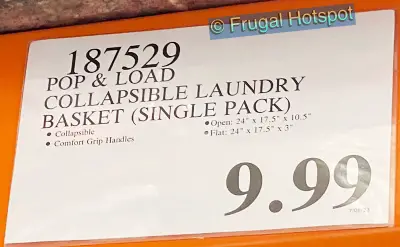 Laundry Basket Features
Holds up to 1.65 bushels of clothing (2.05 cu. ft. / 58 L)
Comfort grip handles
Uses 70% less space than a standard size laundry basket when collapsed
To clean, wipe with a damp cloth.
Choice of color may vary
Dimensions
Opened size – 24″ x 17.2″ x 10.7″ tall  (61 x 43.6 x 27.2 cm)
Collapsed size – 24″ x 17.2″ x 3.2″ tall  (61 x 43.6 x 8.2 cm)
How to Open and Collapse the Basket
TO OPEN
1. Push down on the base of the basket while pulling up one side until it's fully opened.
TO CLOSE
1. Place basket on a flat surface.
2. Grab the handles and push down.
3. After the first fold has been made, grab opposite corners and push down.
4. Grab the other corners and push down until the basket until flat.
Visit frugalhotspot.com to see what's new and to check out deals from Costco. Other options may be available at costco.com for a delivered price. While supplies last.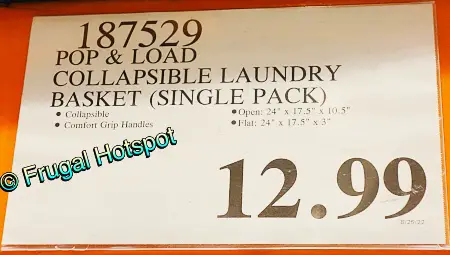 PREVIOUS VERSIONS:
The display model had the beginnings of cracking on the flexible plastic part. So if you buy it, save your receipt, just in case you want to return it to Costco.