10/25/18.
Get ready for some online holiday shopping on costco.com! Most of the items in this coupon booklet are on sale, with the savings starting on Tuesday, October 30, 2018 and running through Sunday, November 25, 2018. Get a head start on your Black Friday shopping. While supplies last.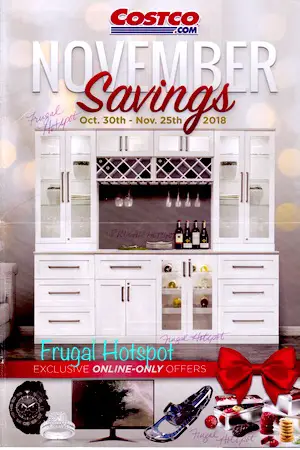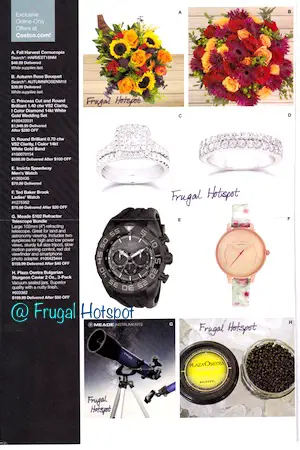 Fall Harvest Cornucopia $49.99
Autumn Rose Bouquet $39.99
Princess Cut and round Brilliant 1.40 ctw VS2 Clarity Diamond White Gold wedding Set $1,949.99
Round Brilliant 0.70 ctw VS2 Clarity White Gold Band $599.99
Invicta Speedway Men's Watch $79.99
Ted Baker Brook Ladies' Watch $79.99
Meade S102 Refractor Telescope $159.99 after $40 off
Plaza Osetra Bulgarian Sturgeon Caviar 2 oz. 3-pk $199.99 after $50 off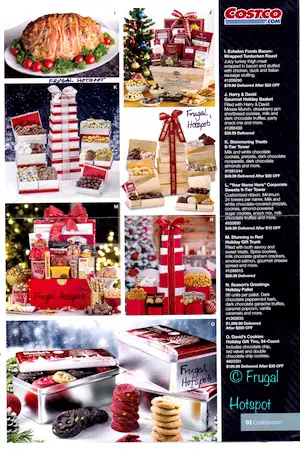 Echelon Foods Bacon-Wrapped Turkducken Roast $79.99 after $20 off
harry & David Gourmet Holiday Basket $39.99
Shimmering Treats 9-Tier Tower $49.99 after $20 off
Corporate Sweets 9-Tier Tower $49.99 after $10 off
Stunning Red Gift Trunk $89.99
Season's Greetings Holiday Pallet of 96 units $1,999.99 after $200 off
David's Cookies Holiday Gift Tins 24-ct $199.99 after $30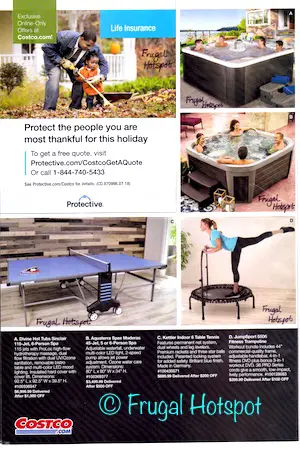 Divine Hot Tubs 6-Person Spa $6,999.99 after $1,000 off
Aquaterra Spas $3,499.99 after $500 off
Ketter Indoor Table Tennis $699.99 after $200 off
JumpSport Fitness Trampoline $399.99 after $100 off
Compiling this list takes a LOT of time and effort so please do not repost this on any other website. Thanks.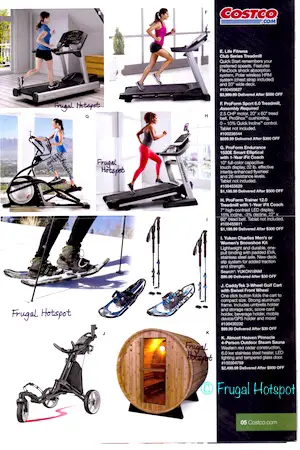 Life Fitness Treadmill $3,999.99 after $500 off
ProForm Sport 6.0 Treadmill $599.99 after $300 off
ProForm Endurance 1520E Smart Elliptical $1,199.99 after $500 off
ProForm Trainer 12.0 Treadmill $1,199.99 after $300 off
Yukon Charlies mens or womens Snowshoe $99.99 after $30 off
J.CaddyTek Golf Cart $99.99 after $30 off
Almost Heaven Pinnacle 4-person Outdoor Steam Sauna $2,499.99 after $500 off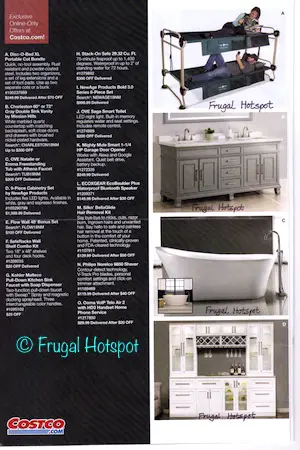 Disc-O-Bed XL Cot $249.99 after $70 off
Charleston Sink -up to $300 off
Ove or Emma Tub -$200 off
NewAge 9-Pc Cabinet Set $1,999.99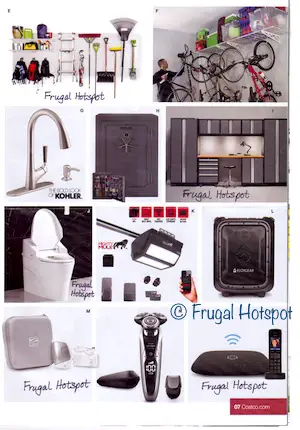 Flow Wall -$100 off
SafeRacks Wall Combo -$20 off
Kohler Malleco Kitchen Sink Faucet -$25 off
Stack-On Safe 29.32 cu ft -$300 off
NewAge Bold 3.0 Series 8-Pc set $999.99
Ove Smart Toilet -$200 off
Might Mule Garage Door Opener $249.99
ExoXGear EcoBoulder Waterproof Speaker $149.99 after $30 off
Silk'n Hair Removal Kit $129.99 after $50 off
Philips Norelco Shaver $119.99 after $40 off
Ooma VoIP $89.99 after $20 off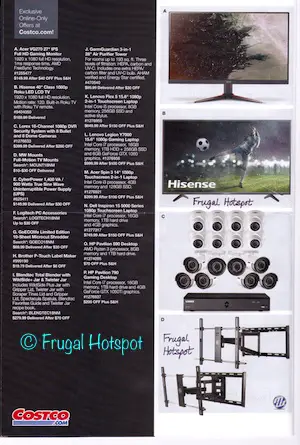 Acer VH270 27″ Gaming Monitor $149.99 after $30 + SH
Hisense 40″ Roku LED LCD TV $189.99
Lorez Security System $399.99 after $200 off
MW TV Mounts -$10 to $30 off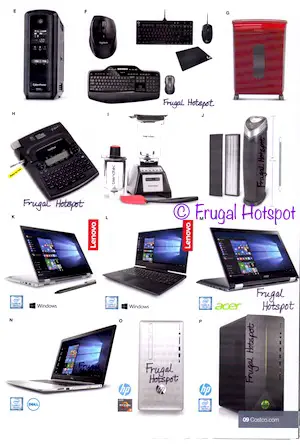 CyberPower Sine Wave Power Supply $149.99 after $30 off
Logitech PC Accessories -up to $30 off
GoECOlife Shredder $69.99 after $30 off
Brother Labelmaker $19.79 after $8 off
Blendtec Blender $279.99 after $70 off
GermGuardian Air Purifier $99.99 after $30 off
lenovo Flex 15.6″ Laptop $649.99 after $150 + SH
Acer 14″ Touchscreen Laptop $399.99 after $100 of + SH
Dell Inspiron 1080p Touchscreen Laptop $749.99 after $150 off + SH
HP Pavilion 590 Desktop -$70 off
HP Pavilion Gaming Desktop -$200 of + SH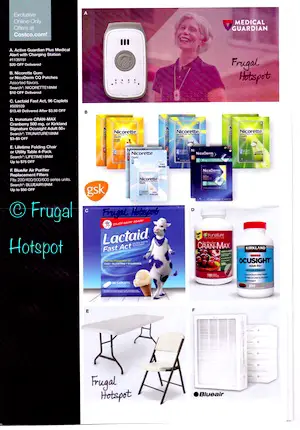 Active Guardian Plus Medical Alert -$20 off
Nicorette Gum or NicoDerm CQ Patches – $10 off
lactaid Fast Act 96-ct $13.49 after $3.50 off
Lifetime Folding Chair or Utility Table 4-Pk -up to $75 off
BlueAir Air Purifier Replacement Filter -up to $50 off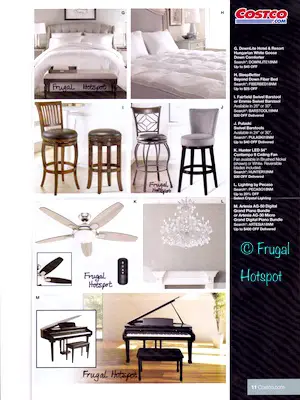 DownLite Comforter -up to $45 off
SleepBetter Down Fiber Bed -up to $25 off
Fairfield or Emmie Swivel Barstool -$20 off
Pulski Swivel Barstool -up to $40 off
Hunter LED 54″ Contempo II Ceiling Fan -$30 off
Lighting by Pecaso -up to 20% off select
Artesia Digital GRand Piano -$400 off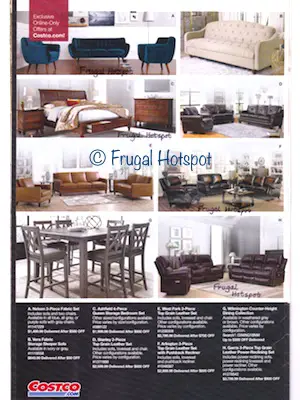 x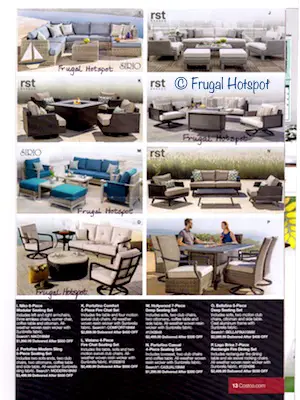 x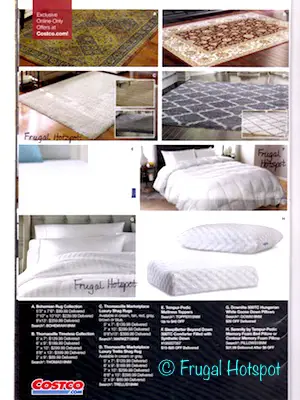 Bohemian Rug Collection
Thomasville Timeless Collection
Thomasville Marketplace Shag Rugs
Thomasville Marketplace Luxury Trellis Shag Rug
Tempur-Pedic Mattress Toppers -up to $40 off
SleepBetter Comforter -$15 to $25 off
Downlite Hungarian White Goose Down Pillow -$20 off
Serenity by Tempur-Pedic memory foam pillow $31.99 after $8 off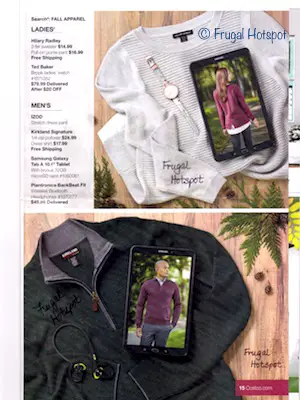 Hilary Radley Sweater $14.99
Hilary Radley Ponte Pant $16.99
Ted Baker Brook Ladies Watch $79.99 after $20 off
Izod Dress Pant
Kirkland Signature 1/4 Zip Pullover $24.99
Kirkland Signature Dress Shirt $17.99
Samsung Galaxy Tab A 10.1″ Tablet
Plantronics Backbeat Fit Wireless headphones$49.99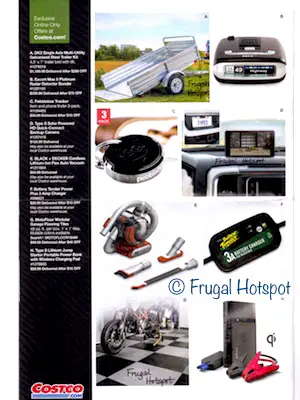 DK2 Trailer Kit $1,199.99 after $200 off
Escort Radar Detector $329.99 after $70 off
Pebblebee Tracker 3-Pk $39.99 after $10 off
Type S Backup Camera $124.99
Black + Decker Cordless Auto Vacuum $59.99
Battery Tender Power Plus 3 Amp Charger $29.99 after $10 off
MotoFloor Modular Garage Flooring Tiles $99.99 after $40 off
Type S Lithium Jump Starter $59.99 after $10 off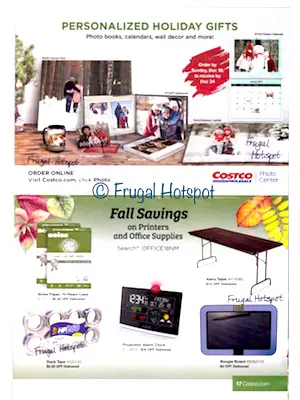 Boise Paper 10-Reams -$2.50 off
Duck Tape -$2.50 off
Projection Alarm Clock -$10 off
Alera Table -$10 off
Boogie Board -$4 off
YMMV. These products were spotted in the Costco.com November Savings Coupon Book for 10/30/18 – 11/25/18. These are not guaranteed to be in stock by the time you shop for it online.
Prices may change at any time without notice.
Products may sell out before the end of the sale date and they might not get restocked.
A lot of products at Costco are seasonal items and when they sell out, they are not restocked.
Photos may not be a perfect representation of the product.
This is just a posting of a deal and not an endorsement or recommendation of any product or of Costco. Please do your own research before making any purchase.
Thanks for supporting my blog!