Costco ORGANIC Coupon Book: February 25, 2019 – March 10, 2019. Prices Listed.
2/24/19.
Ah, my favorite coupon book from Costco! The Costco ORGANIC 2019 Coupon Book runs briefly from Monday, February 25, 2019 through Sunday, March 10, 2019.
These offers are valid only at Alaska, Idaho, Montana, Oregon, Utah and Washington state Costco warehouses.
The list of products is pretty long but there are just 24 organic products on sale. Costco also included 47 Kirkland Signature products, but unfortunately they are not on sale at this time. I get that they want to inform us about their organic brand and their "everyday value" pricing, but a small discount still would have been nice.
You must be a current Costco member to redeem these offers, valid from 2/25/19 – 3/10/19. Offers good while supplies last. No rain checks!!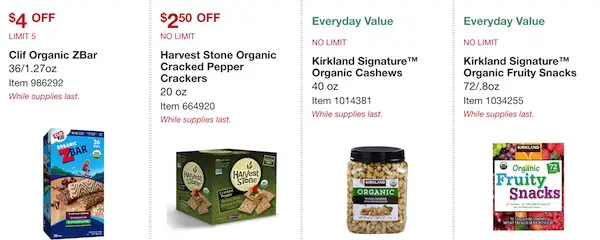 Clif Organic ZBar 36/1.27 oz  $17.49 -$4= $13.49
Harvest Stone Organic Cracked Pepper Crackers 20 oz  $8.89 -$2.50= $6.39
Kirkland Signature Organic Cashews 40 oz  $19.99
Kirkland Signature Organic Fruity Snacks 72/ 0.8 oz  $14.59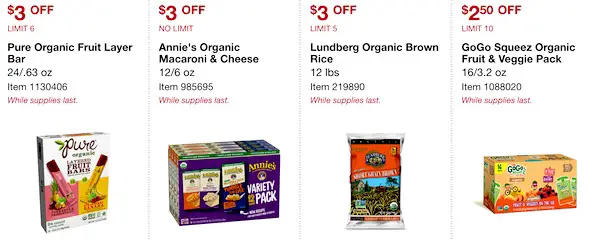 Pure Organic Fruit Layer Bar 24/0.63 oz  $10.99 -$3= $7.99
Annie's Organic Macaroni & Cheese 12/6 oz  $12.99 -$3= $9.99
Lundberg Organic Brown Rice 12 lbs  $11.99 -$3= $8.99
GoGo Squeez Organic Fruit & Veggie Pack 16/3.2 oz  $9.99 -$2.50= $7.49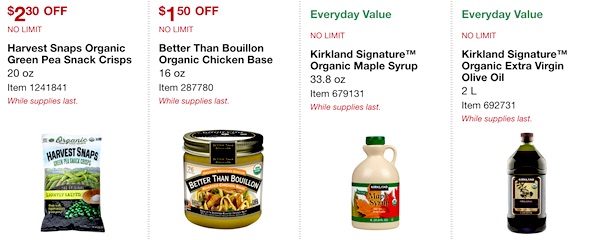 Harvest Snaps Organic Green Pea Snack Crisps 20 oz  $7.49 -$2.30= $5.19
Better Than Bouillon Organic Chicken Base 16 oz  $5.99 -$1.50= $4.49
Kirkland Signature Organic Maple Syrup 33.8 oz  $11.59
Kirkland Signature Organic Extra Virgin Olive Oil 2L  $14.99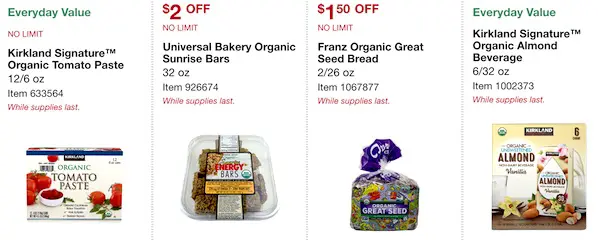 Kirkland Signature Organic Tomato Paste 12/6 oz  $5.99
Universal Bakery Organic Sunrise Bars 32 oz  $9.99 -$2= $7.99
Franz Organic Great Seed Bread 2/26 oz  $6.89 -$1.50= $5.39
Kirkland Signature Organic Unsweetened Vanilla Almond Beverage 6/32 oz  $7.99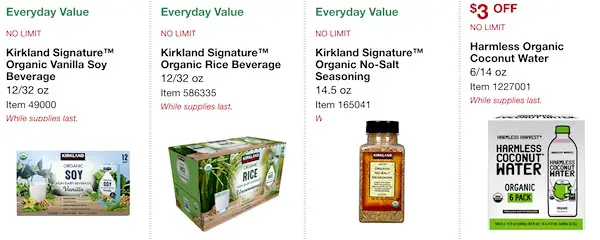 Kirkland Signature Organic Vanilla Soy Beverage 12/32 oz  $12.59
Kirkland Signature Organic Rice Beverage 12/32 oz
Kirkland Signature Organic No-Salt Seasoning 14.5 oz  $7.99
Harmless Organic Refrigerated Coconut Water 6/14 oz  $12.99 – $3= $9.99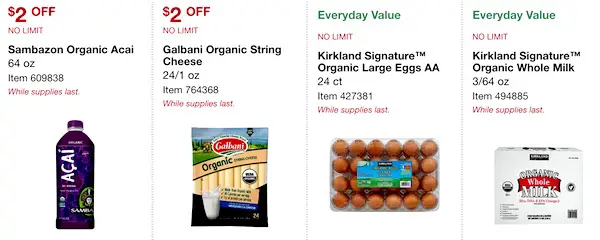 Sambazon Organic Açai Juice 64 oz  $7.99 -$2= $5.99
Galbani Organic String Cheese 24/1 oz  $7.99 -$2= $5.99
Kirkland Signature Organic Large Eggs 24 ct  $6.39
Kirkland Signature Organic Whole Milk 3/64 oz  $11.69

Kirkland Signature Organic Salted Butter 2/1 lb  $9.99
Kirkland Signature Organic 1% Milk 3/64 oz  $10.59
Kirkland Signature Organic Hard Boiled Medium Eggs  16/2 ct  $9.39
Organic Edamame 12/9 oz  $13.99 -$4= $9.99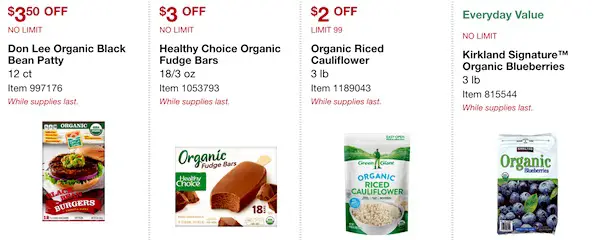 Don Lee Organic Black Bean Patty 12 ct  $13.99 -$3.50= $10.49
Healthy Choice Organic Fudge Bars 18/3 oz  $10.99 -$3= $7.99
Green Giant Organic Riced Cauliflower 3 lbs  $7.99 -$2= $5.99
Kirkland Signature Organic Frozen Blueberries 3 lbs  $8.39

Wholly Organic Guacamole 3/16 oz  $13.99 -$5= $8.99
True Story Organic Uncured Applewood Smoked Sliced Ham 20 oz  $14.89 -$3.90= $10.99
Eatwise Organic Spinach Basil Parmesan Dip 24 oz  $9.99 -$2.50 =$7.49