Costco Coupon Book: March 13, 2019 – April 7, 2019. Prices Listed.
3/13/19.
This Member's Only Savings Book from Costco runs from Wednesday, March 13, 2019 through Sunday, April 7, 2019. I'm excited about some of these deals like Birch Benders Paleo pancake mix, Noosa yogurt, Kirkland Signature jelly beans, Dawn Apple Blossom dish soap (finally a new scent!), and Alba Botanica Hawaiian sunscreen.
If you plan on purchasing the RoC Retinol Correxion Deep Wrinkle Daily Moisturizer or Night Cream, check to see if your local Costco offers the bonus package with the 28-count Daily Resurfacing Disks.

The prices listed are from the Covington, Washington Costco. Your prices may vary.
I have individual posts on some items; just click on the purple 'more info' to take you to the individual post that has photos and descriptions of the product.
FOOD
barkTHINS Dark Chocolate Almond w/Sea Salt  $9.79 -$3= $6.79
Bertolli Organic Pasta Sauce 4/24 oz  $8.99 -$3= $5.99
Best Foods Mayo 64 oz  $6.99 -$2= $4.99
Bibigo Chicken Cilantro Mini Wontons 3 lbs  $9.49 -$3.50= $5.99
Birch Benders Paleo Pancake Waffle Mix 42 oz  $11.69 -$3= $8.69
Cheerios 40.7 oz  $6.39 -$2= $4.39
Cheez-It Crackers 2/24 oz  $7.99 -$2.40= $5.59
Chobani Greek Yogurt 20/5.3 oz  $13.99 -$3.80= $10.19
Cliff Bar 24 ct  $19.89 – $5.70= $14.19
Columbus Italian Dry Sliced Salame 2/16 oz  $13.79 -$3.90= $9.89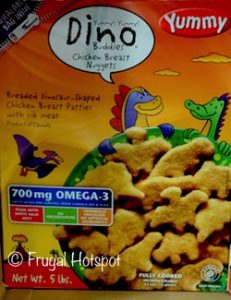 Dino Buddies Chicken Nuggets 5 lbs  $11.89 -$3.60 = $8.29
Doritos 30 oz  $4.99 -$1.20= $3.79
Harry's Beef Stroganoff with Noodles 2/22 oz  $14.89 -$4.50= $10.39
Hillshire Farm Lunch meat 3/1lb  $11.79 -$4= $7.79
Hormel SPAM 8/12 oz  $18.59 – $4= $14.59
Innofoods Organic Coconut Clusters 18oz  $7.99 -$2.60= $5.39
Kellogg's Raisin Bran 2/38.25 oz  $8.49 -$2.60= $5.89
Kellogg's Rice Krispies Treats 60 ct $11.49 – $3.50= $7.99
Kirkland Signature Jelly Belly 4 lbs $13.99 -$4= $9.99
Kirkland Signature Panko Shrimp $17.99- $4= $13.99
Nabisco Ritz Crackers 61.65 oz  $8.89 -$2.70= $6.19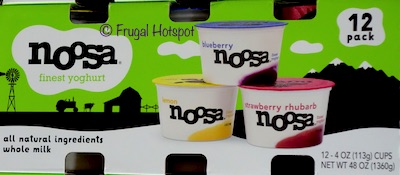 Noosa Yogurt 12/4 oz  $8.79 – $2.60= $6.19
Pillsbury Crescent Rolls 5/8 oz  $7.89 -$3.40= $4.49
Pirate's Booty Aged White Cheddar Rice & Corn Puffs 18 oz  $5.89 -$2= $3.89
Popcornopolis Organic Kettle Corn 24 oz  $7.49 -$2.70= $4.79
Quaker Chewy Bar 60 ct  $8.89 -$3.20 = $5.69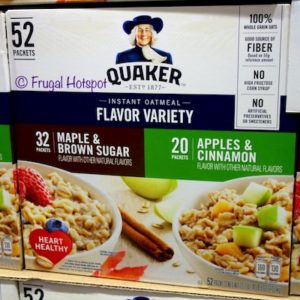 Quaker Instant Oatmeal 52 ct  $9.79 -$3.40 = $6.39
Sanders Chocolate Sea Salt Caramels 36 oz  $9.49 -$2.70= $6.79
Season Skinless Boneless Sardines 6/4.375 oz $9.99 -$3= $6.99
Tasty Bite Madras Lentils 8/10 oz  $11.99 -$4= $7.99
Trident Fish Sticks 4 lbs  $11.99 -$4= $7.99
Utz Pub Mix 44 oz  $7.29 -$2= $5.29
Yasso Mint Chocolate Chip Frozen Greek Yogurt Bars 15 ct $10.99 -$3.30= $7.69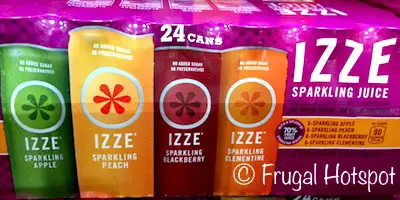 BEVERAGES
Arrowhead Water 40/16.9 oz  $5.59 -$1.50= $4.09
Dunkin' Donuts Original Blend Coffee 45 oz  $17.99 -$3.80= $14.19
Glaceau Vitaminwater Zero 20/20 oz $15.99 -$4= $11.99
IZZE Sparkling Juice 24/8.4 oz  $14.79 -$4= $10.79
Keurig Brewed Green mt. K-Cup Pods 100 ct  $42.99 – $5= $37.99
Monster Energy Drink 24/16 oz  $34.99 – $7= $27.99
S.Pellegrino Sparkling Mineral Water 24/0.5L plastic bottles $17.99 -$4.50= $13.49
Starbucks Mocha Frappuccino 15/9.5 oz  $17.79 -$4= $13.79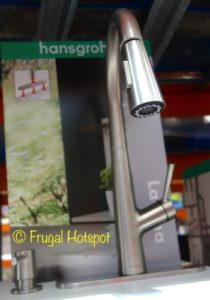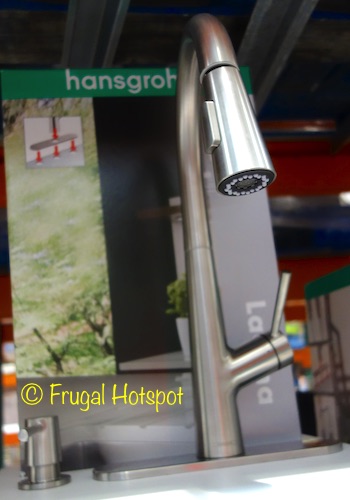 KITCHEN
Hansgrohe Lacuna Pull Down Kitchen Faucet  more info $149.99
Hefty ElegantWare White Plates 50- ct  $14.49 -$4.50= $9.99
Reynolds Wrap Aluminum Foil Standard 2/12″ x 250 sq ft rolls  $18.79 -$5= $13.79
Reynolds Wrap Aluminum Foil Heavy-Duty 2/18″ x 150 sq ft rolls $15.99 -$5= $10.99