Costco Business Center Coupon Book: APRIL 29, 2019 – MAY 25, 2019. Prices Listed.
5/7/19.
If you live near a Costco Business Center, then check out these deals offered from Monday, April 29, 2019 through Saturday, May 25, 2019. Costco Business Center is open to all Costco members. Some items may have purchase limits.
This is for the Business Center, NOT the regular Costco warehouse.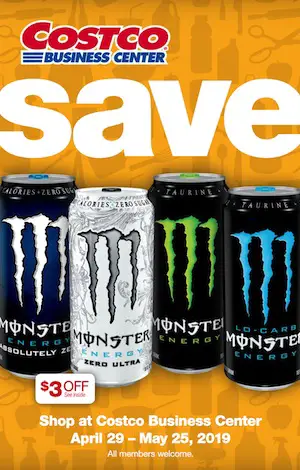 Visit costcobusinessdelivery.com to see the coupon book.
SNACKS
Frito-Lay Variety Chips 30 ct $13.59 -$3.90= $9.69
(Includes 8 Doritos, 7 Lay's Classic Potato Chips, 5 Cheetos Crunchy, 5 Fritos Corn Chips, 3 Lay's KC Masterpiece BBQ Chips, 2 Doritos Cool Ranch)
Jack Link's Beef Jerky 9 ct / 1.25 oz $15.99 -$3= $12.99
(Includes 5 Original and 4 Teriyaki)
Jack Link's Big Beef Sticks 20 ct / 0.92 oz $11.99 -$2.50= $9.49
Keebler Bite Size Cookies with M&M's 30 ct / 1.6 oz $9.39 -$2= $7.39
Kellogg's Pop-Tarts 36 ct / 3.52 oz $6.99 -$1.75= $5.24
Kellogg's Rice Krispies Treats 25 ct /1.3 oz $8.49 -$1.70= $6.79
Kind Bars 20 ct / 1.4 oz $19.59 -$5= $14.59
(Includes 10 Salted Caramel & Dark Chocolate Almond and 10 Dark Chocolate Almond & Sea Salt)
Lorna Doone Shortbread Cookies 30 ct / 1.5 oz $7.99 -$2.25= $5.74
Nature Valley Peanut Butter Dark Chocolate Protein Chewy Bars 30 ct / 1.42 oz $13.69 -$4.10= $9.59
Nutella Hazelnut Cocoa Spread 6.6 lbs $17.99 -$4= $13.99
Oreo Cookies 10 ct / 5.25 oz $8.49 -$2.50= $5.99
Pepperidge Farm Milano Cookies Dark Chocolate 30 ct / 0.75 oz $8.99 -$1.80= $7.19
Planters Nut 24 ct $9.99 -$2= $7.99
(Includes 6 Salted Cashews, 12 Salted Peanuts, 6 Honey Roasted Peanuts)
Popchips Variety 30 ct / 0.8 oz $12.39 -$2.50= $9.89
(Includes 12 Tangy Barbeque, 12 Cheddar & Sour Cream, 6 Perfectly Salted)
Pringles Original OR Sour Cream 14 ct $19.99 -$4= $15.99
Snyder's of Hanover Mini Pretzels 60 ct / 0.9 oz $9.69 -$2= $7.69
Tree Top Fruit Flavored Snacks 80 ct / 0.9 oz $9.89 -$2.20= $7.69
Wonderful In-Shell Roasted Salted Pistachios 24 ct / 1.5 oz $13.99 -$3= $10.99
CANDY/GUM
Airheads Variety 90 ct / 0.55 oz $10.49 -$2= $8.49
Extra Gum 12 ct / 15 sticks $7.39 -$2= $5.39
Jolly Rancher Hard Candy Variety 5 lbs $9.69 -$2= $7.69
PayDay Peanut Caramel Bars 24 ct / 1.85 oz $14.99 -$3= $11.99
Sour Patch 24 ct / 2 oz $14.99 -$4= $10.99
(Choose from Original, Watermelon, or Tropical)
Sour Punch Twists Variety 195 ct $10.99 -$2.50= $8.49
Swedish Fish 24 ct / 2 oz $14.99 -$4= $10.99
York Peppermint Patties 175 ct $12.99 -$3= $9.99
FOOD
Ball Park Beef Franks 4 ct / 15 oz $10.99 -$3= $7.99
Dannon Activia Yogurt 24 ct / 4 oz $9.99 -$4= $5.99
Delimex Beef Taquitos 66 ct $9.99 -$3= $6.99
Don Miguel Chicken & Cheese 12 ct / 7 oz $15.49 -$3.50= $11.99
Don Miguel Egg,  Sausage & Cheese 12 ct / 7 oz $15.99 -$3.50= $12.49
Don Miguel Shredded Beef & Cheese 12 ct / 7 oz $15.99 -$3.50= $12.49
Foster Farms Breaded Chicken patties 5 lbs $13.79 -$3.50= $10.29
Hillshire Farm Lunchmeat 3 ct $11.79 -$4= $7.79
(Includes 1 lb each: Oven Roasted Turkey Breast, Honey Ham, Smoked Turkey Breast)
Knorr Beef Bouillon 4.4 lbs $11.99 -$2.50= $9.49
Knorr Chicken Bouillon 7.9 lbs $13.89 -$2.90= $10.99
Knorr Tomato Bouillon 4.4 lbs $9.89 -$2.50= $7.39
Local Hive Honey Raw unfiltered 80 oz $18.99 -$4= $14.99
Nestle Ice Cream Drumsticks 16 ct $9.99 -$2.50= $7.49
Poppers Cream Cheese Jalapenos 52 oz $9.79 -$3.50= $6.29
Posada Shredded Steak & Cheese Chimichangas 18 ct / 5 oz $14.49 -$3.50= $10.99
Posada Shredded Steak & Cheese Burritos 18 ct / 5 oz $14.59 -$3.50= $11.09
Quaker Life Cereal 62 oz $6.99 -$2.80= $4.19
Skippy Peanut butter 2 ct / 48 oz $9.49 -$2.50= $6.99
Stevia in the Raw Zero Calorie Sweetener 800 ct $14.99 -$3= $11.99
Sugar in the Raw Turbinado Cane Sugar 6 lbs $7.49 -$2= $5.49
Yoplait Go-Gurt Variety 32 ct / 2.25 oz $7.89 -$3.20= $4.69