*UPDATE* 8/23/19.
Good news! I wanted to let you know that the Koda Motion-Activated Light with Camera is on sale for $129.99 for a limited time from August 29, 2019 through September 23, 2019 at costco.com. Be sure to check it out!
5/31/19.
Keep an eye on your home from anywhere, anytime with the new Koda Motion-Activated Light with Camera, now available exclusively at costco.com! And, you don't need a Costco membership to purchase it online!
What's special about the Koda LightCam is the UltraSense technology that uses two types of sensors to double verify the movement is actually a living being and not just leaves blowing around. Most traditional motion-triggered security cameras have just one type of sensor which can lead to more false alarms.
Plus, with the Koda app you can activate the lights, sound the alarm, talk and listen to visitors or just check in on your home.
You can purchase the Koda Motion-Activated Light with Camera for $149.99 at costco.com and shipping & handling is included! It is not available at this time in Costco stores, only online.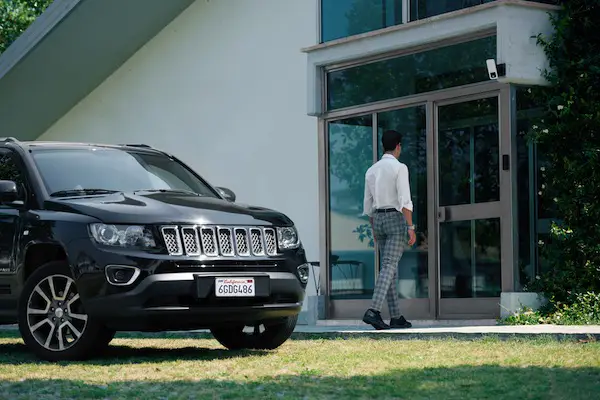 Find peace of mind knowing you can monitor, control, and view the live feed of your home from your Smartphone day or night. You can also use the home monitoring camera as a two-way talk to communicate with any visitor on your property.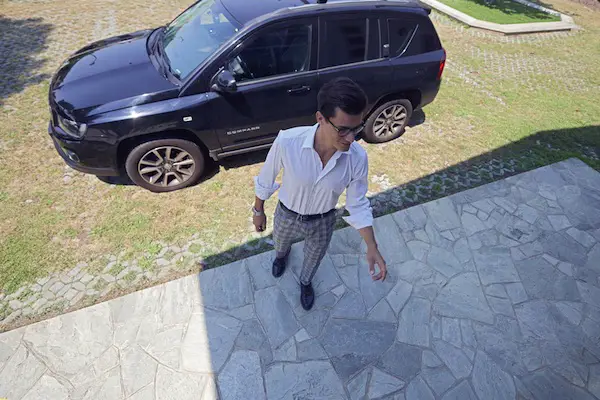 Highlights
1080p Full HD
Floodlight
Night vision
Siren
2-Way voice chat
App-enabled
Weatherproof
Flexible power options
UltraSense 2-step motion detection
Prevent False Alarms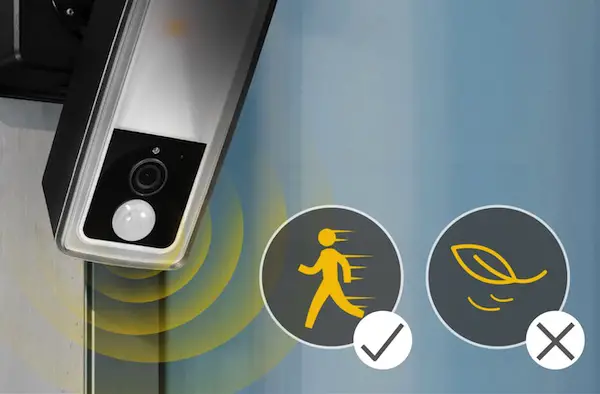 Koda LightCam's UltraSense technology utilizes two types of sensors (PIR and Microwave) for superior motion analysis to double verify the movement is actually a living being, not false alarms like leaves blowing in the yard or light changes and shadows.
By intelligently identifying the object and movement, UltraSense uses advanced algorithms to pick out the activity you care about and send notifications to your phone via 2.4GHz WiFi network. This is how Koda LightCam distinguishes itself from traditional motion-triggered security cameras that use just one sensor (PIR) which can be falsely triggered by unimportant events.
Recording Time Comparison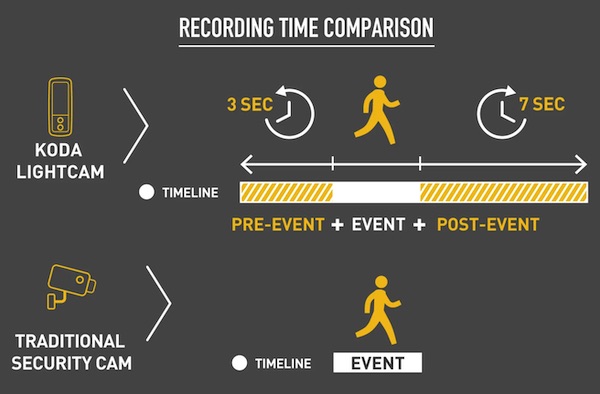 Most home security cameras are triggered and start recording from the moment it detects movement, but the Koda LightCam 1080p camera starts recording seconds before AND after motion is detected so you can get a good glimpse of unwanted visitors approaching and leaving. You'll see 3 seconds of pre-event, the event AND 7 seconds of post-event recording so you're not just seeing someone's back as they are leaving like with other home security cameras.
To review these automatically saved, motion-triggered videos, Koda offers a cloud subscription plan called "Koda Vault". Enjoy a 30-day free trial of Koda Vault subscription plan with your purchase at costco.com!
Even without subscribing, you'll still receive alerts on your phone, tablet and PC when motion is detected so you can see crisp videos in real-time with 1080p HD and night vision. And you have the option to manually record live videos and snapshots directly to your smartphone, peer-to-peer connection for live stream video etc.
Night Time Recording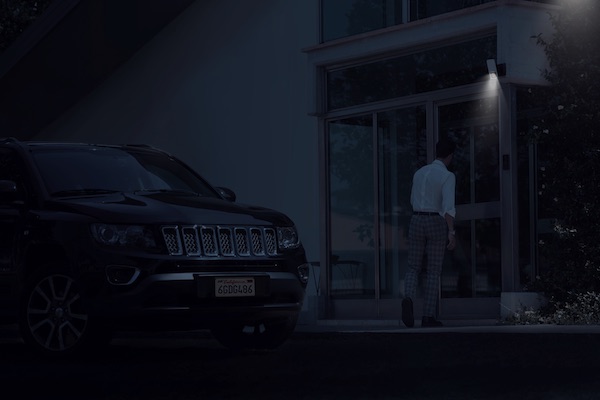 The smart motion sensor simultaneously triggers an ultra-bright 1300 Lumens LED light, begins recording video (with the Koda Vault subscription plan), and sends you an alert so you can see what's happening. You can use the Koda app to activate the siren feature to alert neighbors and unwanted trespassers with a 90 decibel siren and a flashing red status light.
Installation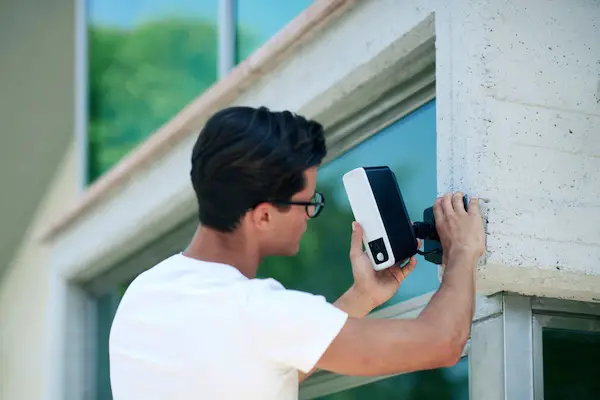 To set up your weatherproof Koda LightCam, you can replace an existing outdoor light and use the hardwire connection or you can plug it into an outdoor outlet.
Be sure to check out the Koda Motion-Activated Light with Camera available at costco.com. Costco backs every product they sell, so you can shop with confidence.
What's Included:
(1) Motion-Activated Light with Camera
(1) Wall Mounting Plate
(1) Phillips Screwdriver
(1) S-Hook
(2) Mounting Screws
(2) Drywall Anchors
(2) Junction Box Screws
(1) Power Box Screw (Spare)
(1) Rubber Cover (Spare)
(1) Waterproof Cap
(1) Instruction Manual
(1) Quick Installation Guide
Koda Vault Subscription Plan:
Get the most out of your Koda LightCam with cloud service. If you want to playback, download, or share previously captured footage, the Koda Vault subscription is the best option. Enjoy a 30-day free trial of Koda Vault subscription plan with your purchase! After your free trial ends, you have the option to subscribe for just $4 a month for the rolling 30-day video storage plan to access event clips saved to the cloud.
Vist kodabuilt.com for more on the Koda LightCam and other great products they offer.
Requirements (not included):
• Smartphone running on iOS 9 or newer, or Android 5.0 or newer.
• Wi-Fi connections with minimum 2 mbps upload and download speeds running on 802.11 b/g/n at 2.4GHz.
• Motion-triggered Cloud recording requires a subscription plan.
• Power hammer drill and ¼ in (6.3 mm) masonry drill bit.
SPECS:
LED Color Temperature: 4000K (natural white)
Flood Light Lumens: 1300 lm
LED Life Hours: Up to 50,000 hours
Video Resolution: 1080p full HD
Field-of-View: 106-degree
IR Night Vision: up to 9.8ft (3m)
Audio: Two-way audio with noise cancellation
Connectivity: 802.11b/g/n @ 2.4 GHz with minimum 2 Mpbs upload and download speeds
Operating Voltage: 120Vac (plug-in) or 120-240Vac (hardwired)
Wattage: 20W (max)
Security: HTTPS connection for device-to-cloud and cloud-to-cloud, and 128-bit AES encryption for device-to-device data transfer
Operating Temperature: -4°F up to +104°F (-20°C up to +40°C)
Outdoor Rating: IP65 (weather resistant)
Product Dimensions (DWH): 4.8 x 7.59 x 7.91 in. (122 x 193 x 201 mm)
This is just a posting of a deal and not an endorsement or recommendation of any product or of Costco. Please do your own research before making any purchase.
Thanks for supporting my blog!