This is my account of the impact of the Coronavirus (COVID-19) at Costco in Covington, Washington. This city is located in King County, where the first deaths from the Coronavirus happened in the United States. It's shaken our community. As schools, restaurants and stores temporarily close to stop community spread, some people are panic buying and some people are just trying to buy the basics. At many Costco locations, people are waiting in line for hours before the store even opens, hoping to get some toilet paper, bottled water, cleaning supplies and food.
I'll update this post periodically. Newest updates will appear towards the top of the post.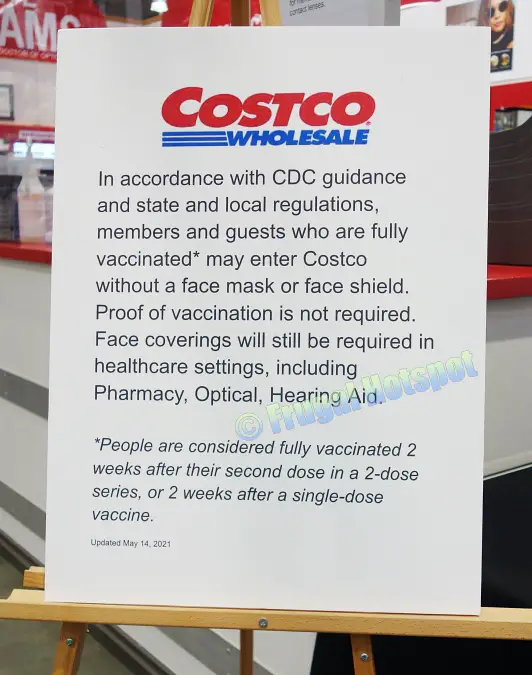 5/14/21.
Wow, it's been awhile since I've done an update. So here we are, one year later, and face masks are now no longer required at Costco if you've been fully vaccinated and if your state and local regulations allow it. This change is in accordance with the latest CDC guidance. People are considered fully vaccinated 2 weeks after their second dose in a 2-dose series, or 2 weeks after a single-dose vaccine. Proof of covid vaccination is not required. BUT face coverings will still be required in healthcare settings, including Pharmacy, Optical, and Hearing Aid.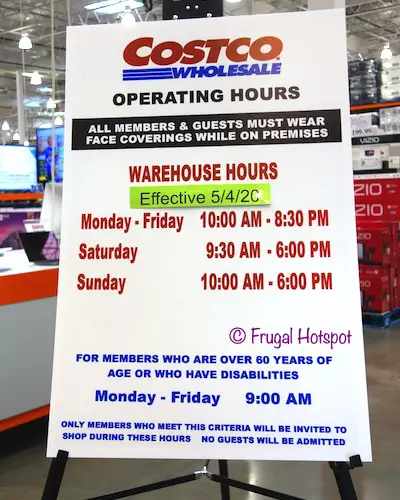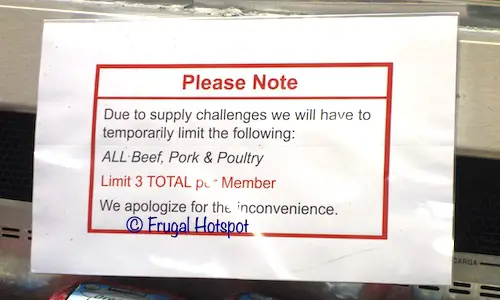 5/4/20.
Costco employees have been wearing masks for awhile and now Costco has mandated that all Costco members and guests will have to wear a mask or face covering to shop at Costco.
Due to supply challenges, Costco will limit all beef, pork, and poultry purchases to 3 total per member.
The Covington, Washington Costco was out of fresh chicken, some types of frozen chicken, eggs, pork, choice steak (just prime cuts were available), toilet paper (still?), disinfecting wipes, some vegetables and fruits.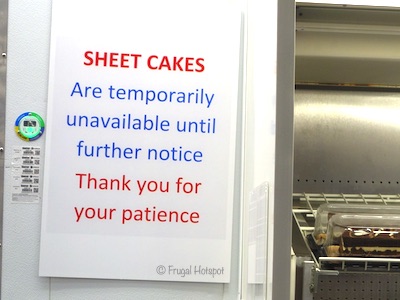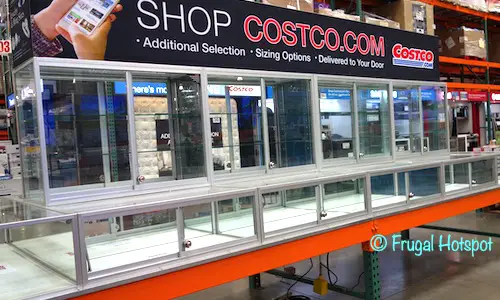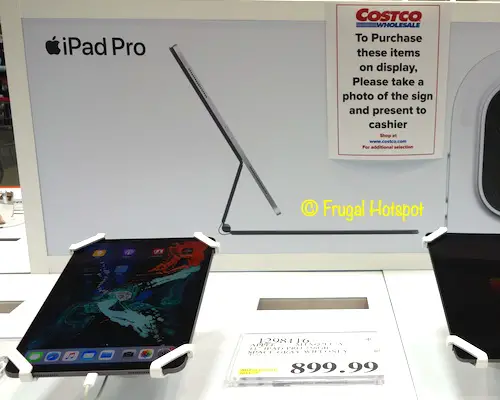 4/20/20.
Costco sheet cakes are no longer available! Thank goodness, this is just temporary. So, no special ordering a sheet cake and no more grab-n-go sheet cakes either.
The jewelry counter no longer has jewelry on display. It was always nice to see something sparkly at Costco. But,
To purchase some electronics that are locked up near the cash registers, you now take a picture of the product that you want to buy. No more papers to fill out or cardboard ads to bring to the register. This sounds like an easier process and no more trying to find a pen to fill out the paper order form.
I don't have a photo of it at this time, but more plexiglass sneeze guards have been installed at the registers to cover the entire length of the conveyor belt. Quite a few registers have also been removed to allow for more social distancing between registers.

4/8/20.
Costco is temporarily allowing priority access for Costco members who are healthcare workers and first responders such as police officers, EMTs and firefighters. Healthcare workers and first responders who present a Costco membership card and official identification of their role, will be allowed to move to the front of any line to enter the warehouse.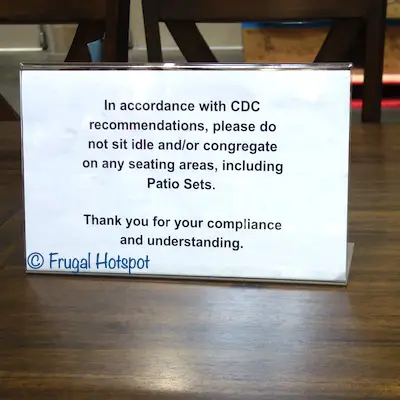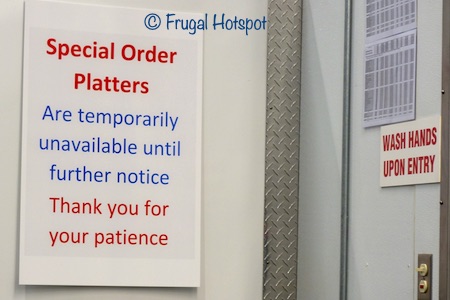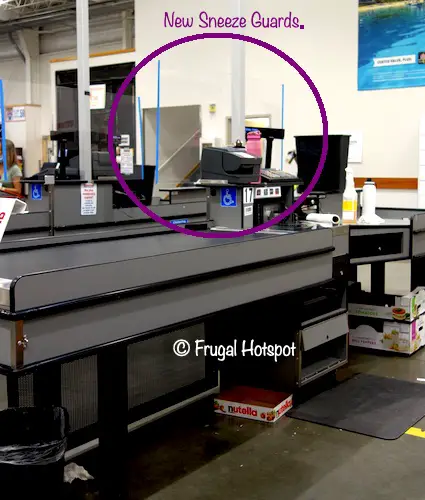 4/7/20.
No more sitting on the furniture at Costco. In accordance with CDC recommendations, they do no want Costco customers to sit idle and/or congregate on any seating areas, including patio furniture sets.
Also, special order platters are temporarily unavailable until further notice!
Costco has installed new plexiglass sneeze guards at registers like at checkout, customer service, photo department, etc.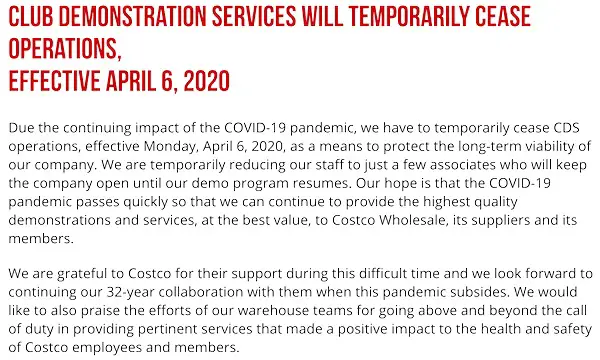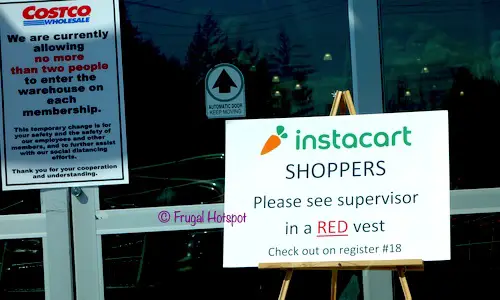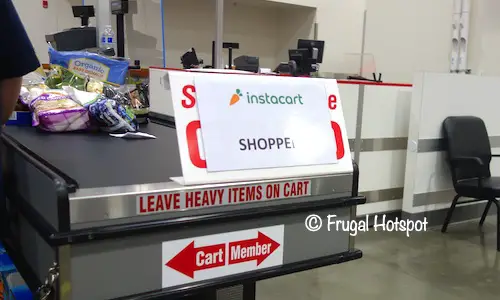 4/6/20.
Costco no longer needs CDS workers (food demonstrators) to fill in as extra cleaning staff so CDS is permanently laying off these workers. CDS states that as soon as they are able to resume operations, then these food demonstrators may reapply for their former position. Such sad news for a store that seems perpetually busy.
Instacart shoppers now have a dedicated register at the Covington, WA Costco.
Costco is still struggling with getting and/or keeping certain items in stock. The 'Out of Stock' sign today lists the following products: toilet paper, paper towels, rubbing alcohol, hand sanitizer, baby wipes, flushable wipes, Lysol spray, bleach, disinfecting wipes, rice, spam, gloves, raspberries and strawberries.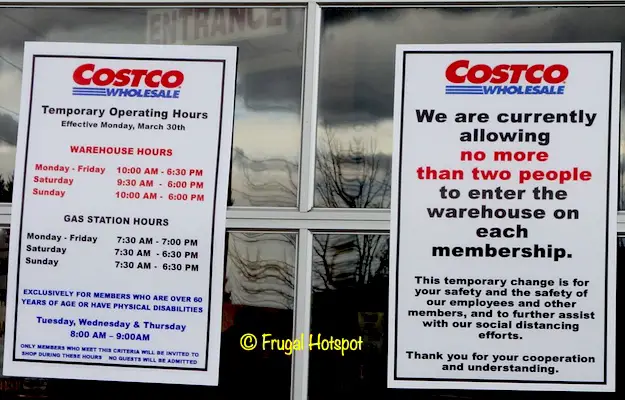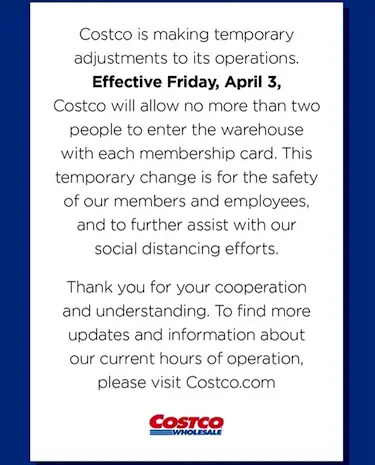 4/2/20.
Costco's Updated Guest Shopping Policy:
Effective Friday, April 3, Costco will allow no more than two people to enter the warehouse with each membership card. This temporary change is for the safety of Costco members and employees, and to further assist with social distancing efforts.

3/28/20.
Starting Monday, March 30, 2020, U.S. Costco locations will temporarily implement new weekday closing hours. Costco will close at 6:30 p.m., Monday through Friday. Gas stations will close at 7 p.m.
This temporary change will not affect weekend hours.
Statement from Costco's Facebook page:
"In an ongoing effort to take care of our members and our employees, and manage our business as efficiently as possible to serve our communities, Costco is making temporary adjustments to its operations as the situation continues to evolve. Earlier closing hours will allow more time for warehouses to be cleaned and sanitized, and for inventory to be replenished. In addition, this will allow our employees, who've worked tirelessly throughout this crisis, the much-needed time to rest and recharge."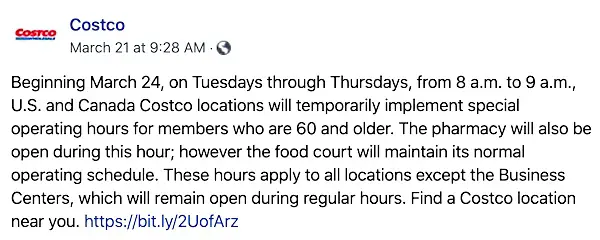 3/21/20.
Costco posted on their Facebook page that beginning March 24, 2020, on Tuesdays, Wednesdays, and Thursdays, from 8 a.m. to 9 a.m., Costco will have special shopping hours for seniors 60 and older or those with physical disabilities. The pharmacy will be open during that time but the food court will be closed. This applies to all U.S. and Canada warehouses, except Business Centers. Costco membership is required. Guests will not be admitted.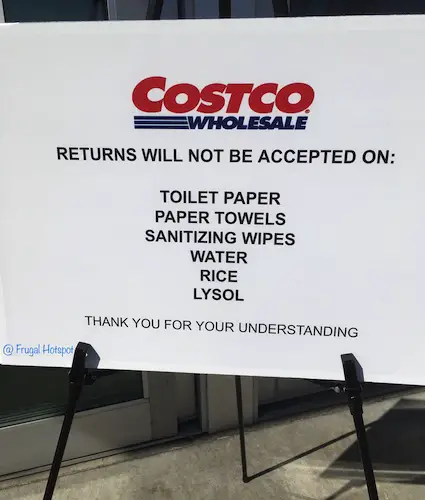 3/20/20.
I didn't shop at Costco today but just drove by on my way to the post office and saw the sign above posted outside the entrance. It looks like Costco will no longer accept returns on toilet paper, paper towels, sanitizing wipes, water, rice and Lysol. Did people seriously hoard all these items and are now trying to return them?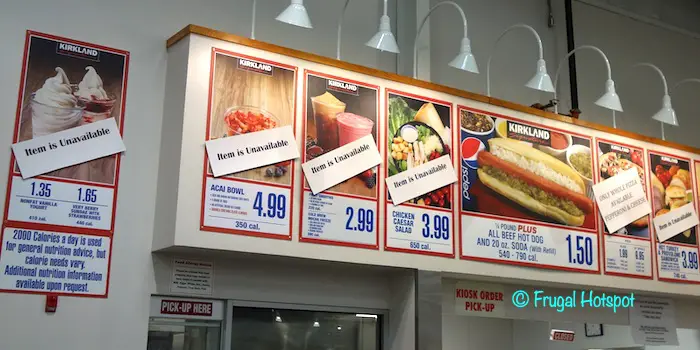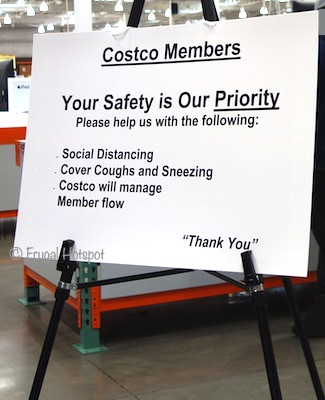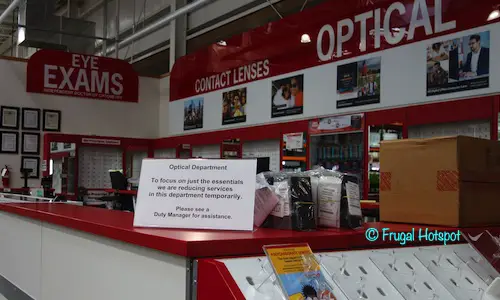 3/17/20.
Now for another change at Costco today. The food court will only be selling hot dogs, whole pizzas and soda. Since the picnic tables were removed over the weekend, all orders will be 'to go'. Social distancing in the food court was not a problem today since no one was in line.
The photo, hearing aid, and optical departments were closed temporarily. I should have had my printer ink refilled last week.
Despite many items having a "One per member" purchase limit, some of the items sold out today at Costco in Covington, Washington include bottled water, sanitizing wipes, bleach, hand sanitizer, rubbing alcohol, gloves, vinegar, flour, boxed mac 'n cheese, corndogs, canned chili, Basmati rice, Soft Soap, Chobani yogurt, Lysol, organic ground beef, etc.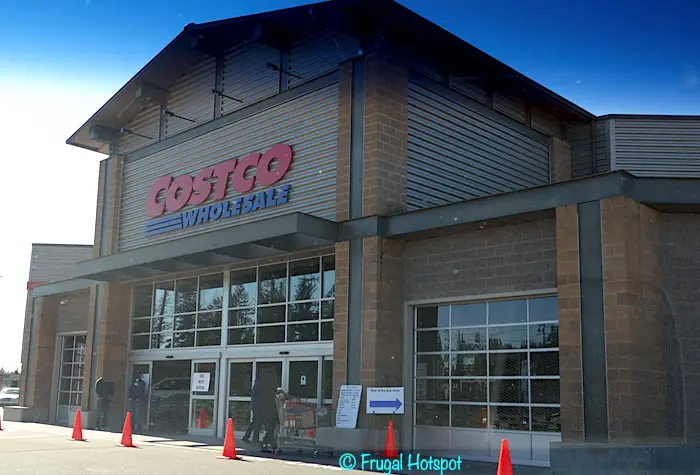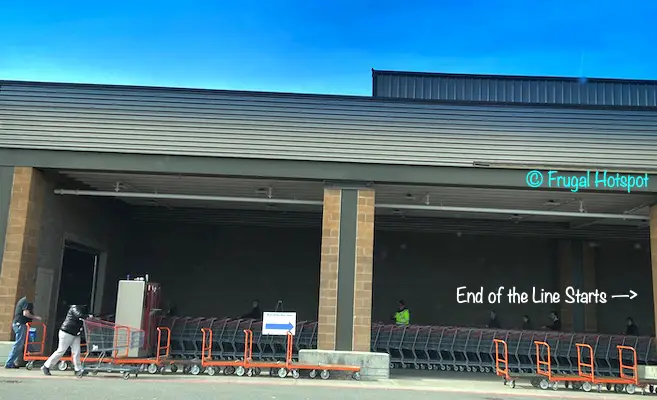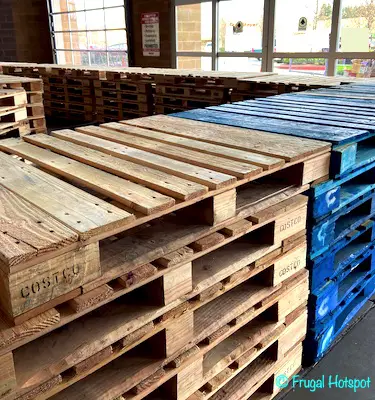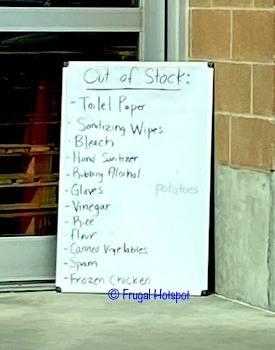 3/15/20.
Over the weekend, Costco made changes to the entrance of the store. Customers would no longer be able to enter from any of the six exterior entrances but would need to enter from the north side door. Carts outside were set up to create a barrier so people wouldn't cut in line and stacks of pallets were set up inside to create a barrier to separate the interior entrance from the exit. The main exterior front entrance had signs posted that said, "DO NOT ENTER." Two Costco employees were standing there to notify customers of the new entrance.
Some of the items sold out today at Costco in Covington, Washington include toilet paper, sanitizing wipes, bleach, hand sanitizer, rubbing alcohol, gloves, vinegar, rice, flour, canned vegetables, frozen chicken, and potatoes.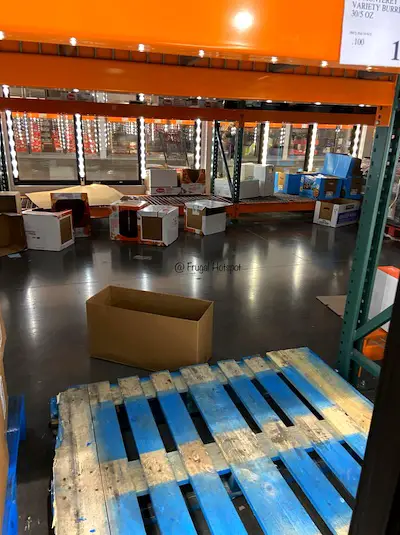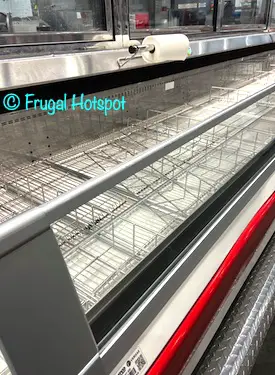 3/12/20.
I attempted to shop at Costco after lunch but with the parking lot filled with so many cars looking for a parking spot, I decided to come back later that evening. What a shocking experience that was! Some freezers and refrigerators were empty! Empty boxes were everywhere. Employees that I spoke with said this was probably the busiest day ever that they could remember…even busier than opening day back in October of 2008.
Some of the items sold out today at Costco in Covington, Washington include Kirkland Signature dog food, almond milk, water, paper towels, toilet paper, cleaning supplies, sanitizing supplies, soap, most frozen and fresh meat, canned tuna, ramen, rice, beans, etc.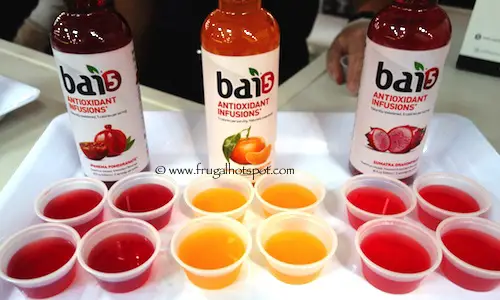 3/6/20.
Costco suspends food and beverage samples! The food demo workers who work inside of Costco warehouses are actually employed by CDS but will be paid by Costco to be temporary employees. They will still receive their same CDS pay rate (minimum wage with no benefits at the Covington, WA Costco) but will have the option to work for Costco cleaning, sanitizing, removing empty boxes and such.
The Covington, Washington Costco received a new shipment of Kirkland Signature disinfecting wipes, canned goods, milk, and bread. I normally don't buy canned goods but I ended up purchasing a variety of it. I figured I could always donate it later if I don't end up using it all. They're still out of toilet paper and Clorox wipes. Packages of Kirkland Signature bottled water now have a limit of 5 per member.
3/5/20.
The local news is reporting that King County purchased a motel in Kent, Washington, seven miles from the Covington, Washington Costco, to use as Washington state's first permanent isolation and quarantine COVID-19 facility. Folks at this facility will be able to come and go as they please. Kent community leaders and residents were blindsided by this news.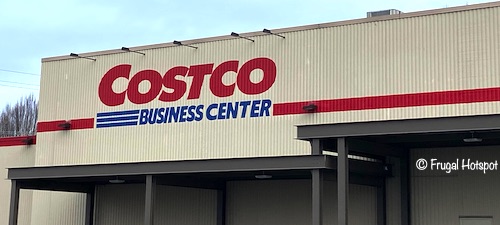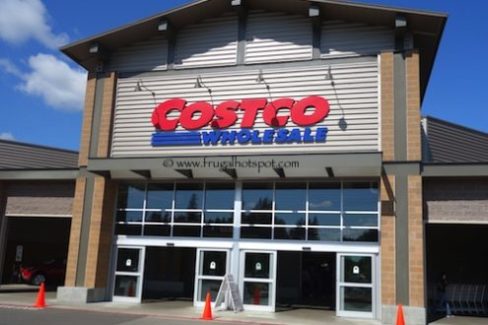 3/2/20.
When news broke that the first deaths from the Novel Coronavirus (COVID-19) in the United States were residents of King County in Washington state, some people in my area hit the stores hard. That weekend also brought news that two schools located less than a few miles from my local Costco in Covington, Washington were being closed. An adult related to two students at those schools was being tested for COVID-19.
So on Monday, I headed to Costco Business Center in Fife, Washington. The new coupon book also started on that day and what do you know, toilet paper was on sale. Shoppers loaded quite a few packages of toilet paper into their carts. I thought they were stocking up since it was a good deal.
As I made it to the back of the store, there was a group of people around an employee in a forklift. As soon as he placed the pallet on the ground and cut off the plastic wrap, people lunged at it. They were grabbing case after case after case of bottled water. I thought to myself, "What is going on? Water is not on sale but it seems to be the most coveted item today."
I made it to the bakery at the back of the store and noticed there was a line. I asked someone waiting in line what was going on. He told me that the checkout line started at the back of the store. My stomach dropped. Every time I've shopped at this Costco Business Center, the cashiers are so fast that there is never a line. Now there's a line that extends all the way to the back of the store? As I continued to shop, I noticed everyone's cart had water and toilet paper.
That evening, I headed to my local Covington, Washington Costco to buy items on my list that weren't sold at Costco Business Center. My local Costco is not a particularly busy Costco on a weekday…normally. But things were no longer going to be normal. They had run out of toilet paper, bottled water, bread, flour, and fresh chicken.
*This is an account of my personal experience visiting Costco in Covington, Washington and Fife, Washington. For information about Coronavirus (COVID-19), please visit cdc.gov.