*UPDATE* 1/21/23.
Traeger Gourmet Blend Fuel Pellets are back at select Costco stores for a limited time. And much to my surprise, the price has not gone up from last year. At least as of this posting date. These pellets are great for your Traeger Grill so you can grill, roast, braise, BBQ, and smoke meats and veggies. The gourmet blend consists of 50%  Maple, 25% Hickory and 25% Cherry to impart a nice subtle flavor to your grilling. Some Costco locations may also offer the Kirkland Signature BBQ Hardwood Pellets.
Costco's Price
*UPDATE* 1/21/23.
The Traeger Gourmet Blend Fuel Pellets 33-lb Bag is available at select Costco locations for $19.99, while supplies last. Prices and inventory may vary by location and prices may change at any time without notice. To see if your local Costco carries this item, give them a call and ask about Item #950298.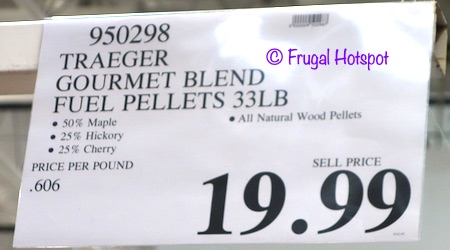 Features
100% Food-grade all natural hardwood pellets.
Gourmet blend – 50%  Maple, 25% Hickory and 25% Cherry
Moisture to smoke ratio is 5%—the sweet spot—with no fillers or binding agents, just robust flavor.
Always store indoor and in a sealed container.
Made in the USA
Grill sold separately
Warning: Store in a cool, dry place. Do NOT use for indoor heating or cooking as toxic fumes may accumulate. Improper storage or toxic fumes may cause carbon monoxide poisoning or death. Handle with care as dust may accumulate, causing respiratory issues, asthma, allergies or skin irritation. Keep out of reach of children – may pose a choking hazard. NOT for human or animal consumption.
Photos may not be a perfect representation of the product, especially the color and shading.
Visit frugalhotspot.com to see what's new and to check out deals from Costco. Other options may be available at costco.com for a delivered price, while supplies last.
---