1/7/21.
The new year is bringing some really great deals at Costco Business Center! What I like about the Business Center Savings Event Sale is that it includes some deals that are in the regular Costco Coupon Book and some deals that will be in next month's coupon book, mixed in with a bunch of items that are exclusive to the business center.
Some of my favorite deals include: Celsius drinks, Milkadamia macadamia milk, La Croix, Takis, Cheez-It snack packs, Ocean's Halo seaweed, Nature's Bakery fig bars, Stash tea, Homai Calrose Rice, Sabatasso's French bread pizza, Poppers, Brew City onion rings, Avery sheet protectors, Emergen-C, Humm Kombucha, Bibibi Cooked Rice bowls, Rodelle Sesame Seeds, and Sabra Avocado Toast. Of course, there is much more on sale, which you can explore at costcobusinessdelivery.com.
This sale runs from January 4, 2021 through January 31, 2021 and is valid only at Costco Business Centers. I have a list of the locations below. All Costco members can shop at business centers. As with all things at Costco, everything is while supplies last.
Costco Business Center Coupon Book JANUARY 2021
Please visit costcobusinessdelivery.com for the coupon book.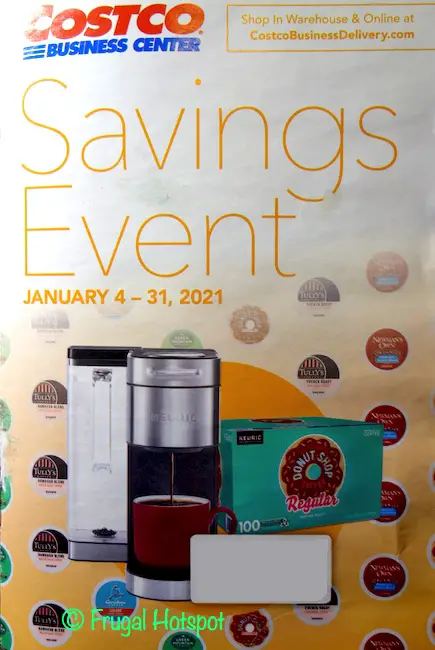 Costco Business Center locations in the United States:
• Arizona (Phoenix)
• California (Commerce, Hawthorne, Hayward, North Hollywood, Sacramento, San Diego, San Jose, South San Francisco, Westminster)
• Colorado (Denver)
• Florida (Orlando)
• Georgia (Morrow)
• Illinois (Chicago)
• Minnesota (Minneapolis)
• Nevada (Las Vegas)
• Texas (Dallas)
• Washington (Fife, Lynnwood)
I do not sell these products. This is just a posting of a deal from Costco Business Center and is not an endorsement or recommendation of any product or of Costco. Please do your own research before making any purchase.
Thanks for visiting my blog!