6/2/21.
Costco has released a fun little Costco-Style Cookout Coupon Book that runs from June 14, 2021 through July 3, 2021 for participating Costco stores in the following states only: Alaska, Idaho, Montana, Oregon, Utah (except for St. George), and Washington state. I just bought a bunch of these yummy food items last weekend so it looks like I will need to take in my receipt and get a few price adjustments. I'm so glad that Costco has a 30-day price adjustment policy!
These grocery offers are valid only in the states listed above and are for the regular Costco warehouse. These deals are not valid at Costco Business Centers or at costco.com. Also, an active Costco membership is required for warehouse purchases. This sale starts the day after the Costco Coupon Book JUNE 2021 ends and will overlap a little with the Costco Coupon Book JULY 2021 (6/23/21 – 7/25/21).
Check out my other post:
Costco Coupon Book JULY 2021 (6/23/21 – 7/25/21)

---
Costco-Style Cookout Coupon Book: 6/14/21 – 7/3/21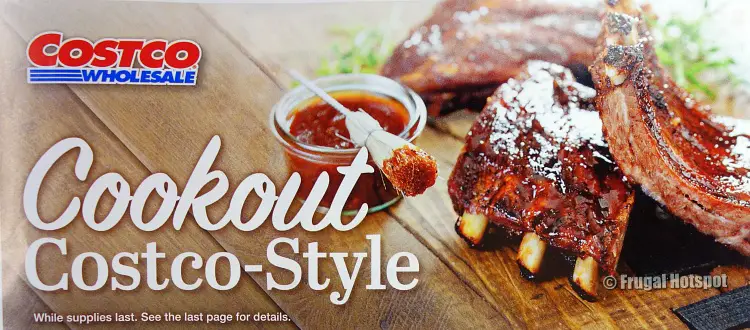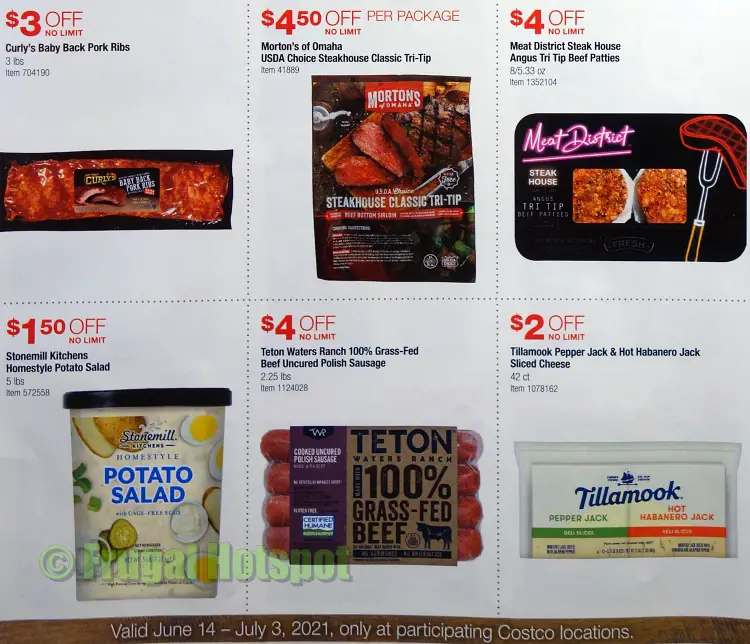 Curly's Baby Back Pork Ribs 3 lbs -$3 off
Morton's of Omaha USDA Choice Steakhouse Classic Tri-Tip -$4.50 off per package
Meat District Steak House Angus Tri Tip Beef patties 8/5.33 oz -$4 off
Stonemill Kitchens Homestyle Potato Salad 5 lbs -$1.50 off
Teton Waters Ranch 100% Grass Fed Beef uncured Polish Sausage 2.25 lbs $10.89 ($4 saved. Item #1124028)
Tillamook Pepper Jack and Hot Habanero Jack Sliced cheese 42ct -$2 off
---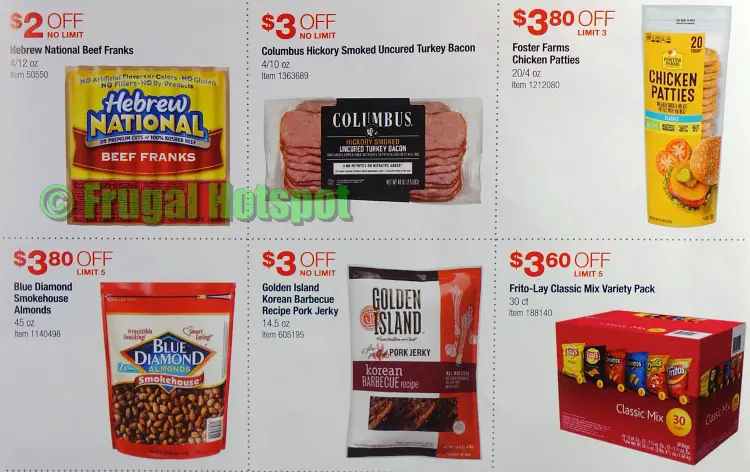 Hebrew National Beef Franks 4/12 oz -$2 off
Columbus Hickory Smoked uncured Turkey Bacon 4/10 oz -$3 off
Foster Farms Chicken Patties 20/4 oz $9.99 ($3.80 saved. Limit 3. Item #1212080)
Blue Diamond Smokehouse Almonds 45oz -$3.80 off Limit 5
Golden Island Korean Barbecue Recipe Pork Jerky 14.5 oz -$3 off
Frito-Lay Classic Mix chips 30 ct $10.99 ($3.60 saved. Limit 5. Item #188140)
---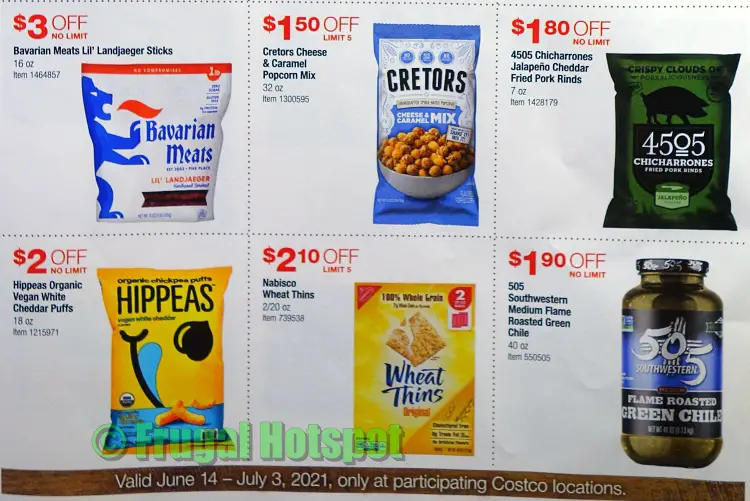 Bavarian Meats Lil' Landjaeger sticks 16 oz $9.99 ($3 saved. Item #1464857)
Cretors Cheese and Caramel Popcorn mix 32 oz -$1.50 off Limit 5
4505 Chicharrones Jalapeno Cheddar Fried Pork Rinds 7 oz $4.99 ($1.80 saved. Item #1428179)
Hippeas Organic Vegan White Cheddar puffs 18 oz -$2 off
Nabisco Wheat Thins 2/20 oz $5.69 ($2.10 saved. Limit 5. Item #739538)
505 Southwestern medium Flame Roasted Green Chili 40 oz -$1.90 off
---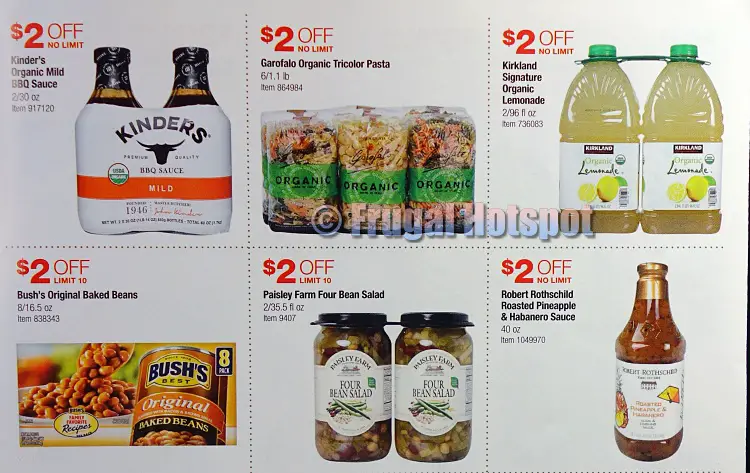 Kinder's Organic mild BBQ Sauce 2/30 oz $5.99 ($2 saved. Item #917120)
Garofalo Organic Tricolor pasta 6/1.1 lbs $7.99 ($2 saved. Item #864984)
Kirkland Signature Organic lemonade 2/96 fl oz -$2 off
Bush's Original baked Beans 8/16.5 oz $6.99 ($2 saved. Limit 10. Item #838343)
Paisley Farm Four Bean Salad 2/35.5 fl oz $4.99($2 saved. Limit 10. Item #9407)
Robert Rothschild Roasted Pineapple and Habanero sauce 40 oz -$2 off
---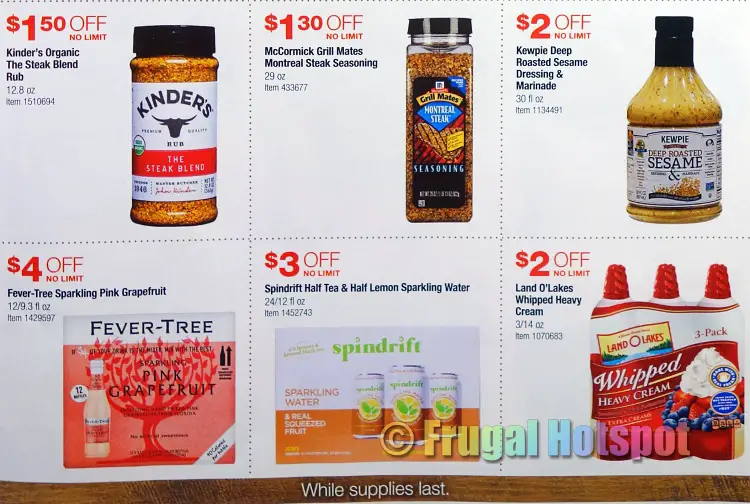 Kinder's Organic The Steak Blend Rub 12.8 oz $5.49 ($1.50 saved. Item #1510694)
McCormick Grill Mates Montreal Steak seasoning 29 oz $4.99 ($1.30 saved. Item #433677)
Kewpie Deep Roasted Sesame Dressing and Marinade 30 fl oz -$2 off
Fever-Tree Sparkling Pink Grapefruit 12/9.3 fl oz -$4 off
Spindrift Half Tea and Half Lemon Sparkling water 24/12 fl oz -$3 off
Land O'Lakes Whipped heavy cream 3/14 oz $6.99 (-$2 saved. Item #1070683)
---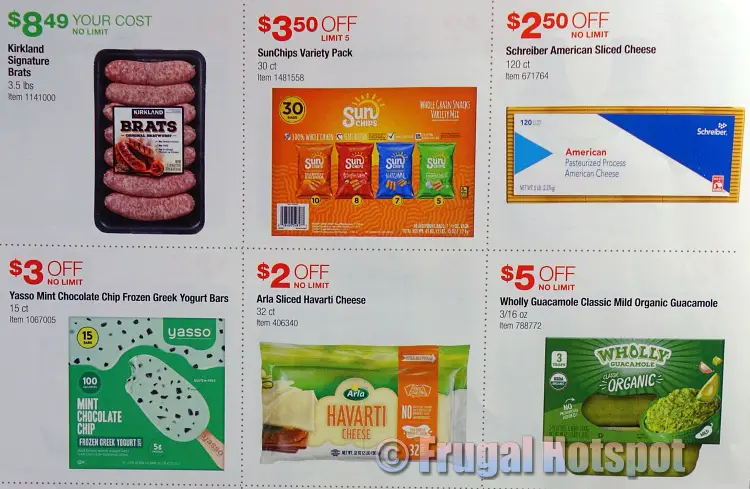 Kirkland Signature Brats 3.5 lbs $8.49 your cost
SunChips variety pack 30ct/1.5 oz $10.49 (-$3.50 saved. Limit 5. Item #1481558)
Schreiber American Sliced cheese 120ct -$2.50 off
Yasso Mint Chocolate Chip Frozen Greek Yogurt bars 15 ct -$3 off
Arla Sliced Havarti Cheese 32 ct -$2 off
Wholly Guacamole Classic Mild Organic Guacamole 3/16 oz -$5 off
---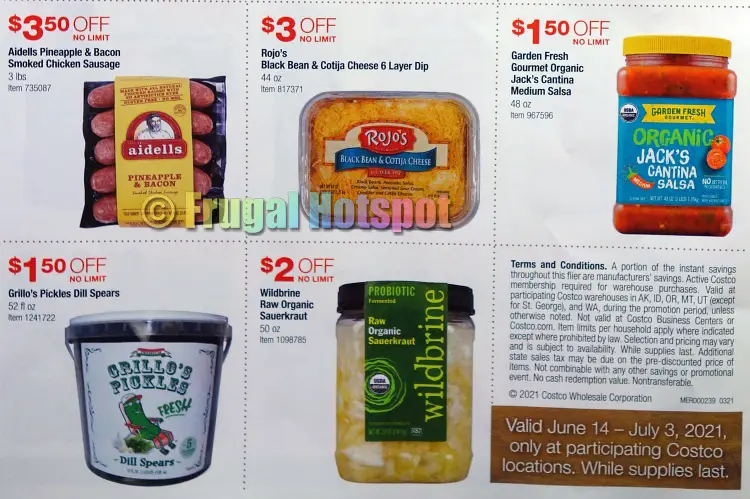 Aidells Pineapple and Bacon Smoked Chicken Sausage 3 lbs -$3.50 off
Rojo's Black Bean and Cotija Cheese 6 Layer Dip 44 oz – $3 off
Garden Fresh Gourmet Organic Jack's Cantina Medium Salsa 48 oz – $1.50 off
Grillo's Pickles Dill Spears 52 fl oz $5.79 ($1.50 saved. Item #1241722)
Wildbrine Raw Organic Sauerkraut 50 oz $5.99 ($2 saved. Item #1098785)
---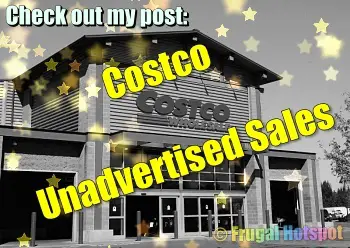 I love shopping at Costco but they do have their limitations. So, some of these products might not be available at your local Costco or it may be a different price at your local Costco or there may be purchasing limits. Plus, prices may change at any time without notice. Prices may vary by location. When in doubt, call your local Costco before you go.
I do not sell these products. This is just a posting of some deals from Costco and is not an endorsement or recommendation of any product or of Costco. Please do your own research before making any purchase.
Thanks for visiting my blog!