*UPDATE* 9/18/21.
The Chefman 1.8L Digital Glass Electric Kettle+ from Costco boils 2 cups of water in just 3 minutes and a full pot in 7 minutes! To make things easy, it has 7 built-in presets for your favorite types of tea. The digital display to control time and temperature is built right into the handle. Plus, a bonus reusable mesh tea infuser is included!
Costco's Price and Sale Dates
Select Costco locations have the Chefman 1.8L Digital Glass Electric Kettle+ on sale for $29.99, from September 29, 2021 through October 24, 2021. That is $10 off Costco's regular price of $39.99. Item #2246542. It may also be available at costco.com for a higher, delivered price. While supplies last, of course.
This is from the Costco OCTOBER 2021 Coupon Book (9/29/21 – 10/24/21)
I spotted this item at the Covington, Washington Costco but it may be not available or may not be on sale at all Costco locations. Prices may vary by location. When in doubt, call your local Costco before you go.
---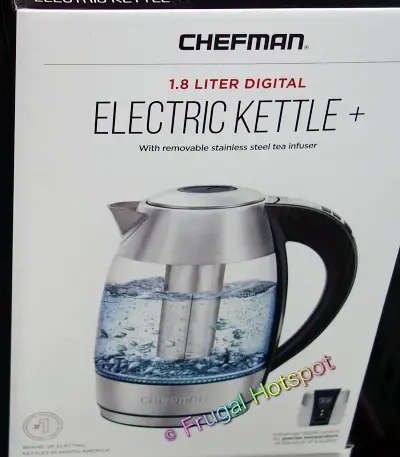 ---
Glass Electric Kettle Features
Boil up to 2 cups of water in a few as 3 minutes, or a full 1.8 liters in just 7 minutes.
Precise presets make it easy to boil water to the perfect temperature for your favorite tea, hot cocoa, and coffee beverages.
Tri-color LED indicator lights for power, heating, and keep warm.
90˚ Lid opening and 360˚ swivel base for easy filling and pouring.
Digital display to control time and temperature is built into the handle.
Made from Borosilicate glass
Powerful 1500 watt heating element
Bonus sleek reusable mesh tea infuser is included.
Model RJ11-17-TCTI-V2
---
NOTE: Never fill the water above the MAX line or below the MIN line indicated on the glass jar.
---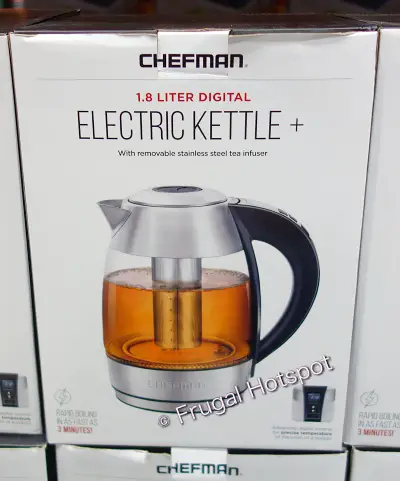 ---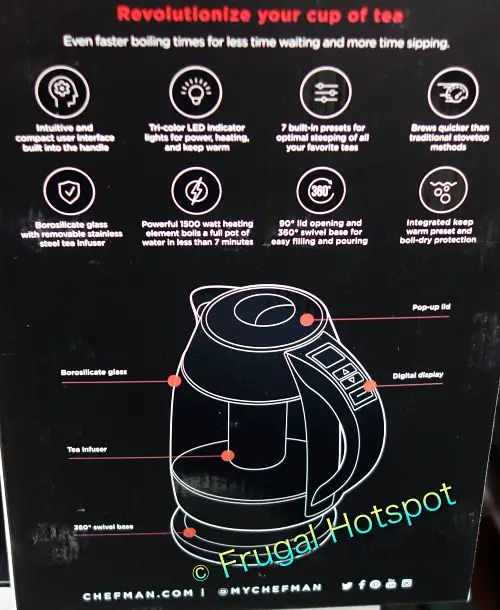 ---
Tea Kettle Tri-Color LED Indicator Lights:
WHITE: Your kettle is ready to brew
RED: Your kettle is in the process of boiling water
GREEN: You're all set! Your kettle is keeping your water warm
---
7 Built-in presets for tea type
Delicate: 160˚F (71˚C)
Green: 175˚F (79˚C)
White: 185˚F (85˚C)
Oolong: 195˚F (90˚C)
Herbal: 212˚F (100˚C)
Black: 212˚F (100˚C)
Boil: 212˚F (100˚C)
---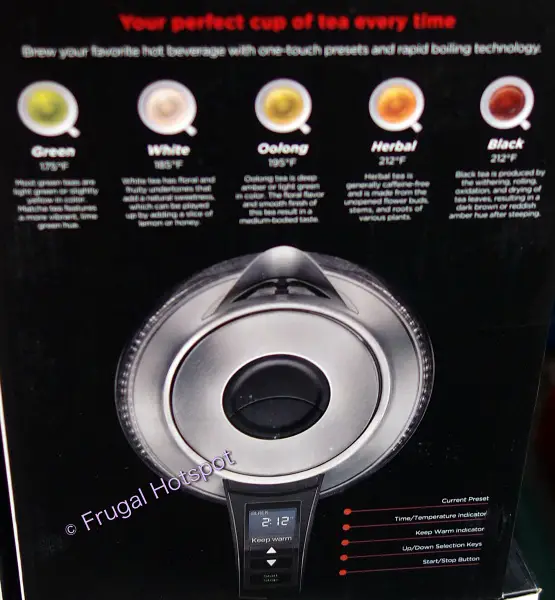 ---
How to prep your glass electric kettle before first use
Remove all packing and materials.
Pull out the power cord and place base on a flat surface.
Fill kettle with water to the MAX line without tea infuser.
Place kettle on base, plug in, set to Boil (212˚F), and press Start.
When water reaches boil, empty the kettle.
Allow to cool.
Rinse the kettle with clean water.
Hand wash tea infuser in warm soapy water and rinse thoroughly (the infuser is NOT dishwasher safe).
It is now ready for use.
---
Tea kettle dimensions and capacity
Capacity: 1.9 Quart
Dimensions: 6.5″ W x 9.75″ H
---
How to brew tea with an electric tea kettle
Fill the kettle to at least the MIN line but not above the MAX line with cold, fresh water.
Place kettle securely onto base and plug in.
Choose your preferred temperature, or one of the presets, by pressing the up and down arrows.
Press start.
The indicator lights will turn red indicating heating and average live temperature of the water will display.
If using the removable infuser, fill it with either loose tea (about 2 teaspoons per cup) or tea bags based on the amount of water you're heating.

WARNING:

Use extreme caution and protective measures when adding or removing the infuser as kettle and water will be very, very, very hot!!!
When temperature is reached, carefully insert removable tea infuser and steep for 2 to 4 minutes.
Carefully remove infuser when finished steeping.
Lift the kettle off its base to serve.
If there is water or tea remaining, return the kettle to the base to keep warm for up to 1 hour.
Otherwise turn off kettle by pressing Stop.
After the keep warm period ends, the unit will go into standby mode. If there is no action within 20 minutes, the unit will go into sleep mode.
---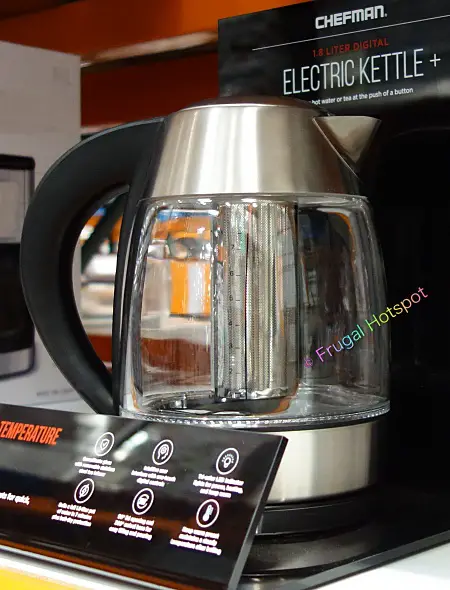 ---
Cleaning your electric tea kettle
Unplug the kettle and allow it to cool completely before cleaning.

WARNING:

Never immerse kettle or power base in water or wash in the dishwasher. Doing so will damage the unit.
Clean the interior of the kettle as needed by removing the infuser and carefully rinsing the inside with soapy water.
Do NOT let handle get wet.
Rinse inside of kettle thoroughly.
Wipe outside of kettle and power base with a damp cloth.
Hand wash tea infuser in warm soapy water and rinse thoroughly (the infuser is NOT dishwasher safe).
---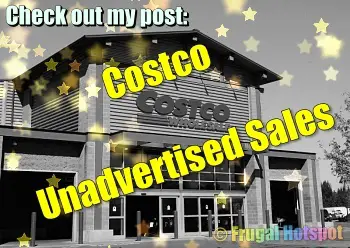 ---
PREVIOUS SALE: