*UPDATE* 8/31/22.
One of the best things about the fall season is the return of the Costco Pumpkin Pie! Not only is this Costco bakery favorite so delicious, it's also massive at 3.63 pounds with a 12-inch diameter. With that much pie, you may have some leftovers which you can freeze or turn into a yummy pumpkin pie milkshake when you blend it with Kirkland Signature Vanilla Ice Cream. Yum!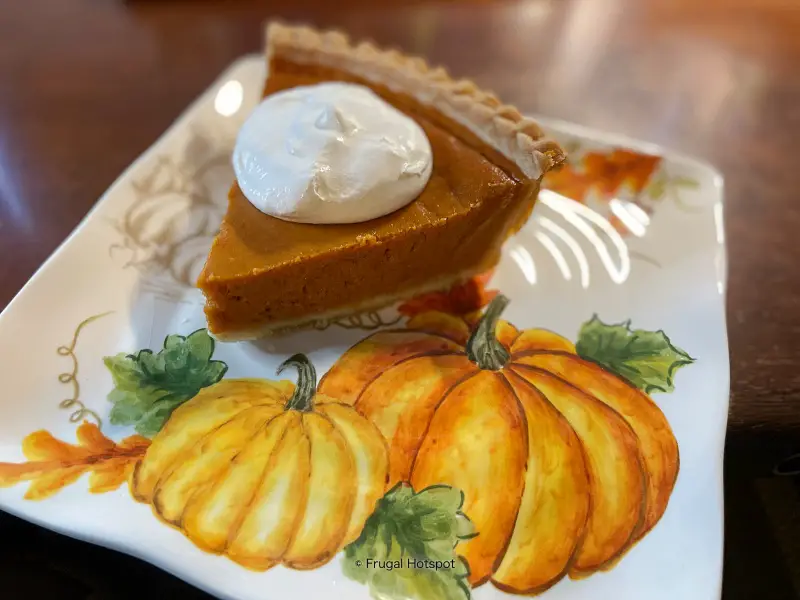 How Much Does a Costco Pumpkin Pie Cost?
Costco's Kirkland Signature Pumpkin Pie costs $5.99 or $6.99, depending on your location, under Costco Item #60809. For a pie that's 58 ounces, that's an amazing price and much cheaper than other bakeries that make a comparable pumpkin pie. Plus, it's big enough to feed family and friends during the holidays.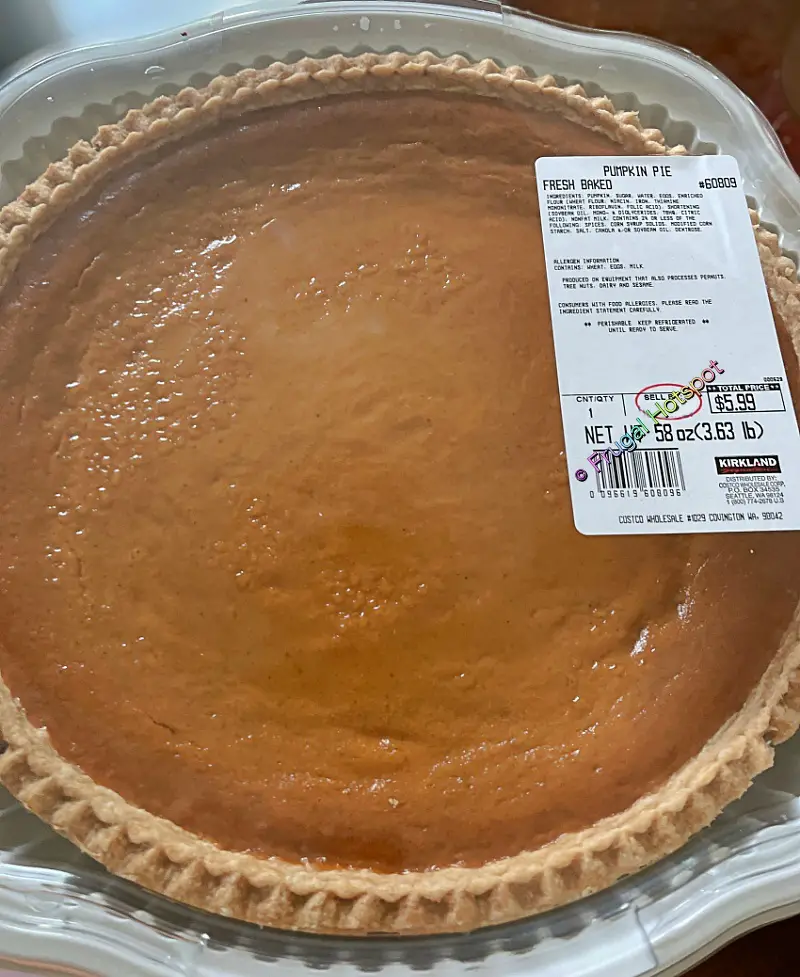 Do You Have to Refrigerate the Costco Pumpkin Pie?
Yes. You'll find fresh pumpkin pies in Costco's bakery section, in the refrigerated cases. You'll want to pop your pumpkin pie in the fridge as soon as you get home. This is a perishable food item so keep it refrigerated until you are ready to serve and then back into the fridge it goes. Unfortunately, this is not a treat that you can keep out all day on the Thanksgiving dessert table with the apple and cherry pies.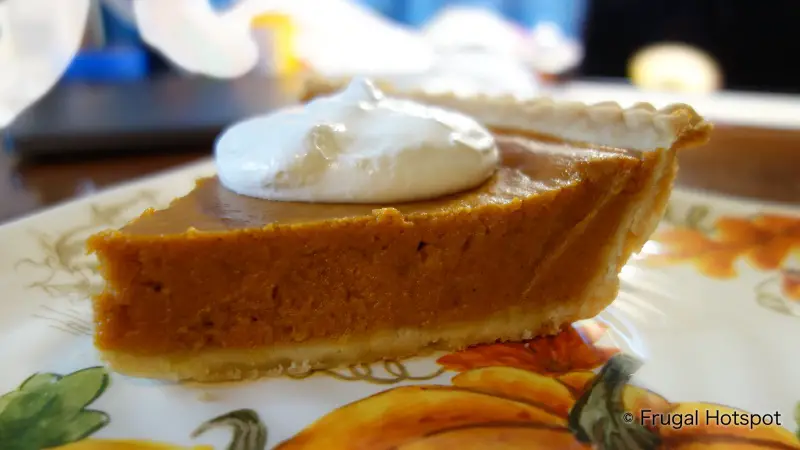 Does Costco Sell Pumpkin Pie All Year Round?
No, Costco does not sell pumpkin pies all year round. This seasonal item is available from around September through December. One year, I waited until the day before Thanksgiving and they were actually sold out. So, now I plan ahead and always buy a pumpkin pie two days before Thanksgiving, just to play it safe. With Costco taking care of the pumpkin pie, that is one less thing for me to prepare on Thanksgiving. By the way, Costco is closed on Thanksgiving Day.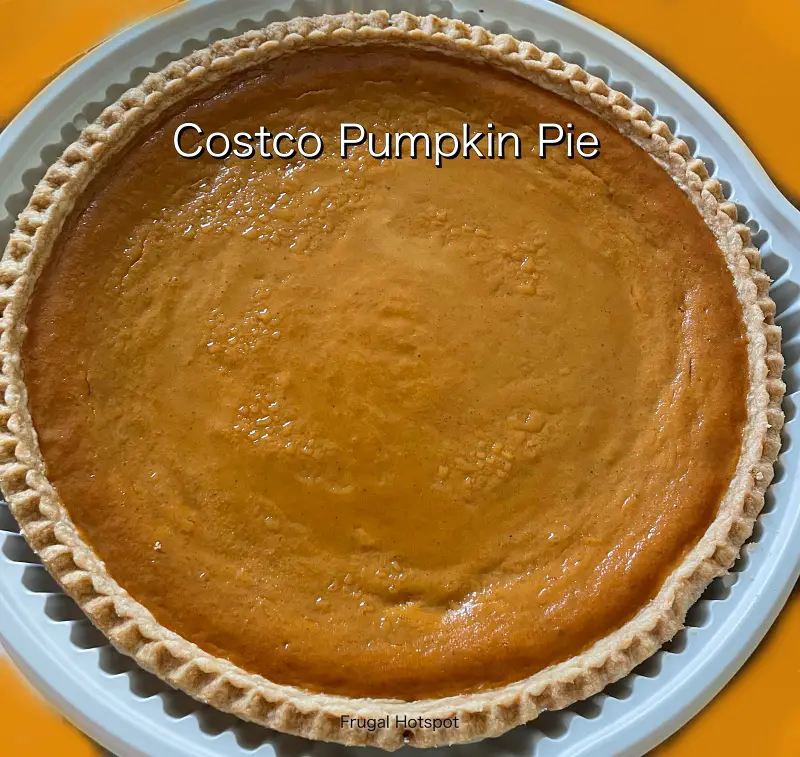 Some Fun Facts about Costco's Pumpkin Pie
According to Costco's magazine, Costco Connection, the famous Costco Pumpkin Pie was first sold in 1987 as a 10-inch pumpkin pie. Then in 1993, they increased the size to a 12-inch pie, but still kept it at the same affordable price of $5.99! What a bargain! These huge pies are made from scratch with pumpkins grown in Peoria, Illinois. The pumpkins are harvested in late August and then locally processed into the restaurant-size No. 10 cans and shipped to Costco bakeries all across the country. There is usually a mad dash to buy these pies in the five days leading up to Thanksgiving and one Costco employee actually baked 1,800 pumpkin pies in a single night. Wow, that is dedication!
Ingredients
Costco Pumpkin Pie Ingredients: Pumpkin, Sugar, Water, Eggs, Enriched Flour (Wheat Flour, Niacin, iron, Thiamine, Mononitrate, Riboflavin, Folic Acid), Shortening (Soybean Oil, Mono- & Diglycerides, TBHQ, Citric Acid), Nonfat Milk, Contains 2% or less of the following (Spices, Corn Syrup Solids, Modified Corn Starch, Salt, Canola and/or Soybean Oil, Dextrose).
Allergen Info
Contains wheat, eggs, and milk. Produced on equipment that also processes peanuts, tree nuts, dairy, and sesame. Consumers with food allergies, please read the ingredient statement carefully with every purchase.
---
Check out some other holiday finds from Costco:
Visit frugalhotspot.com to see what's new and to check out deals from Costco.