The BYD Non-Sterile N95 Face Mask from Costco.com is designed to help provide respiratory protection for the user, with a filter efficiency of 95% or greater against solid and liquid aerosols free of oil, with proper use of the mask.
Review
These masks are individually wrapped and are labeled with NIOSH approval numbers. I ordered a box from Costco for my mother since we live in a state with a mask mandate, plus she has quite a few doctor's appointments coming up. The masks were made in July 2020 and expire in July 2022 (I purchased this in January 2022). The straps go around the head and not around the ears and are unfortunately very tight and are not adjustable. This mask works for my mother (she's 4'10" and very petite) but it is too tight for the rest of the family. The straps are also stapled to the mask and not glued on, so there's that to consider. These masks have mixed reviews online with the major complaints being the tightness of the straps and the small surface area of the mask.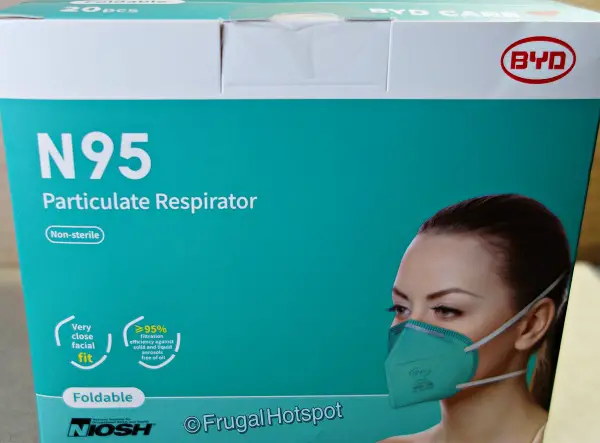 Costco's Price
1/31/22.
BYD N95 Particulate Respirator Non-Sterile Face Mask 20-Count is available at costco.com for $24.99, while supplies last. Item #1636235. Price may change at any time without notice.
Face Mask Features
Includes 20-count N95 Respirators
Foldable, with elastic head strap and adjustable nose clip
3 Layers of non-woven materials
Suitable for protecting the mouth, nose, and chin to airborne particles and block liquid aerosols.
Do NOT wash
Does NOT contain natural rubber latex
Store in a cool dry, clean place away from fire and contamination.
Store between -4˚F and 100˚F with relative humidity below 80%.
For adult use only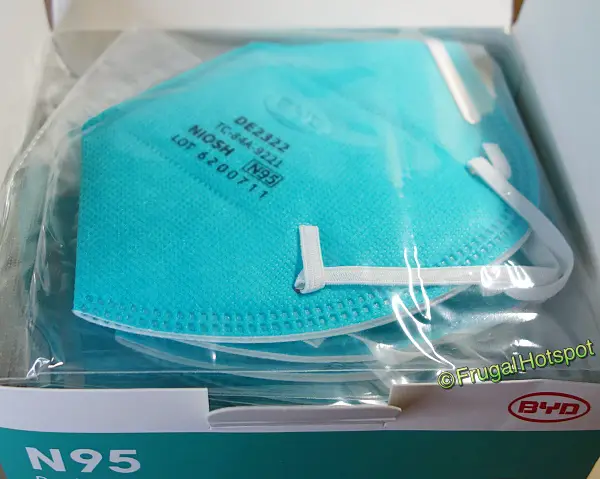 3-Step Check Before Use
Do NOT use if packaging has been opened or damaged.
Check if elastic bands are in good condition and are not damaged.
Check that the metallic strip is not broken.
Wearing Instructions
Unfold the mask and hold it with both hands, with the metallic strip facing up.
Place elastic bands around the neck and head respectively. Put the mask against your face covering both nose and mouth.
Adjust the metallic strip to cover the bridge of the nose using two fingers to press down until achieving a close fit.
Perform a fit check.
Fit Check
Place both hands over mask.
Take a deep breath and hold your breath for a few seconds, making sure the mask collapses inward as you inhale.
Then exhale and hold your breath for a few seconds, making sure the mask bulges outward as you exhale.
If air leaks, reposition the mask, tighten the metallic strip and reposition the elastic bands for a better fit. Follow steps 1-3 again until a tight seal has been achieved.
Mask that have passed the fit check are now safe to use.
Facial hair or other facial features may prevent the mask from achieving a proper fit. It a tight seal is not achievable, please DO NOT use this product.
If you experience difficulty breathing, dizziness, or other symptoms, leave the contaminated area immediately.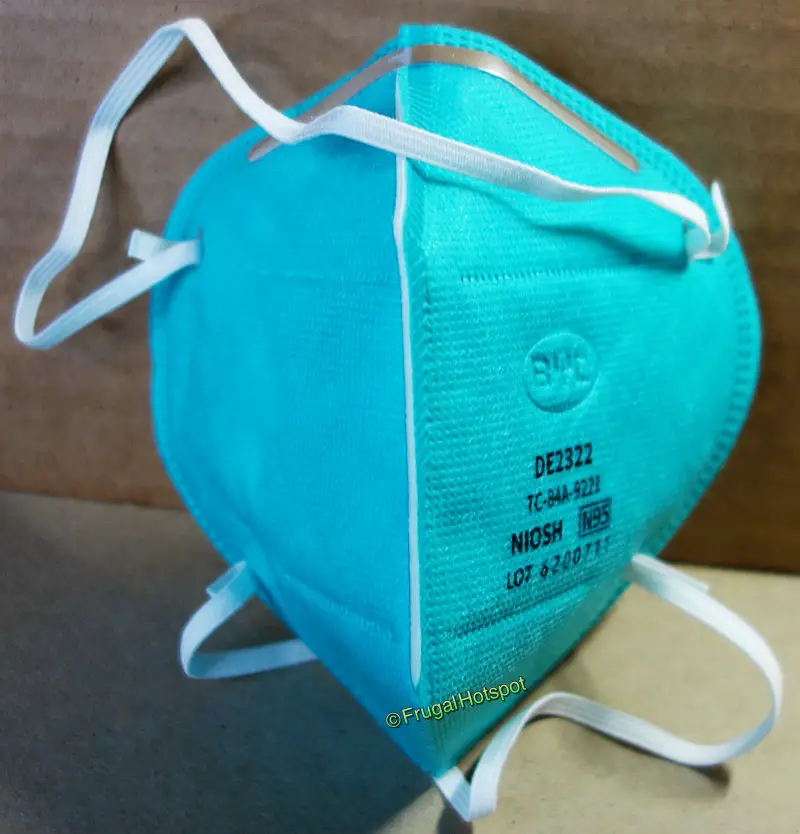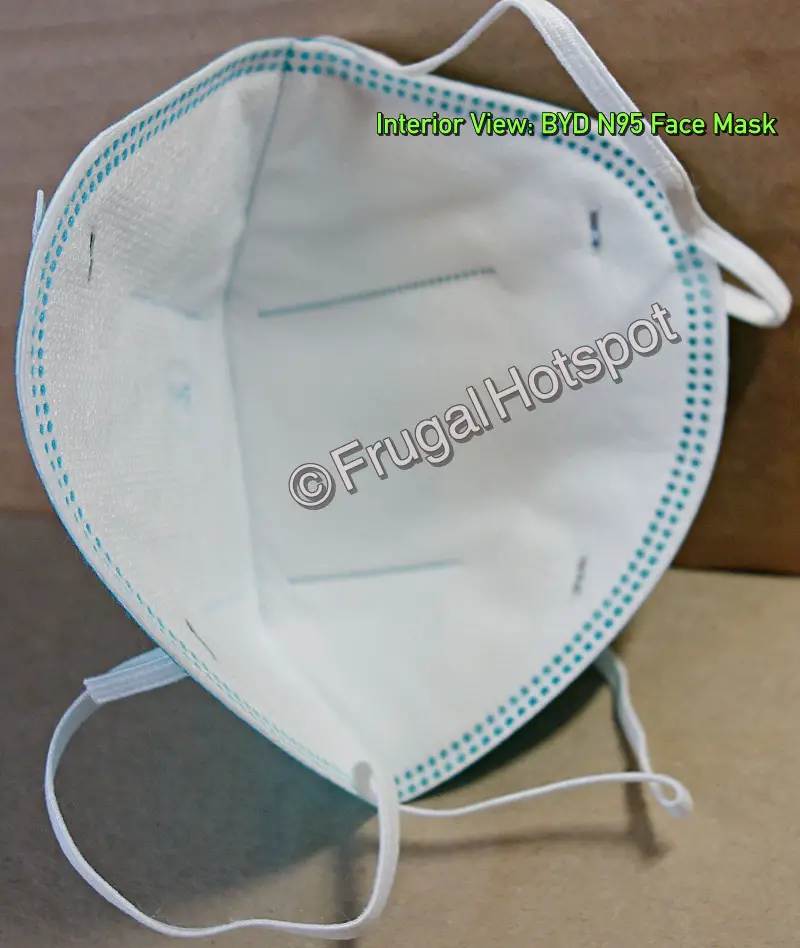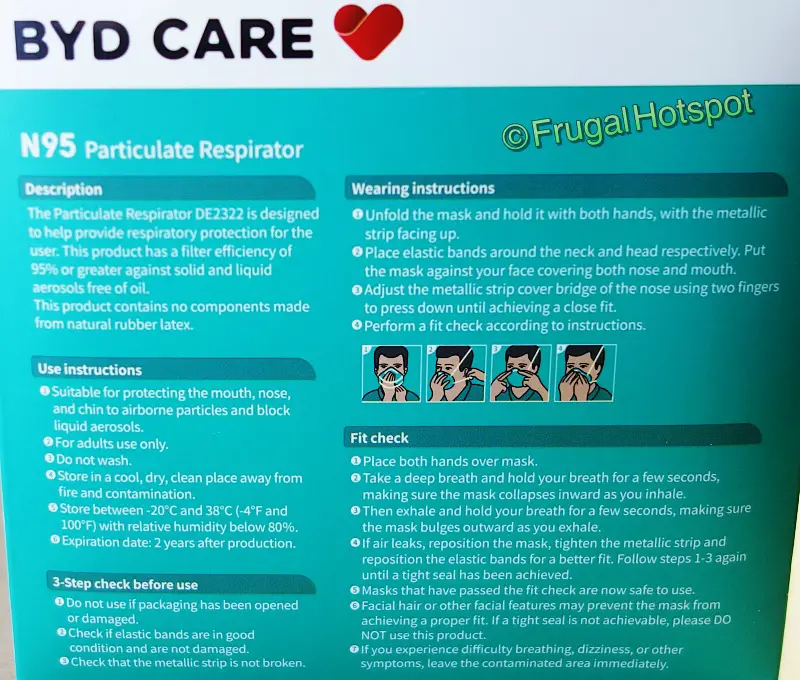 Warnings from the Manufacturer
The mask does not eliminate the risk of contracting any disease or infection.
Improper use may lead to illness and even death.
Use this product immediately after package is opened.
NOT recommended for more than 8 hours of use.
Do NOT sleep while wearing the mask.
Avoid hand contact within the interior part of the mask.
Do NOT use masks if they are expired.
For one-time use only. Dispose the mask according to regulations.
Do NOT use if package is damaged.
If the mask becomes damaged, soiled, or breathing becomes difficult, leave the contaminated area and replace and refit the new mask.
See packaging for other notices and disclaimers.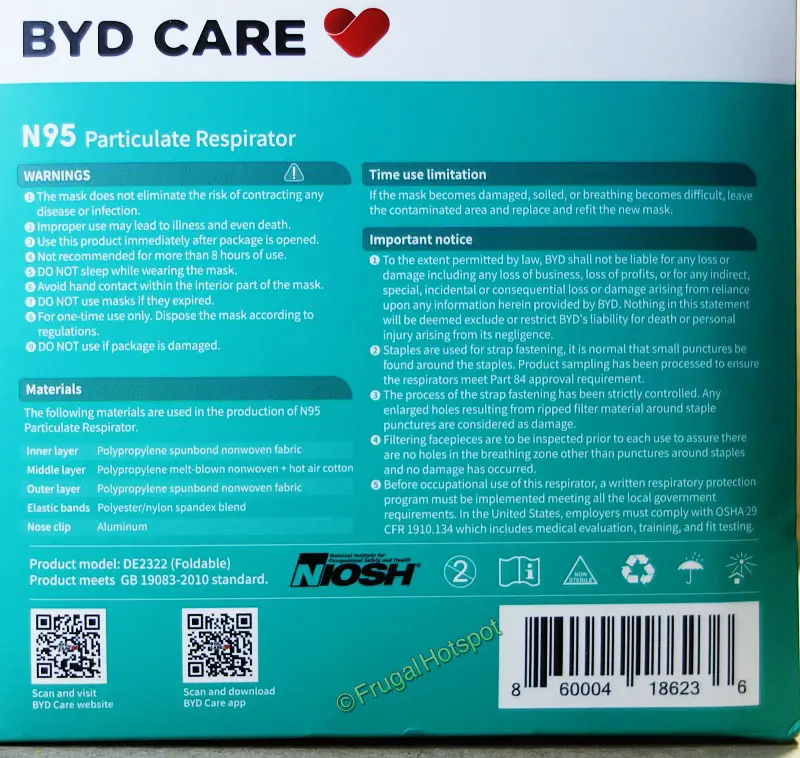 Materials
Inner Layer: Polypropylene spunbond nonwoven fabric
Middle Layer: Polypropylene melt-blown nonwoven + hot air cotton
Outer Layer: Polypropylene spunbond nonwoven fabric
Elastic Bands: Polyester / nylon spandex blend
Nose Clip: Aluminum
I do not sell this product. This is just a posting of a product sold by Costco. This is not an endorsement or recommendation of any product or of Costco. Please do your own research before making any purchase.
For questions about this product, please contact Costco and / or BYD Precision Manufacture Co., Ltd. (China).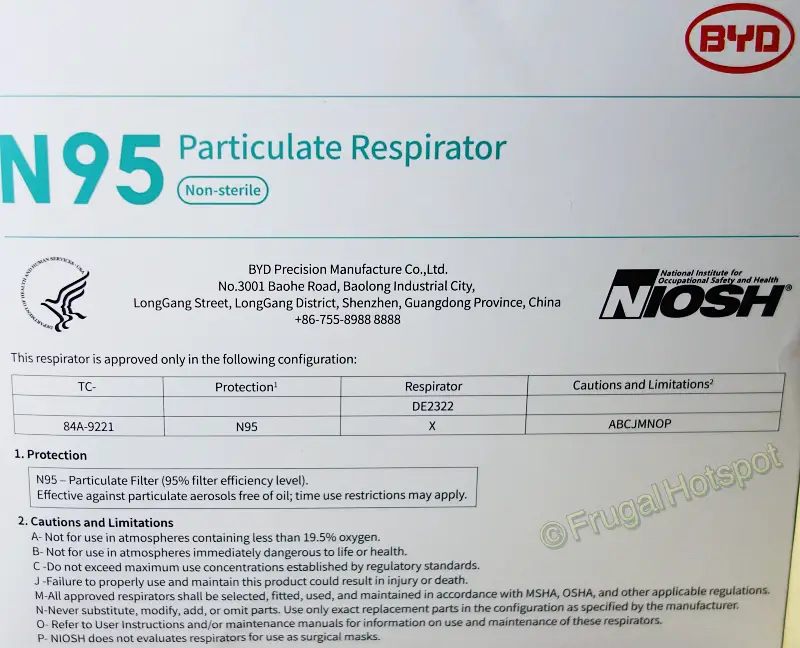 Visit frugalhotspot.com to see what's new and to check out deals from Costco.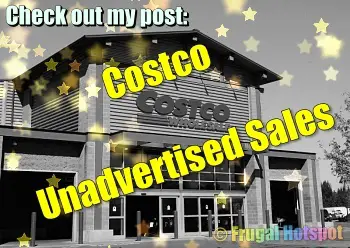 Other options may be available at costco.com for a delivered price, while supplies last.