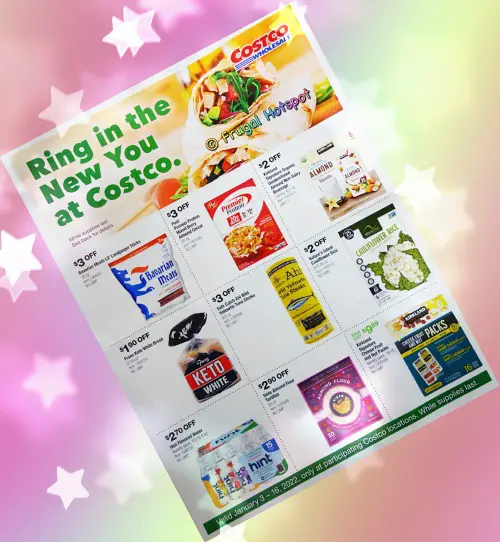 1/13/22.
Ring in the New You at Costco! This flyer from Costco has some healthy choices to start your year off right. The sale runs from Monday, January 3, 2022 through Sunday, January 16, 2022. These offers are valid at participating stores in Costco's Northwest region – Alaska, Idaho, Montana, Oregon, Utah (except for St. George) and Washington state. Prices may vary.
---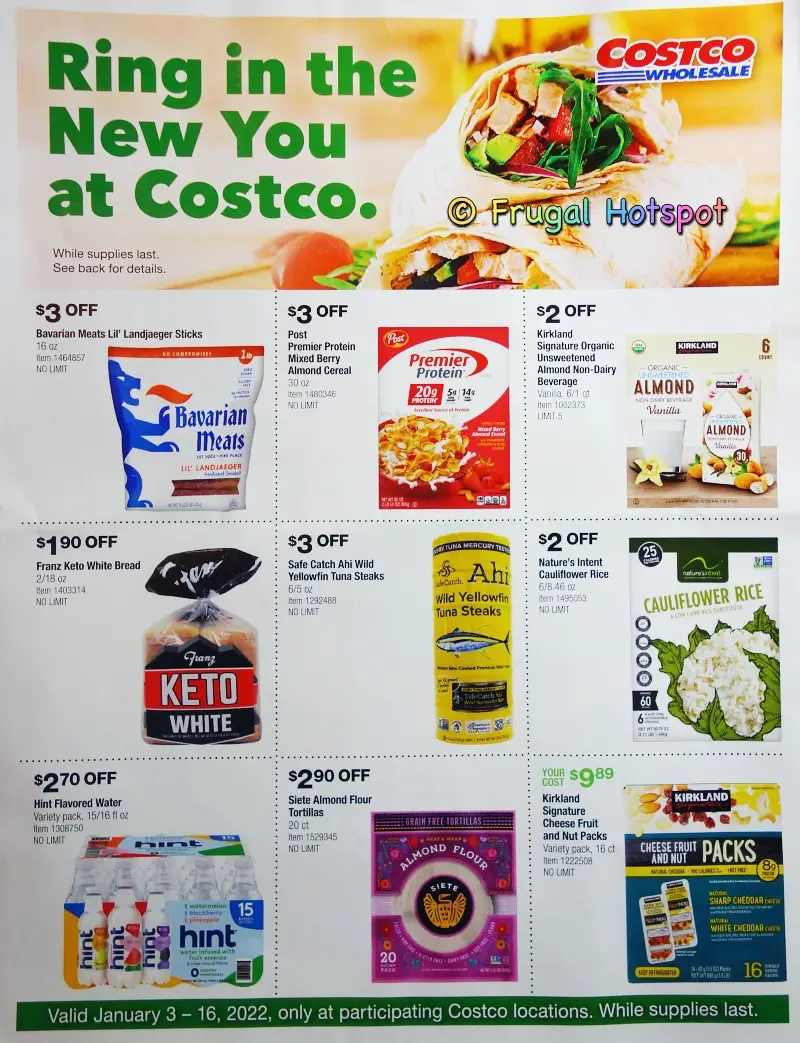 Bavarian Meats Lil Landjaeger Sticker 16oz $12.99 -$3= $9.99
Post Premier Protein Mixed Berry Almond Cereal 30 oz -$3 off
Kirkland Signature Organic Unsweetened Almond Beverage 6/32 oz $8.99 -$2= $6.99
Franz Keto White Bread 2/18 oz -$1.90 off
Safe Catch Ahi Wild Yellowfin Tuna Steaks 6/5 oz -$3 off
Nature's Intent Cauliflower Rice 6/8.46 oz $9.99 -$2= $7.99
Hint Flavored Water 15/16 fl oz -$2.70 off
Siete Almond Flour Tortillas 20 ct -$2.90 off
Kirkland Signature Cheese Fruit and Nut Packs 16ct $9.89
---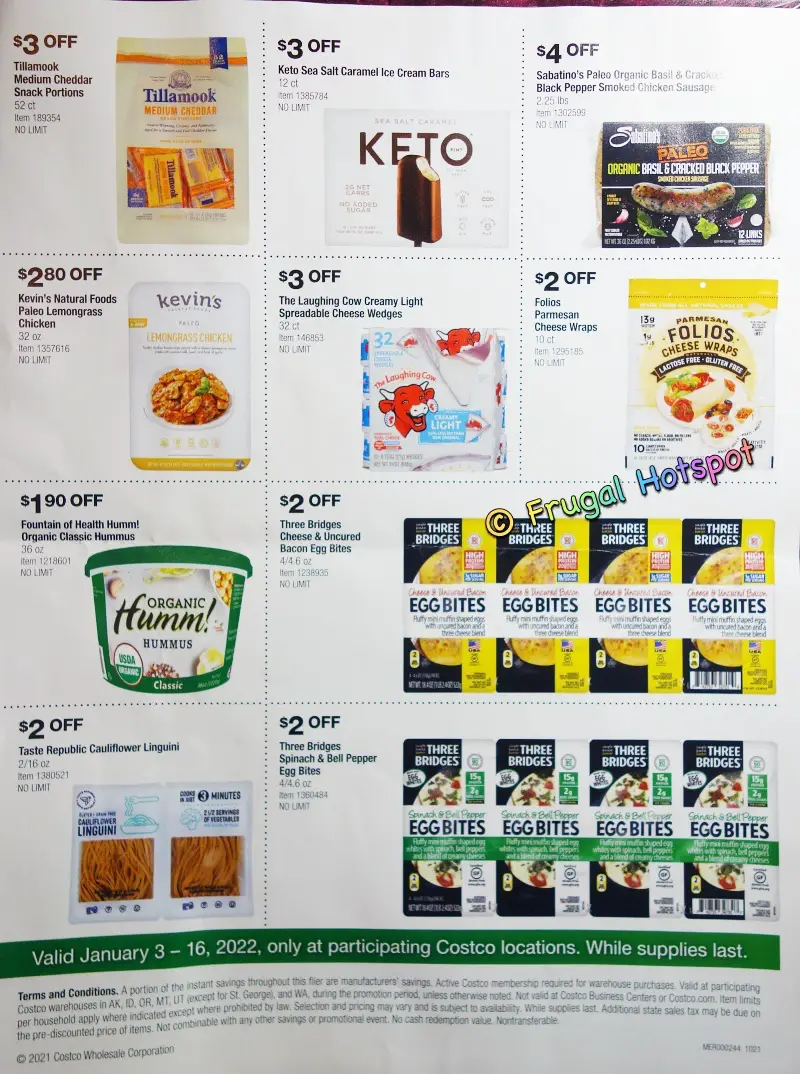 Tillamook Medium Cheddar Snack Portions 52/0.75 oz $12.99 -$3= $9.99
Keto Sea Salt Caramel Ice Cream Bars 12/3 oz $11.99 -$3- $8.99
Sabatino's Organic Paleo Chicken Sausage 2.25 lbs $13.79 -$4= $9.79
Kevin's Natural Foods Paleo Lemongrass Chicken 32 oz -$2.80 off
The Laughing Cow Creamy Light Spreadable Cheese Wedges 32ct -$3 off
Folios Parmesan Cheese Wraps 10ct -$2 off
Fountain of Health organic Hummus 36 oz $5.79 -$1.90= $3.89
Three Bridges Cheese Bacon Egg Bites 4/4.6 oz $9.89 -$2= $7.89
Taste of Republic Cauliflower Linguini 2/16 oz $9.99 -$2= $7.99
Three Bridges Spinach Pepper Egg White Bites 4/4.6 oz $9.99-$2= $7.99
---
These deals are not available at Costco Business Centers or costco.com. These deals are valid at participating Costco warehouses while supplies last in the following states – AK, ID, MT, OR, UT (except for St. George) and WA. When in doubt, call your local Costco before you go. Prices are from the Covington, Washington Costco so your prices may vary.
Visit frugalhotspot.com to see what's new and to check out deals from Costco.