6/22/22. © Frugal Hotspot
*SALE UPDATE* 3/3/23.
Turn a mundane trip to the bathroom into the ultimate cleaning experience with the Toto Washlet Elongated Bidet Seat from Costco. This electronic bidet toilet seat is fairly easy to install on your current toilet with a few basic tools (not included). The Washlet is designed to provide a higher level of cleanliness and comfort from the heated seat, to the self-cleaning wand that extends from under the seat to deliver soothing warm water and give you a clean feeling. It also has a warm air dryer reducing the need for toilet paper and an automatic air deodorizer to minimize odors.
Costco's Price and Sale Dates
*SALE UPDATE* 3/3/23.
The Toto Washlet Elongated Bidet Seat is on sale at select Costco locations for $299.99, now through March 26, 2023. That is $50 off Costco's regular price of $349.99. While supplies last. Prices, inventory, and sale dates may vary by location and may change at any time without notice. To see if your local Costco carries this item, give them a call and ask about Item #2322019.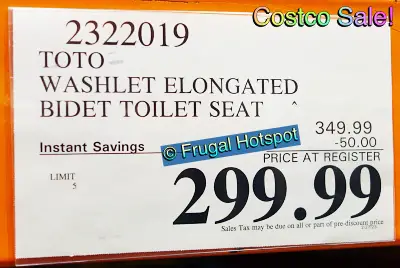 Bidet Seat Features
HEATED SEAT: Heated contoured seat with adjustable temperature settings allow users to choose their preferred level of warmth
PRE-MIST CLEANSING: A pre-mist cleansing of the toilet bowl before each use helps prevent waste from sticking to the toilet
ADJUSTABLE CLEANSING SPRAY: Cleansing spray has an adjustable water temperature and pressure for cleaning
WARM CLEANSING STREAM: Warm cleansing stream has a strong, yet gentle water pressure for a superior cleanse without being overly harsh
WARM AIR DRYER: Temperature-adjustable warm-air dryer for a more pleasant experience and reduces the need for toilet paper
SELF-CLEANING WAND: Hygienic and sanitary wand is designed to repel substances and self-cleans before and after each use by cleaning both the inside and outside of the wand
WATER STREAM ANGLE: Water stream angle prevents splash back on the wand
AIR DEODORIZER: Automatic air deodorizer neutralizes bathroom odors by using filters to clean the air around the toilet
Model: T1SW3014#01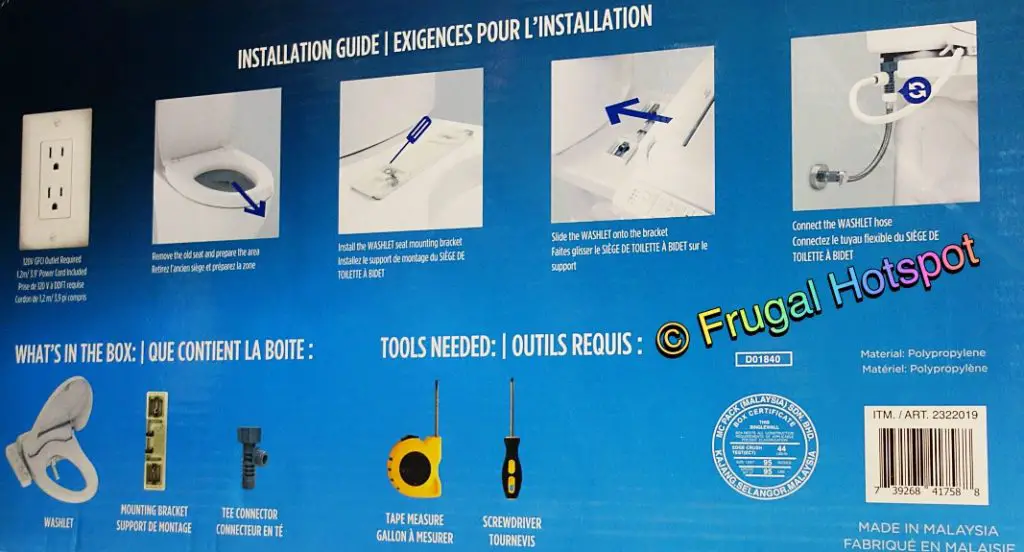 Do-It-Yourself Installation
The WASHLET fits most toilets that have a standard design.
Check the dimensions of your toilet before installation to ensure proper fit.
Check for adequate space across the width of the tank. French curves may prohibit proper installation of the WASHLET.
Be sure that you can access the tank's fill valve inlet to complete the water connection. If space is limited, extenders are available at many hardware stores.
Remove your current seat.
Install the WASHLET base plate. If needed, the rubber grommets can be lubricated with water. Tighten screws completely.
Slide the WASHLET onto the base plate. Check the fit on your toilet and readjust the base plate if needed. There's a quick release button on the right-hand side for easy removal.
Connect the tee connector to fill valve inlet. Connect the WASHLET hose and reconnect the water supply hose.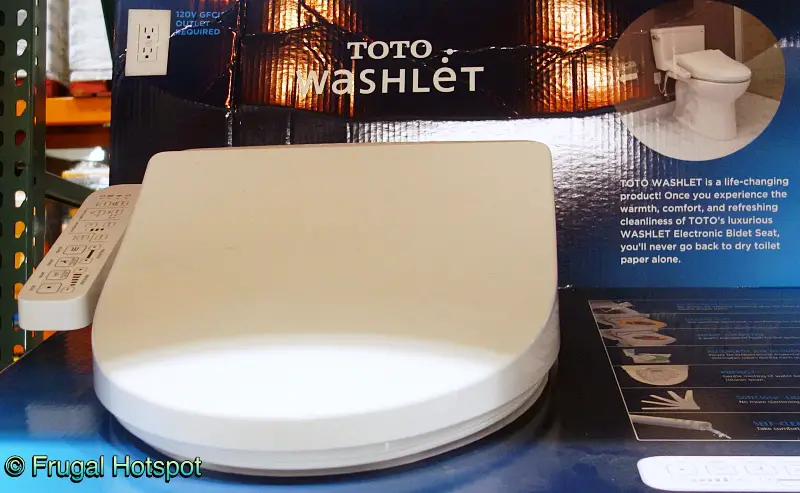 Included and Required Items
Included Items – WASHLET, base plate, installation hardware, and tee connector
120V GFCI outlet required, rated 15 amps. Surge protection is recommended to protect your WASHLET.
The 3.9 foot three-prong power cord is located on the back left-hand side of the WASHLET when facing the toilet.
Things to Consider
Some toilet designs,like fully skirted bowls, restrict access to the fill valve inlet. So this may prevent completion of the water connection.
Make sure there is adequate space under your tank to install the tee connector and complete the water connection.
If your fill valve inlet is difficult to reach, extenders are available at many hardware stores.
Additional fittings are required for wall-hung toilet installations.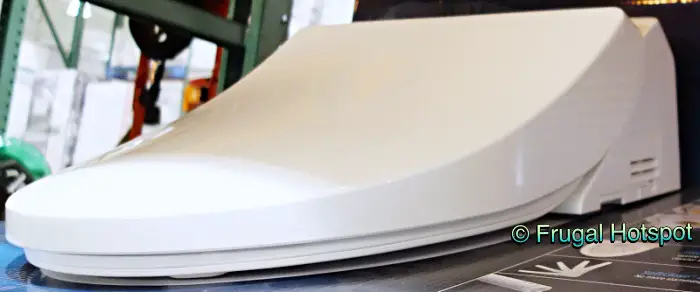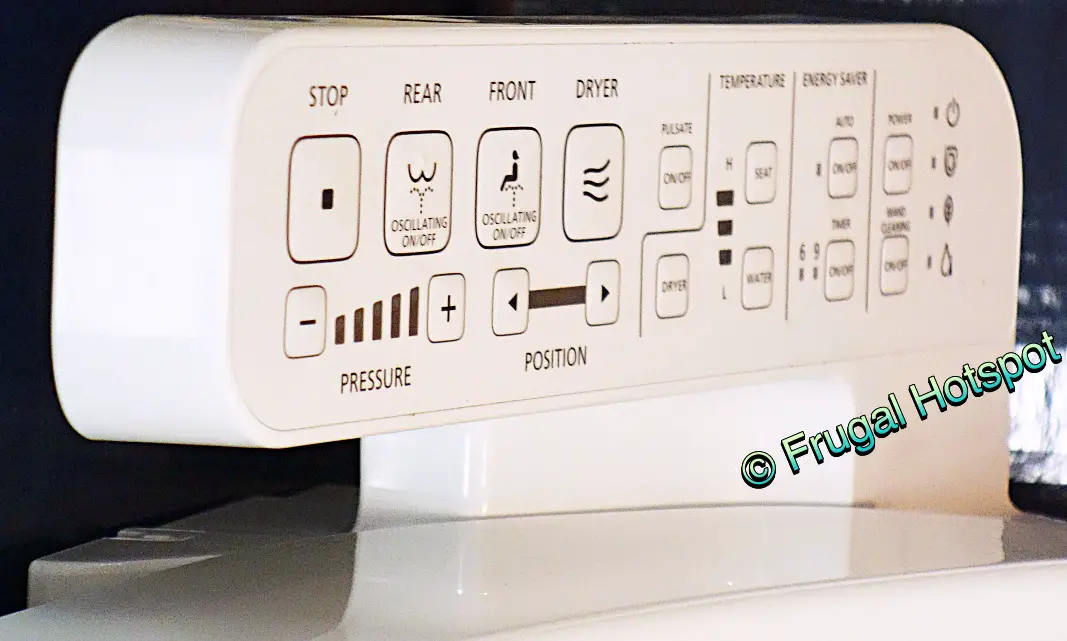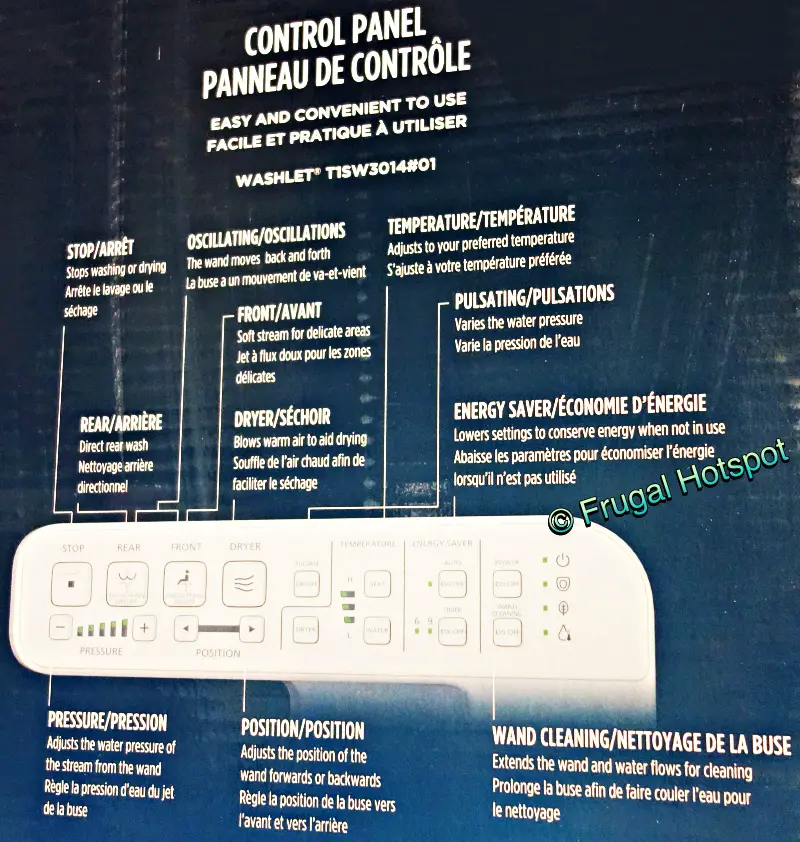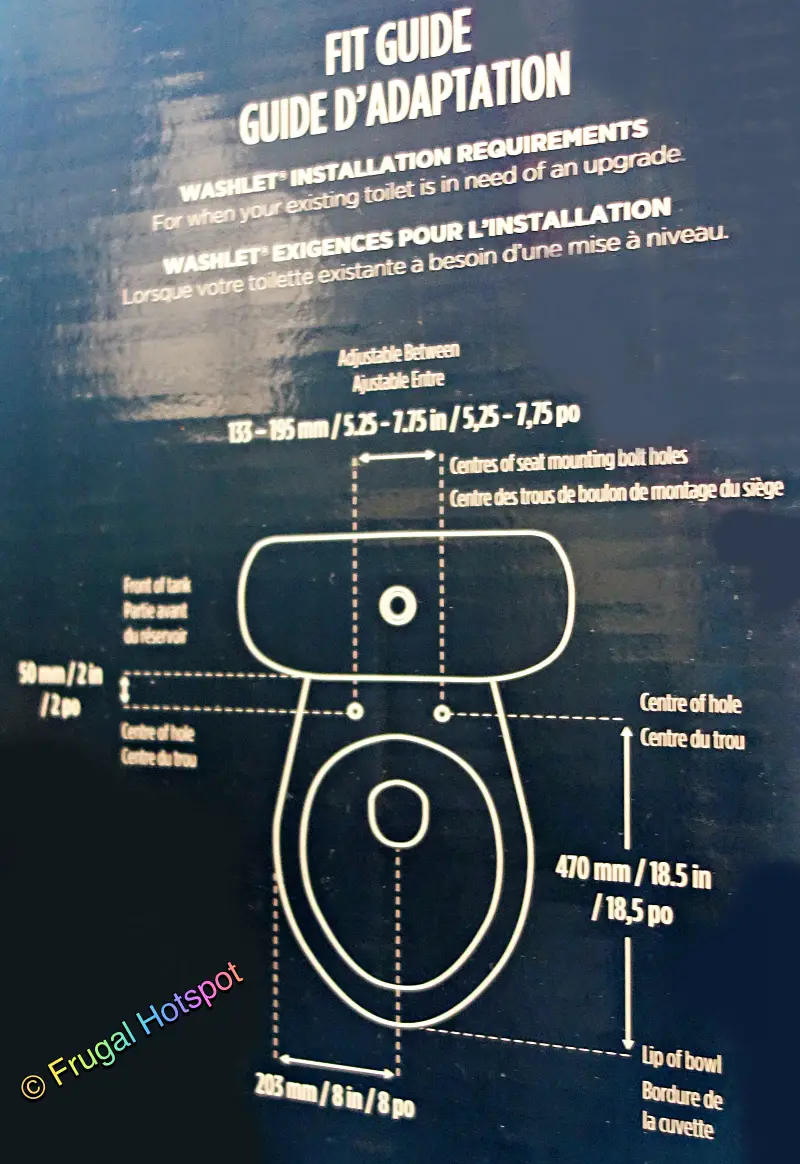 Visit frugalhotspot.com to see what's new and to check out deals from Costco. Other options may be available at costco.com for a delivered price, while supplies last.