8/24/22. © Frugal Hotspot
*SALE UPDATE* 3/3/23.
The Duracell PowerBlock 500 Gasless Generator is a Costco exclusive! This gasless battery generator is compact and lightweight at 10.6 lbs, making it easy to take camping or have it around if the power goes out at home. Got to keep those cell phones charged. It can power up to 7 small devices at once with multiple ports: 3 AC Outlets, 2 USB-A Ports, 1 USB-C Port and a 12V DC socket. Since it is a gasless generator, it can be used inside the home (unlike gas generators which must stay outdoors).
The Duracell PowerBlock 500 Gasless Generator has a LCD screen display with helpful info like battery charge status, watts, and how many hours of power you have left. It can take about 7 hours to charge plugged into an outlet or 4 hours with most 200W solar panels (solar panels NOT included).
Costco's Price and Sale Dates
*SALE UPDATE* 3/3/23.
The Duracell PowerBlock 500 Gasless / Battery Generator is on sale at select Costco locations for $399.99, through April 2, 2023. That is $100 off Costco's regular price of $499.99. While supplies last. Prices, inventory, and sale dates may vary by location and may change at any time without notice. To see if your local Costco carries this item, give them a call and ask about item #1627495.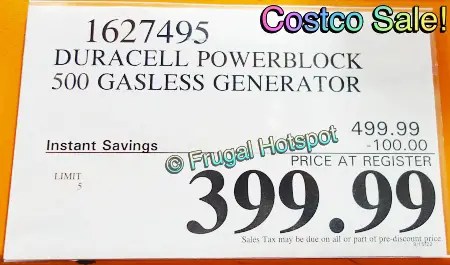 How to Charge the Duracell Gasless Generator
The Duracell PowerBlock 500 Generator can be charged two ways.
1. You can plug it into your AC outlet to charge, which can take up to 7 hours. You can also leave it plugged in for maintenance charging, so you always have a fully charged generator for those unexpected emergency power outages. The internal charger won't overcharge the battery, according to Duracell.
2. You can also use solar power to charge it. It can take up to 4 hours to recharge with the built-in 200-watt MPPT solar controller. You will need a 200-watt solar panel (NOT included).
Duracell Generator Features
Powers up to 7 small devices at once
Recharge with AC or DC via MPPT
Off-grid power with solar recharge (200W Solar panel sold separately)
PowerBoost can handle short power surge
LCD Display
Portable w/ carry handle
Lithium-ion battery holds a charge for one year
Rechargeable battery lasts for over 1,000 charge cycles
Great for camping, RV life, tailgating, mobile worksite, emergency prep
What NOT to Power Using the Duracell PowerBlock 500
The Duracell PowerBlock 500 Generator is NOT recommended for refrigerators more than 18 cu ft, air conditioners, space heaters, rice cookers, hot plates, or other items with heating elements.
What Things Can I Power with Duracell PowerBlock 500?
The Duracell PowerBlock 500 Generator can be used to power small items such as mini fridges, LED TVs, sump pump, WiFi router, cable modem, laptops, tablets, smart phones, LED lights, LED table lamp, energy efficient refrigerators less than 18 cu ft., blender, and CPAP*.
*Will It Be Able to Power up a CPAP Device?
If you're using a CPAP machine and your home loses power at night, the Duracell PowerBlock 500 Generator can be used to keep it powered. But, the generator does have a power saving feature where if the load is less than 5 watts/hour, then the generator will shut off. So, if your CPAP equipment doesn't use a lot of power, Duracell suggests that plugging in an additional small device to the generator would keep the generator on. For example, like a clock radio with the radio on but the volume off or some other item that would draw a little bit of power.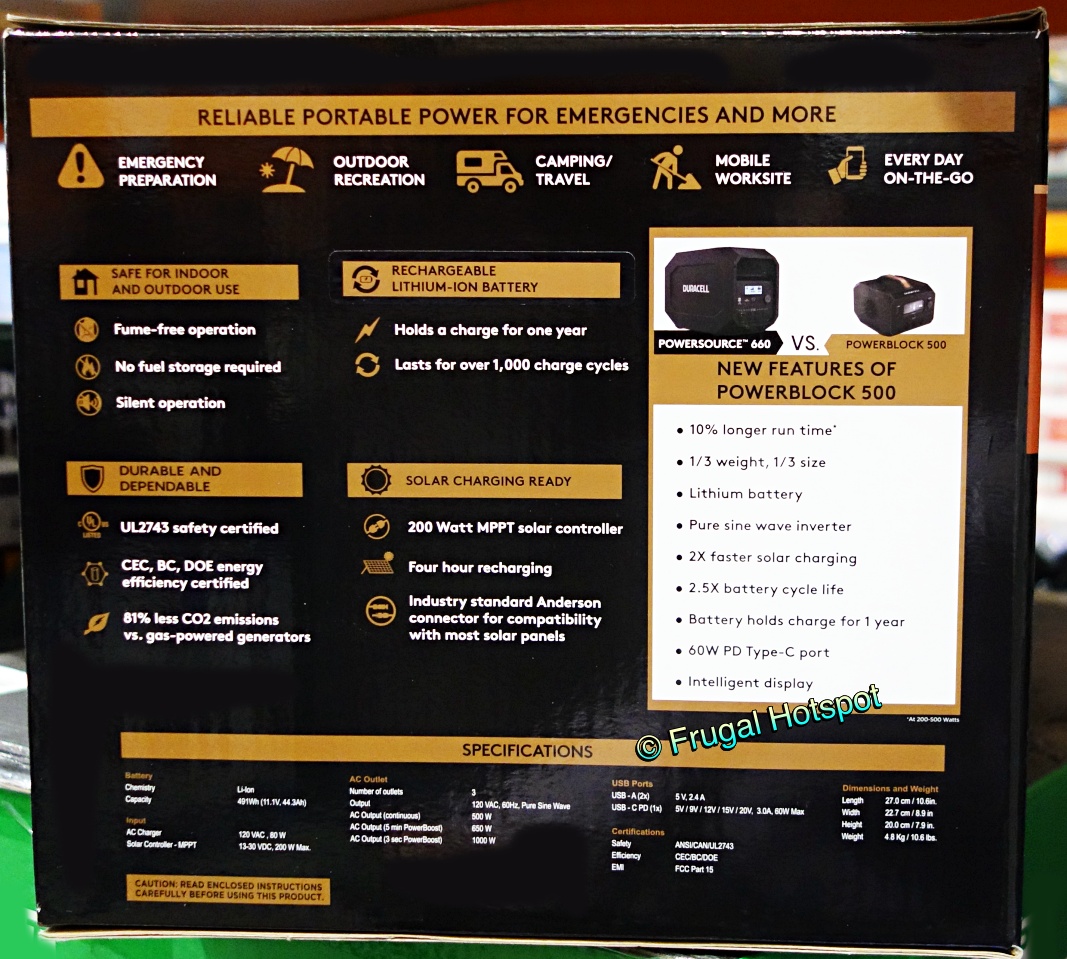 Specs
(2) USB-A Ports
(1) USB-C Port
(3) AC Ports
(1) 12V DC Socket
478Wh Lithium-Ion Battery
500W Pure Sine Wave Inverter
200W MPPT Solar Controller (200W Solar panel sold separately)
Dimensions: 10.6″ L x 8.9″ W x 7.9″ H (27 cm x 22.7 cm x 20 cm)
Weight: 10.6 lbs (4.8 kg)
Capacity: 478Wh (11.1 V, 44.3 Ah)
Photos may not be a perfect representation of the product, especially the color and shading.
Visit frugalhotspot.com to see what's new and to check out deals from Costco. Other options may be available at costco.com for a delivered price, while supplies last.