3/13/23. © Frugal Hotspot
Get ready to grow some vegetables, fruit, herbs or flowers with the Vita Vinyl Raised Garden Bed Kit from Costco. This package includes vinyl boards that you assemble into two 4'x4'x11″ raised beds. It is modular, so you can connect the two raised beds into one large 4'x12'x11″ bed, which is what I did when I purchased this item last year. When connecting multiple garden beds, you'll want to reinforce the center of the posts with something like rebar or a ground spike for stability, since that is a lot of dirt to contain (rebar and ground spike not included).

The Vita Vinyl Raised Garden Bed Kit comes with GroGrid vinyl slats that you can place on top of your soil, to create a grid of 16 squares. You can plant different items in each square so you can have a good variety of produce in a small space. Just note, if you end up connecting the two garden beds into one large one, the grid system will not cover the entire bed.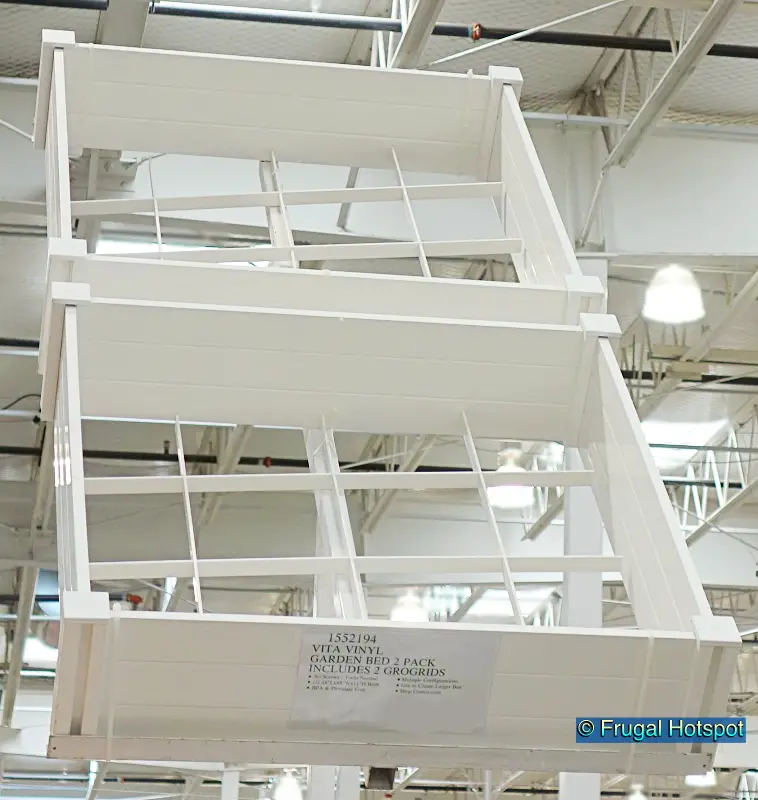 Assembling the Vita Vinyl Raised Garden Bed Kit is fairly easy since the boards slide into posts, without needing any tools or screws. This raised bed does not have a bottom floor so you will need to place it in your yard. By the way, the vinyl boards are BPA-free and phthalate-free.
Costco's Price
3/13/23.
The Vita Vinyl Raised Garden Bed Kit is available at select Costco locations for $89.99, while supplies last. Prices and inventory may vary by location and may change at any time without notice. To see if your local Costco carries this item, give them a call and ask about Item #1552194.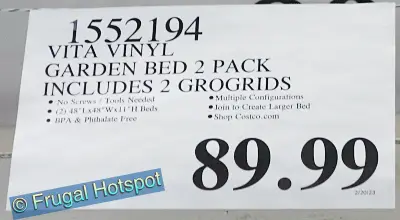 Vita Modular Vinyl Garden with Planting Grid Features
Food grade safe: BPA-free and phthalate-free white vinyl
Modular: Can be used as 2 separate raised garden beds or combine into 1 large raised garden bed
Square Foot Gardening: GroGrid dividers included to divide bed into 16 sections
Vinyl is easy to clean and maintain
Tool-free assembly
[Dirt / soil, plants, seeds, lights, accessories, etc. NOT included]
Specs per each garden bed
Dimensions: 4 ft. x 4 ft. x 11.69″ H (122.5cm x 122.5 cm x 29.7 cm H)
Aprrox. Assembled Weight: 21 lbs (9.5 kg)
Planting Area: 16 sq ft (1.5 sq m)
Soil Capacity: 13.5 cu ft (382.3 L)
Please note: Product has NO bottom floor
The Vita Vinyl Raised Garden Bed Kit does not have a bottom floor since it is designed to be place on soil or grass. That allows for proper drainage and also so your garden has access to beneficial earthworms. Ideally, build the garden bed on flat, even ground in a sunny location. Leave some space around all sides of the raised garden bed for easy access to your garden.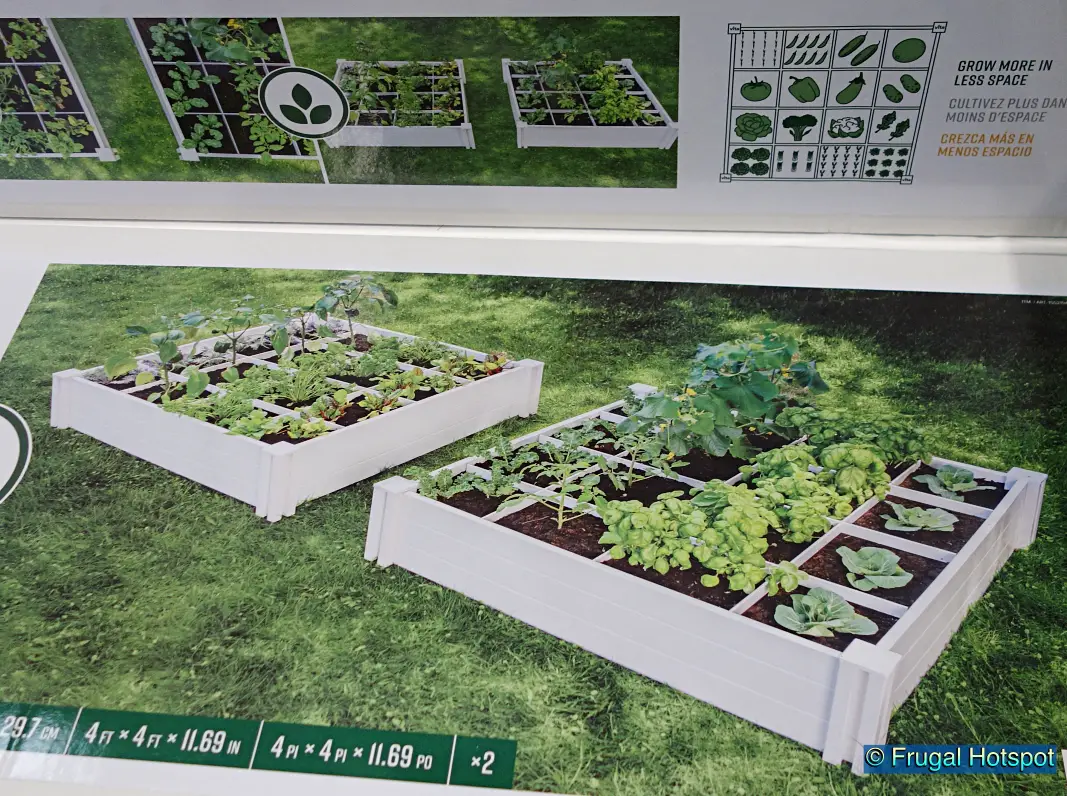 My Raised Garden Bed Experience
I purchased two Vita Vinyl Raised Garden Bed Kits from Costco in 2022 and really enjoy this type of gardening over growing veggies and herbs in elevated garden planters. While my elevated garden planters were conveniently tall and easily accessible on my back patio, the planting depth was so shallow that most of my vegetables and fruits didn't do well.
Each Vita Vinyl Raised Garden Bed Kit comes with 2 square garden beds that I combined into 1 large rectangle. I bought 2 kits so I was able to get 2 large rectangles for planting. I didn't realize how much soil this would take. It was many trips to Costco to buy more and more soil. It probably would have been cheaper to have un-bagged soil delivered from a local company.
Assembly is fairly easy. Filling it with soil is probably the hardest part. The photo below shows one garden bed filled in with soil, a lot of seeds with some that sprouted after a few weeks, along with sunflowers, strawberry plants and a tomato plant. I filled the other garden bed in late spring. Like I said, it takes a lot of soil. lol
I also added some Sterno Home Solar Lights that I purchased from Costco to give the garden area a little ambience at night. It also makes it easy to see and snip some herbs for dinner. Unfortunately, I cannot find my photo of the garden beds in full bloom. My vegetables did really well but my strawberry plants were a dud. This year I'll stick to veggies and herbs.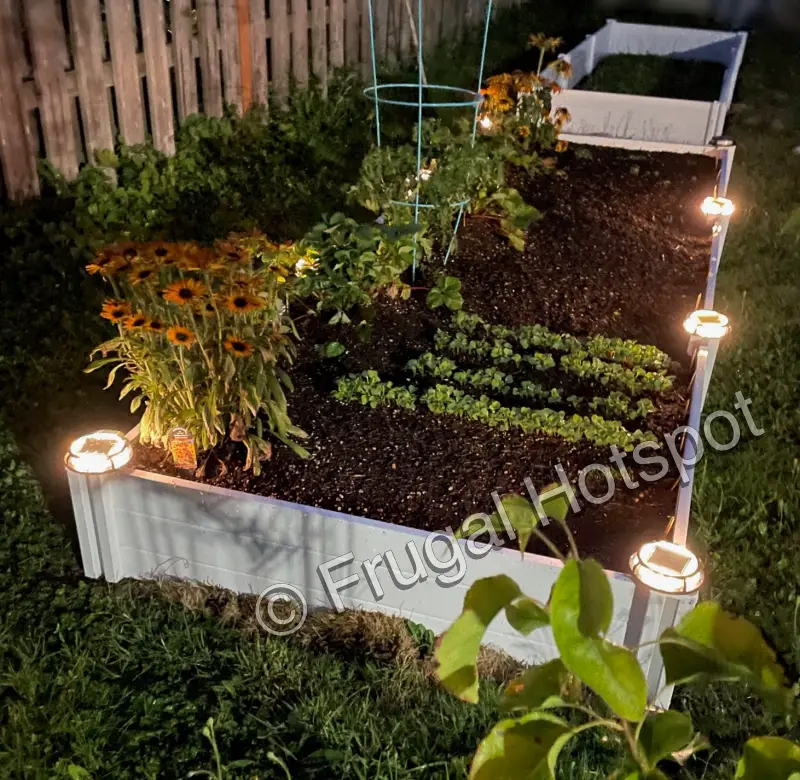 Photos may not be a perfect representation of the product, especially the color and shading.
Visit frugalhotspot.com to see what's new and to check out deals from Costco. Other options may be available at costco.com for a delivered price, while supplies last.
I do not sell this product. This is just a posting of a deal from Costco and is not an endorsement or recommendation of any product or business or of Costco. Please do your own research before making any purchase.