Costco 2018 Holiday Savings: November 16, 2018 – November 26, 2018. Prices Listed.
11/1/18.
This is the second section of the Costco 2018 Holiday Savings Book and there are so many great deals on products like the Ghirardelli Peppermint Bark, Reser's Scalloped Potatoes, Kirkland Signature Shrimp, Samsung Galaxy Watch, Vizio Soundbar and more! The sale runs from Friday, November 16, 2018 through Monday, November 26, 2018.  Remember, Costco will be closed on Thanksgiving Day (Thursday, November 22, 2018).
I have individual posts on some items; just click on the purple 'more info' to take you to the individual post that has photos and descriptions of the product.
All items are while supplies last and price and availability is subject to change without notice. These prices are from the Covington, Washington Costco so your prices may vary.
To see the complete savings book, check out:
Costco 2018 Holiday Savings + Black Friday Coupon Book.
Happy shopping!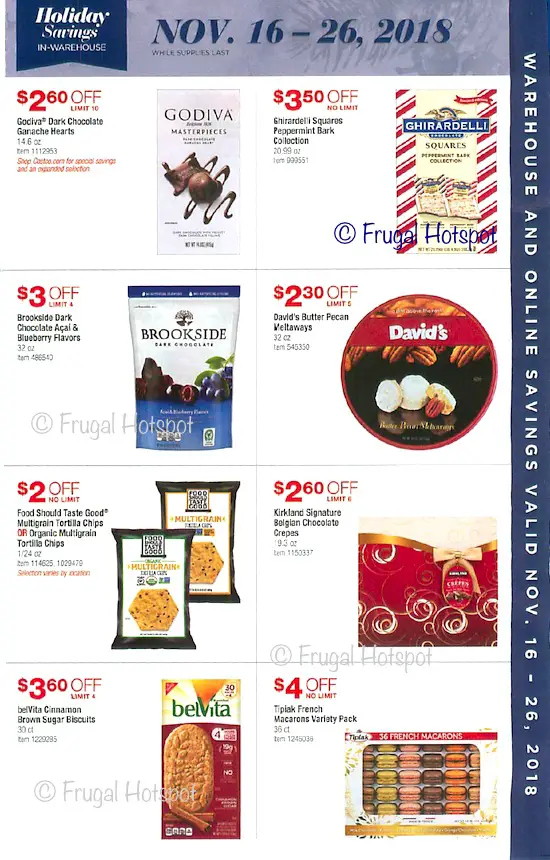 Godiva Dark Chocolate Ganache Hearts 14.6 oz $8.59 -$2.60= $5.99
Ghirardelli Squares Peppermint bark $11.69 -$3.50= $8.19
Brookside Dark Chocolate açai & Blueberry Flavors 32 oz $9.99 -$3= $6.99
David's Butter Pecan Meltaways 32oz $9.99 -$2.30=$7.69
Food Should Taste Good multigrain Tortilla Chips 24 oz $5.99 – $2= $3.99
Kirkland Signature Belgian Chocolate crepes $9.59 – $2.60= $6.99
belVita Cinnamon Brown Sugar 30-ct $11.99 -$3.60= $8.39
Tiplak French Macarons variety 36 ct $15.99 – $4= $11.99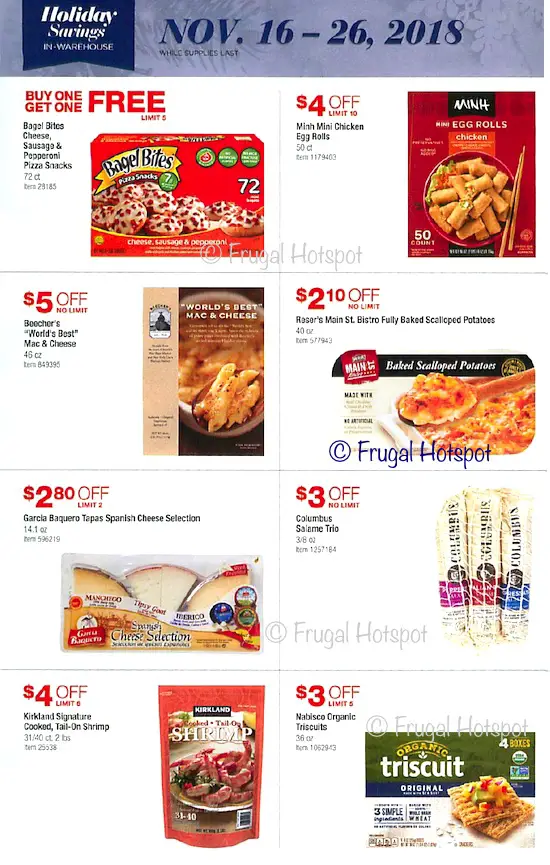 Bagel Bites Cheese, Sausage, Pepperoni 72 ct $8.99 Buy One Get One Free
Minh Mini Chicken Egg Rolls 50 ct
Beecher's "World's Best" Mac n Cheese 46 oz $12.99 – $5= $7.99
Reser's Main St. Bistro fully baked Scalloped Potatoes 40 oz $6.79 – $2.10=$4.69
Garcia Tapas Spanish Cheese selection 14.1 oz $9.79 – $2.80= $6.99
Columbus Salame trio $10.49 – $3= $7.49
Kirkland Signature Cooked Shrimp Tail-on 31/40 ct 2 lbs $15.89 -$4 = $11.89  10/29/18.
Nabisco Organic Triscuits 36 oz $8.99 – $3=$5.99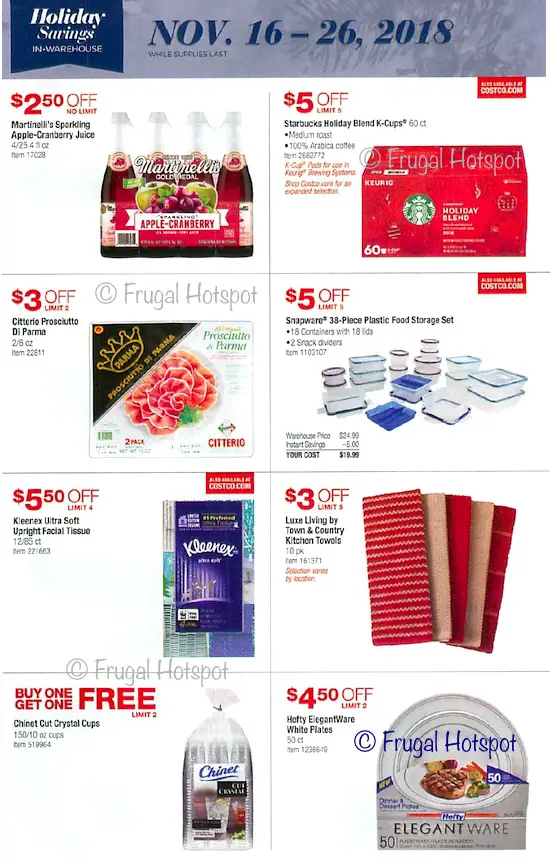 Martinelli's Sparkling Apple-Cranberry juice 4/25.4 oz $8.99 – $2.50= $6.49
Starbucks Holiday Blend K-Cups 60-ct $29.99 – $5= $24.99
Citterio Prosciutto di Parma 2/6 oz $11.99 – $3= $8.99
Snapware 38-pc Plastic Food Storage more info $24.99 – $5= $19.99
Kleenex Ultra 3-Ply Facial Tissue upright 12/85 ct $16.99 – $5.50= $11.49
Luxe Living Town & Country Kitchen Towels 10-pack more info $11.99 – $3= $8.99
Chinet Cut Crystal Cups 150/10 oz cups $9.49 Buy One Get One Free
Hefty ElegantWare White Plates 50-ct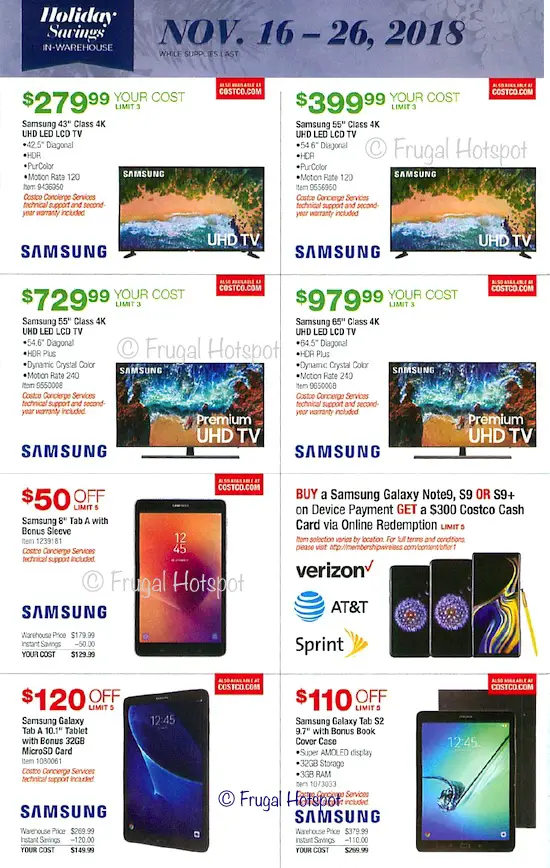 Samsung 43″ 4K UHD LED LCD TV $279.99
Samsung 55″ 4k UHD LED LCD TV $399.99
Samsung 55″ 4k UHD LED LCD TV $729.99
Samsung 65″ 4K UHD LED LCD TV $979.99
Samsung 8″ Tab A Tablet $179.99 – $50= $129.99
Buy a Samsung Galaxy Note9, S9 or S9+ on device payment and get a $300 Costco Cash Card via online redemption. (Verizon, At&T, Sprint)
Samsung Galaxy Tab A 10.1″ tablet $269.99 – $120= $149.99
Samsung Galaxy Tab S2 9.7″ $379.99 – $110= $269.99

Samsung 58″ 4k UHD LED LCD TV $529.99
Samsung 65″ 4K UHD LED LCD TV $649.99
Samsung 75″ 4k UHD LED LCD TV $1,579.99
Samsung 82″ 4k UHD LED LCD TV $2,479.99
Samsung 75″ 4K UHD LED LCD TV $1,279.99
Samsung 3.1 Ch Soundbar $249.99 – $50= $199.99
Samsung Galaxy Watch 42mm Rose Gold more info $319.99 -$70= $249.99
Samsung Galaxy Watch 46mm Silver more info $339.99 – $70= $269.99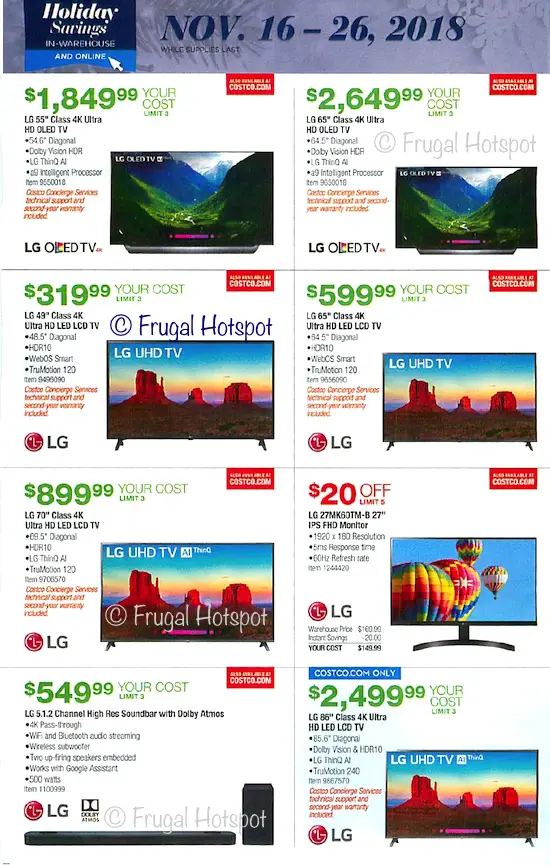 LG 55″ 4k Ultra HD OLED TV $1,849.99
LG 65″ 4K Ultra HD OLED TV $2,649.99
LG 49″ 4k Ultra HD LED LCD TV $319.99
LG 65″ 4K Ultra HD LED LCD TV $599.99
LG 70″ 4k Ultra HD LED LCD TV $899.99
LG 27MK60TM-B 27″ monitor $160-$20= $149.99
LG High Res Soundbar $549.99