Costco 2018 Holiday Savings: November 6, 2018 – November 15, 2018. Prices Listed.
10/31/18.
This is the first section of the Costco 2018 Holiday Savings Book and there are so many exciting deals on products like the Cangshan Cutlery Set, Henckels Capri Granitium Fry Pans, Conair Styling Wand, Kirkland Signature Lasagna, Edward Marc Toffee Almonds and more! The sale runs from Tuesday, November 6, 2018 through Thursday, November 15, 2018. 
I have individual posts on some items; just click on the purple 'more info' to take you to the individual post that has photos and descriptions of the product.
All items are while supplies last and price and availability is subject to change without notice. These prices are from the Covington, Washington Costco so your prices may vary.
To see the complete savings book, check out:
Costco 2018 Holiday Savings + Black Friday Coupon Book.
Happy shopping!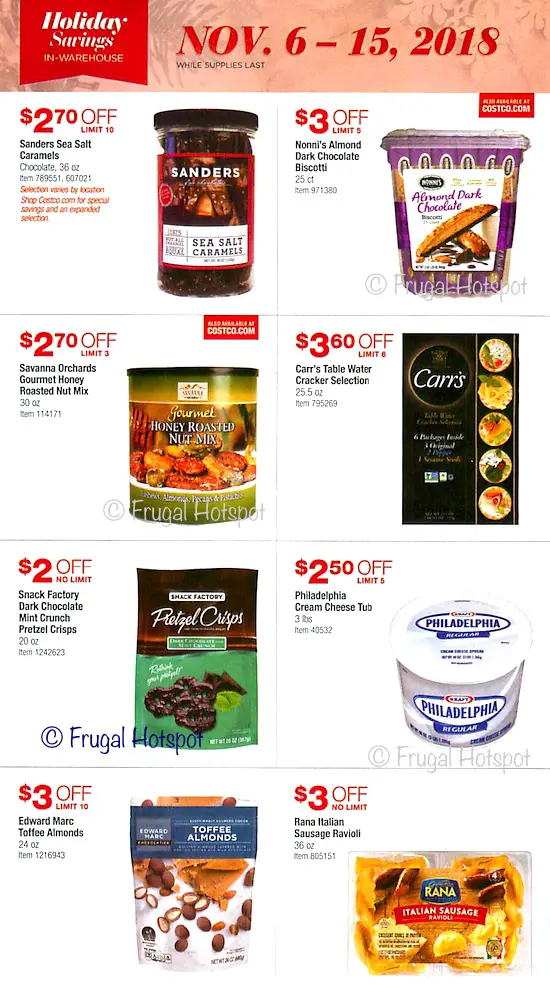 Sanders Sea Salt Caramels Chocolate 36 oz $9.49 – $2.70= $6.79
Nonni's Almond Dark Chocolate Biscotti 25 ct $9.99 – $3= $6.99
Savanna Orchards Honey Roasted Nut mix 30 oz $13.89 – $2.70=$11.19
Carr's Table Water Cracker Collection 6-ct $8.99 – $3.60= $5.39
Snack Factory Dark Chocolate Mint Pretzel Crisps 20 oz $6.99 -$2=$4.99
Philadelphia Cream Cheese Tub 3 lbs $7.99 – $2.50= $5.49
Edward Marc Toffee Almonds 24 oz $9.89 – $3= $6.89
Rana Italian Sausage Ravioli 36 oz $8.89 – $3= $5.89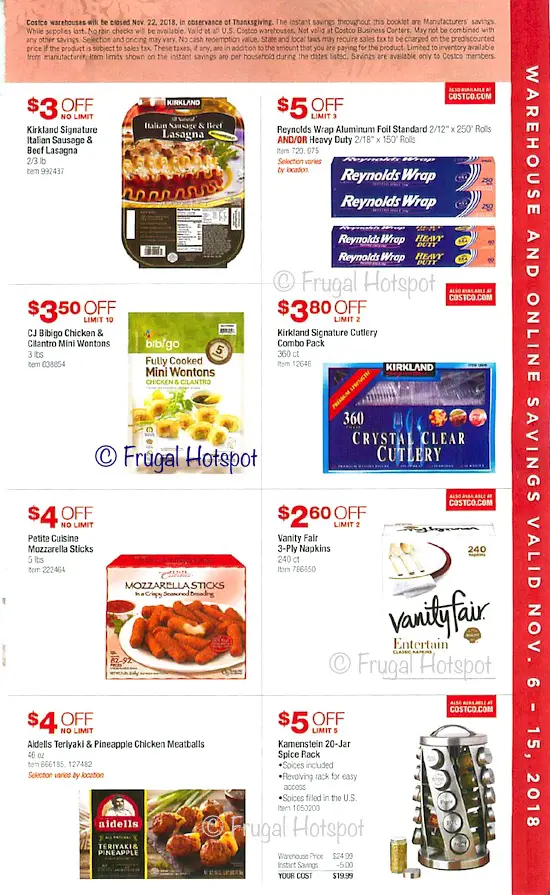 Kirkland Signature All natural Meat Lasagna 6 lbs $11.99 – $3=$8.99
Reynolds Wrap Aluminum Foil Standard 2-pack 12″ x 250′ rolls $15.99 – $5= $10.99
Reynolds Wrap Aluminum Foil Heavy-Duty 2-pack 18″ x 150′ rolls $13.69 – $5= $8.69
CJ Bibigo Chicken Cilantro Mini Wontons 3 lbs $9.69 – $3.50= $6.19
Kirkland Signature Cutlery Combo 360 ct $12.79 – $3.80= $8.99
Petite Cuisine Mozzarella Sticks 5 lbs $13.99 – $4= $9.99
Vanity Fair 3-Ply Impressions Dinner Napkins 240 ct $8.49 – $2.60= $5.89
Aidells Teriyaki Pineapple Chicken meatballs 46 oz $13.69 – $4=$9.69
Kamenstein 20-Jar Spice Rack $24.99 – $5= $19.99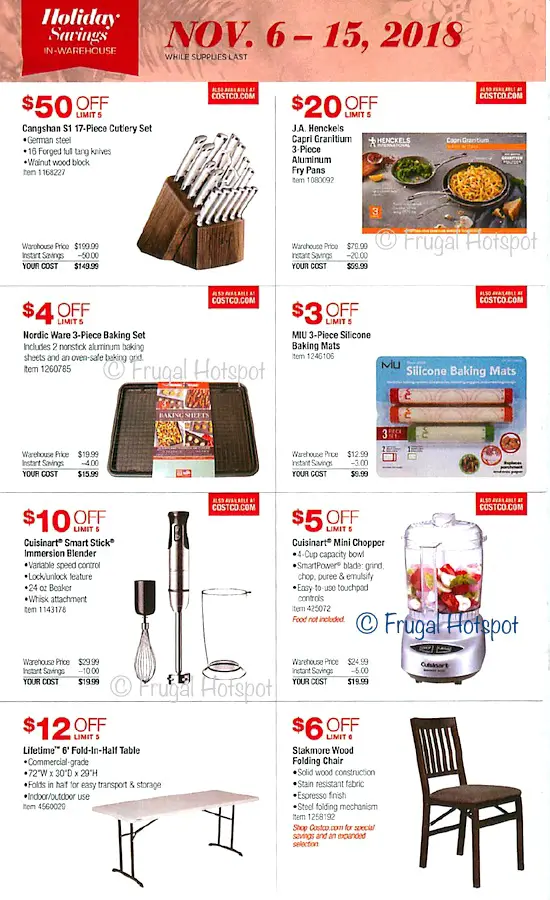 Cangshan S1 Cutlery Set 17-Piece $199.99 -$50= $149.99
J.A. Henckels Capri Granitum Aluminum Fry Pan 3-Piece more info $79.99 -$20= $59.99
Nordic Ware Baking Set 3-Piece $19.99 -$4= $15.99
MIU Silicone Baking Mats 3-Piece $12.99 -$3= $9.99
Compiling this list takes a LOT of time and effort so please do not repost this on any other website. Thanks.
Cuisinart Smart stick Immersion Blender more info $29.99 – $10= $19.99
Cuisinart Mini Chopper more info $24.99 -$5= $19.99
Lifetime 6′ Fold-in-Half Table $52.99 -$12= $40.99
Stakmore Wood Folding Chair $29.99 – $6= $23.99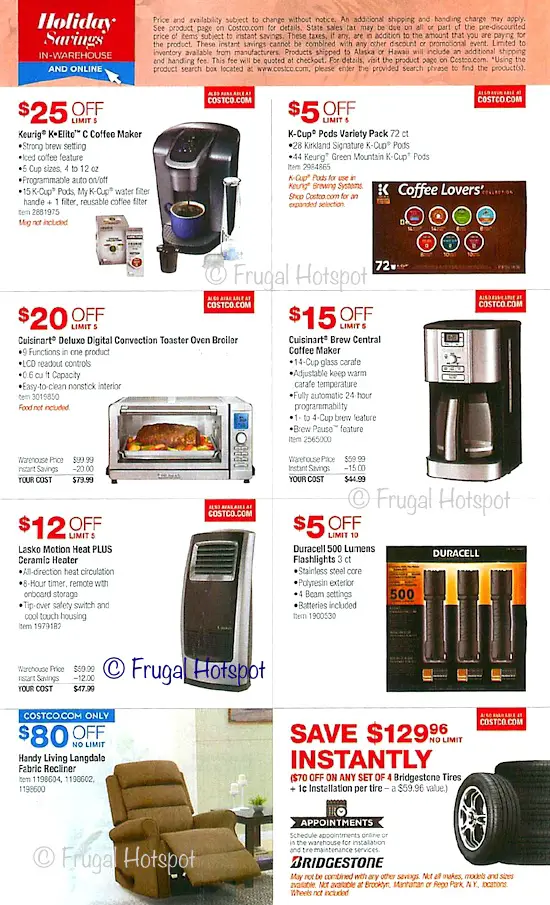 Keurig K-Elite C Coffee Maker more info $124.99 -$25= $99.99
K-Cup Pods Variety Pack 72-count $29.99 -$5= $24.99
Cuisinart Digital Convection Toaster Oven more info $99.99 – $20= $79.99
Cuisinart Brew Central Coffee Maker more info $59.99 – $15= $44.99
Lasko Motion Heat Plus Ceramic Heater $59.99 – $12= $47.99
Duracell 500 Lumens Flashlights 3-ct $19.99 – $5= $14.99
Bridgestone Tires -$70 of any set of 4 tires + 1¢ installation per tire (a $59.96 value!)
(Not all make, models and sizes available. Not available at Brooklyn, Manhattan or Rego Park, New York locations. Wheels not included.)