Costco Coupon Book: January 2, 2019 – January 27, 2019. Prices Listed.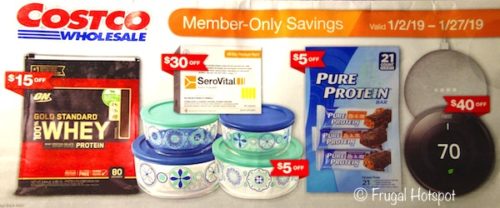 1/5/19.
*UPDATE* 1/10/19.
This Member's Only Savings Book from Costco runs from Wednesday, January 2, 2019 through Sunday, January 27, 2019. I have my shopping list ready to go: Skinny Pop Popcorn, Classico Organic Pasta Sauce, Nature's Bakery Fig Bar Variety Packs, Jimmy Dean Turkey Sausage English Muffins, Blount King Crab Corn Chowder, and Columbus Hickory Smoked Uncured Turkey Bacon.
The prices listed are from the Covington, Washington Costco. Your prices may vary.
I have individual posts on some items; just click on the purple 'more info' to take you to the individual post that has photos and descriptions of the product.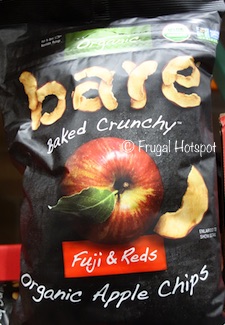 FOOD
Bare Organic Apple Chips 14 oz  $9.89 – $3= $6.89
Black Forest Organic Gummy Bears 65 ct  $12.99 – $3.50=$9.49
Blount King Crab and Corn chowder 2/20 oz  $9.99 -$3= $6.99
Classico Organic Pasta Sauce 3/32 oz  $8.59 -$3= $5.59
Columbus Hickory Smoked Uncured Turkey Bacon 4/10 oz  $13.59 – $4= $9.59
Dannon Light & Fit Greek Yogurt 18/5.3 oz  $12.99 -$4.20=$8.79
Don Miguel Chicken Cheese Mini Tacos 72-ct  $9.99 -$3.30= $6.69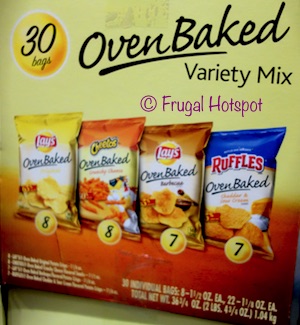 Frito-Lay Baked chips 30 ct  $12.59 – $3.50= $9.09
Hillshire Farm Naturals Turkey Breast 3/11 oz  $9.59 -$3=$6.59
Jif Peanut Butter 2/48 oz $9.59 -$2.50= $7.09
Jimmy Dean Delights Turkey Sausage, Egg White English Muffin 12 ct  $11.99 -$3= $8.99
Kellogg's Special K Red Berries Cereal 43 oz  $8.99 – $2.70=$6.29
Kirkland Signature Soft Chewy Granola Bars 64 ct  $7.79 -$2.50= $5.29
Kodiak Power Cakes Flapjack & Waffle Mix 72 oz  $11.99 -$3.50= $8.49
Late July Organic Tortilla Chips 28-oz  $6.79- $2.50= $4.29
Made in Nature Mango pops 20 oz  $9.99 -$3= $6.99
Nature's Bakery Fig Bar 36 ct  $11.49 – $3.30=$8.19
Perky Jerky Turkey Jerky 14 oz  $13.79 – $4.30= $9.49
Pierre Signatures Angus Cheeseburgers 8/6.2 oz  $14.99 – $4= $10.99
Planters Dry Roasted Peanuts 52 oz $6.49 Buy One Get One FREE= $6.49 for TWO
Pulmuone Teriyaki Stir fry Udon 29.4 oz  $7.99 -$2.30= $5.69
Pure Protein bars 21 ct  $18.99 -$5= $13.99
Sabra Snackers Classic Hummus w/Pretzels 6 ct  $7.99 – $3.20= $4.79
Seeds of Change Organic Quinoa & Brown Rice 6/8.5 oz  $10.99 – $2.80= $8.19
Simple Mills Almond Flour Crackers 2/8.5 oz  $8.99- $2.20= $6.79
Skinny Pop popcorn 28 ct  $12.99 – $4= $8.99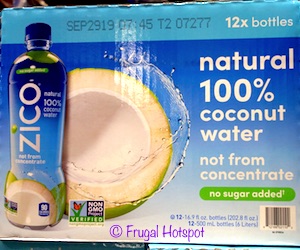 BEVERAGES
Green Mountain Keurig Brewed K-Cup Pods 100-ct $44.99 -$5= $39.99
(Newman's Own Organic, Caribou, Original Donut Shop, Tully's Hawaiian Blend, or Green Mountain Sumatra Reserve) Selection may vary by location.
Nescafe Taster's Choice House Blend Coffee 14 oz  $13.99 -$4.20= $9.79
Starbucks Pike Place Medium Roast K-Cup Pods 60-ct $34.99 -$5= $29.99
SunnyD Tangy Original 30/11.3 oz  $11.99 -$3.80= $8.19
Zico Coconut Water 12/16.9 oz  $17.79 – $4= $13.79
HOME
Blendtec Classic 575 Blender  more info $199.99
Brita Advanced Filters 10-Pack  more info $31.99
Brita Lake Pitcher  more info $21.99
Flocked Hangers 50 ct  more info $9.99
Pyrex Decorated Glass Food Storage Set  more info $12.99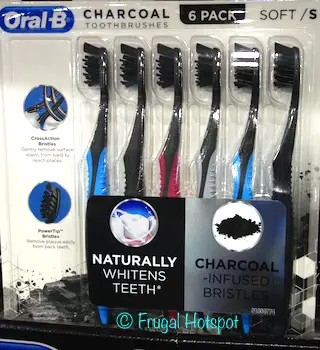 ORAL CARE
Crest 3D White Charcoal Toothpaste 4-Pack $19.99 -$4= $15.99
Oral-B Adv. Clean Rechargeable Toothbrush 2-Pack  more info $64.99
Oral-B Brush Heads Refill 9-ct  more info $39.99
Oral-B Charcoal-Infused Toothbrushes 6-Pack $14.99 -$4= $10.99
Oral B Smart Series Rechargeable Toothbrush 2-Pack  more info $99.99