*UPDATE* 4/4/21. 
I love gardening season at Costco with all the beautiful flowers and trees and garden decor. This list includes outdoor and indoor plants, garden decor, lawn care, weed management, plant food and more!
Price, participation, and inventory may vary by location. These products were spotted at the Covington, Washington and Federal Way, WA Costco but may not be available at all Costco locations. While supplies last, of course. Please contact your local Costco if you have questions about an item being in stock.
---
To get to a specific section, click on the word:
Bulbs
Plants
Trees / Shrubs / Bushes
Soil / Potting Mix
Plant Food
Planter / Garden Bed
Garden Decor
Lawn Care
Weed Management
Moss Management
Pest Control
Gloves
Hose
Misc.
BULBS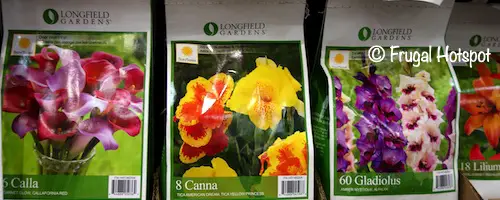 Longfield Gardens Spring Bulb Assortment  $12.99  (Item #882504)
(Selection may include acidanthera, anemone, begonia, calla, canna, crinum, crocosmia, dahlia, gladiolus, liatris, lilium, etc.)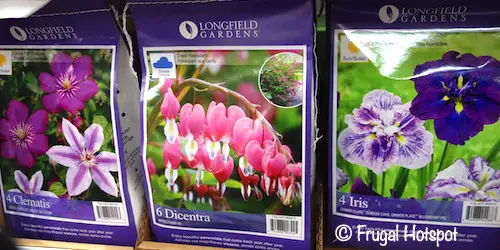 Longfield Gardens Spring Perennial Assortment  $12.99 (Item #868915)
(Selection may include astilbe, clematis, daylily, dicentra, echinacea, eryngium, geranium, helenium, heuchera,  hosta, iris, kniphofia, peony, platycodon, sedum etc.)

Preplanted Flower Bulbs in Container $19.99 (Item #537582)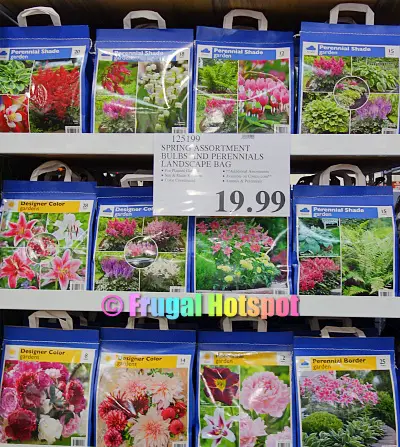 Spring Assortment Bulbs and Perennials $19.99 (Item #125199)
(selection may vary)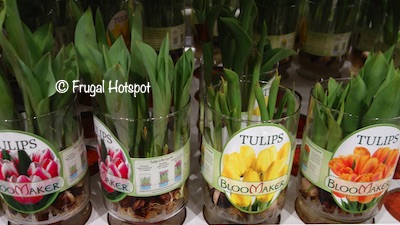 Tulip Bulbs in Vase $12.99 (Item #32764)
(Indoor. Natural light. Keep at room temperature.)
PLANTS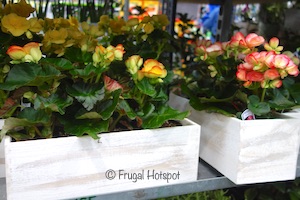 Begonia in Wood Box $12.99 (Item #1134662)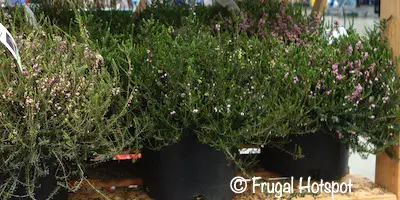 Heather 2.25 gal $11.99 (Item #1157411)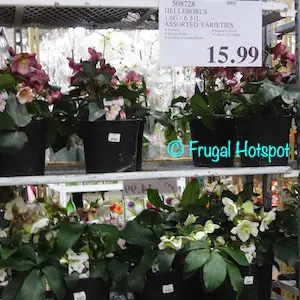 Helleborus 1.6 gal $15.99 (Item #508728)
(Perennial, blooms in winter)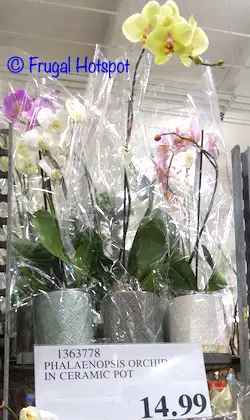 Orchid Phalaenopsis in Ceramic Pot $14.99 (Item #1363778)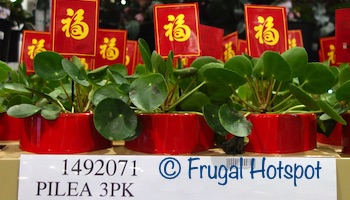 Pilea 3-pk $24.99 (Item #1492071)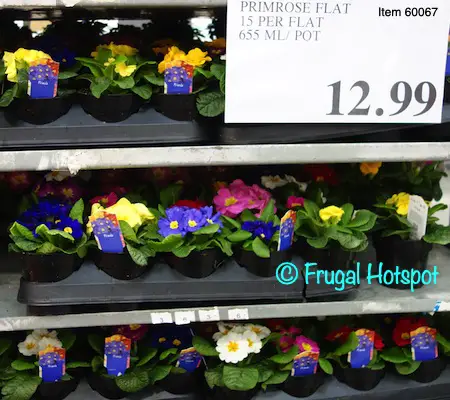 Primrose Flat $12.99 (Item #60067)
(15 per flat)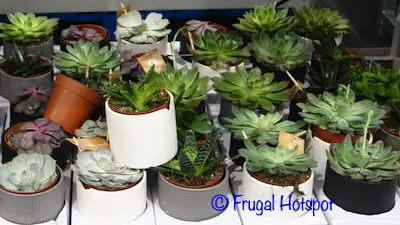 Succulent 3-pack $19.99 (Item #1001730)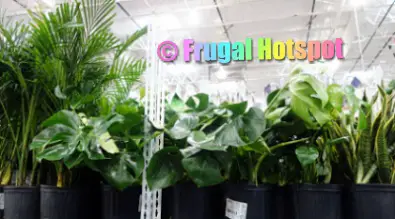 Tropical Foliage 2.3 gal $17.99 (Item #1366474)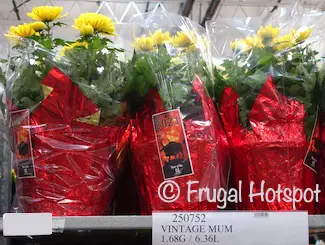 Vintage Mum 1.68 gal $11.99 (Item #250752)
TREES / SHRUBS / BUSHES / VINES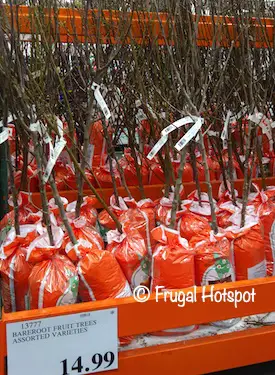 Bareroot Fruit Tree $14.99 (Item #13777)
(May include semi-dwarf pears or apples)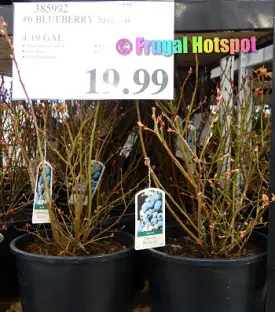 Blueberry Shrub 4.19 gal $19.99 (Item #385992)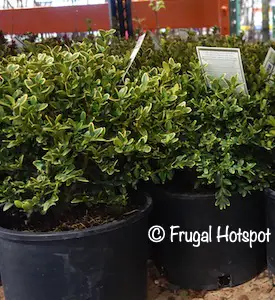 Boxwood 2.14 gal $17.99 (Item #18882)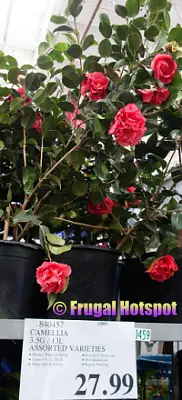 Camellia 3.5 gal $27.99 (Item #840457)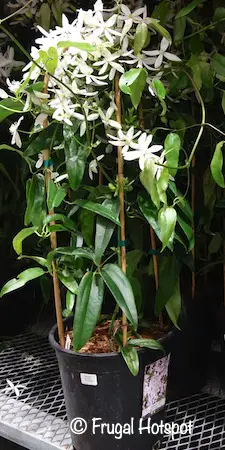 Clematis 5.1 gal $28.99 (Item #389375)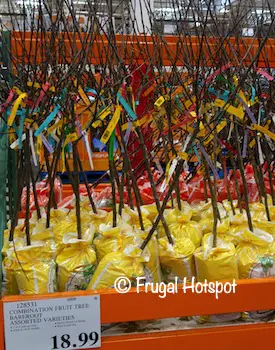 Combination Fruit Tree Bareroot $18.99 (Item #128531)
(3-5 buds per tree, showy flowers in spring, fruit in 18-24 months, plant in full sun, may include *apples or *cherries)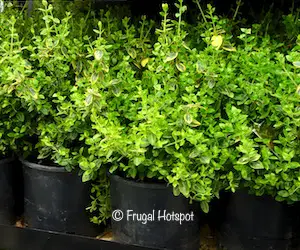 Euonymus 2.14 gal $13.99 (Item #264534)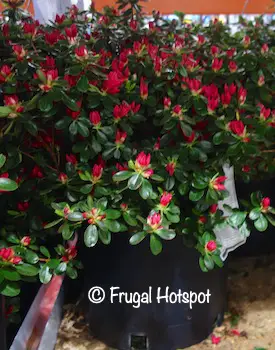 Evergreen Azalea 2.14 gal $16.99 (Item #18742)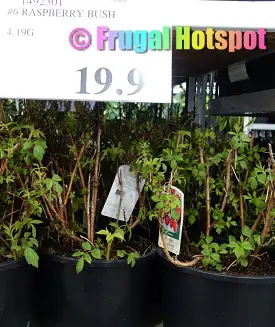 Raspberry Bush 4.19 gal $19.99 (Item #1492301)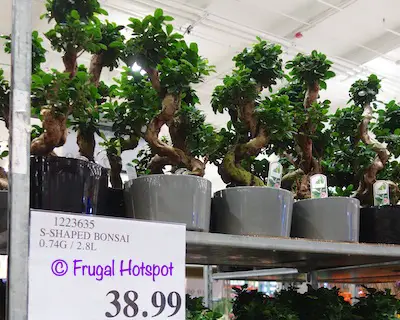 S-Shaped Bonsai 0.74 gal $8.99 (Item #1223635)
SOIL / POTTING MIX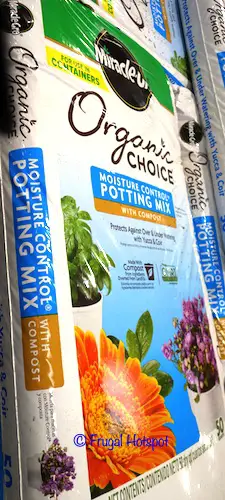 Miracle Gro Organic Choice Potting Mix 50-qt $8.99 (Item #1372969)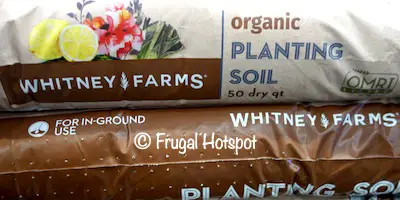 Whitney Farms Organic Planting Soil 50-qt $7.99 (Item #1373262)
PLANT FOOD
BioAdvanced 2-in-1 Rose and Flower Care Granules 12 lbs  $17.99 (Item #1125842)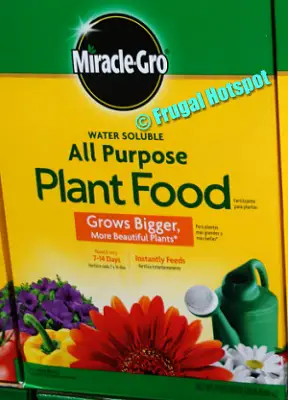 Miracle Gro Plant Food 12.5 lbs $19.99 (Item #480666)
(Safe for flowers, vegetables, indoor and outdoor plants, feed every 7-14 days)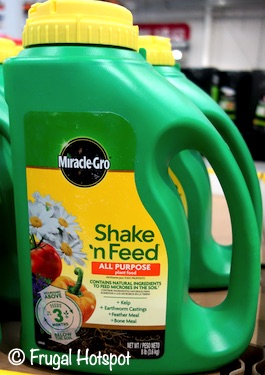 Miracle Gro Shake 'n Feed Plant Food 8 lbs $18.99 (Item #3003108)
(Indoor or outdoor all purpose plant food to feed microbes in soil, feeds for up to 3 months)
PLANTER / GARDEN BED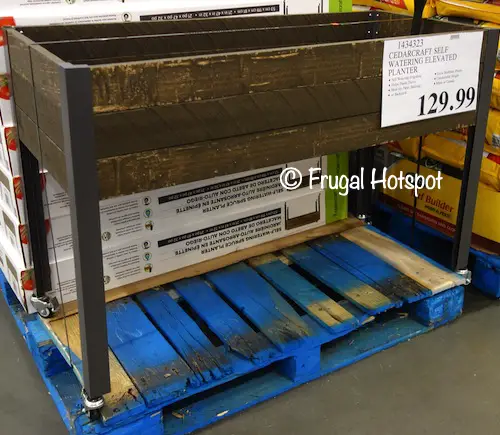 Cedar Craft Self Watering Elevated Planter $129.99 (Item #1434323)
(21″ x 47″ x 32″, Canadian Spruce, powder coated aluminum legs, locking casters)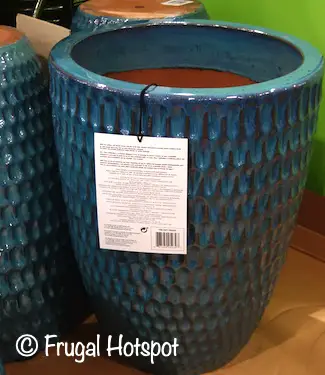 Channel Glazed Ceramic Planter $39.99 (Item #1902430)
(16.5″ W x 21.25″ H, holds about 40 dry quarts, weather resistant)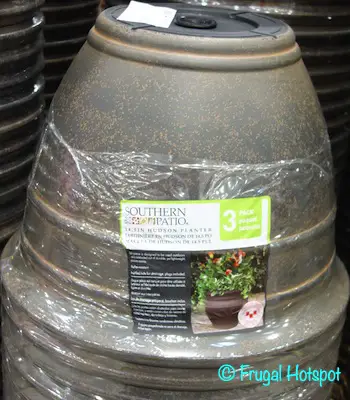 Southern Patio Hudson Resin Planter 3-Pk $19.99 (Item #1902349)
(Pre-drilled hole for drainage, plugs included, weather and UV resistant, 14.5″W x 10.7″H)
Vita White Vinyl Raised Garden Bed 2-ct $64.99 (Item #972194)
(Includes two 48″x48″x11.5″ beds, no screws or tools needed)
GARDEN DECOR

Harmonically Tuned Wind Chime $59.99 (Item #1902425)
Stand NOT included.
(63″ H x 8.5″ W, black powder-coated finish, weather-resistant finish, 15″ aluminum tubes, steel top ring and sail, aluminum hook)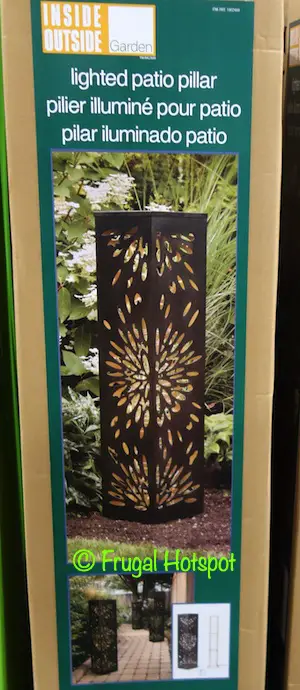 Inside Outside Garden Lighted Patio Pillar more info $59.99 (Item #1902444)

Inside Outside Garden Trellis $19.99 (Item #1902442)
(23″ L x 71.75″ H, powder-coated finish, steel, outdoor use only)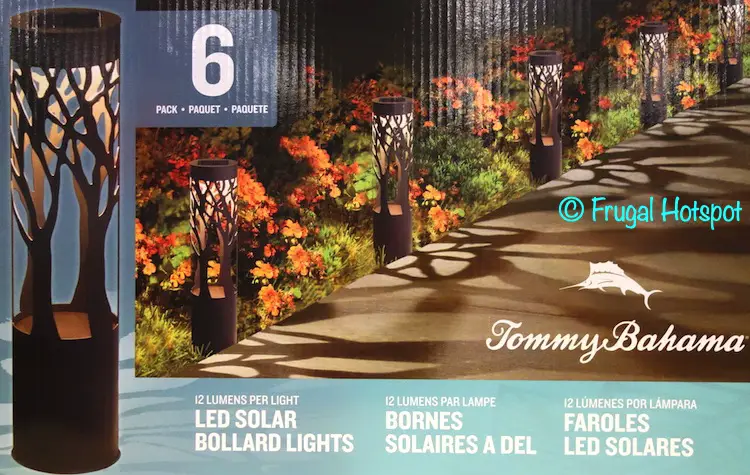 Tommy Bahama Solar LED Pathway Lights more info $49.99 (Item #1600330)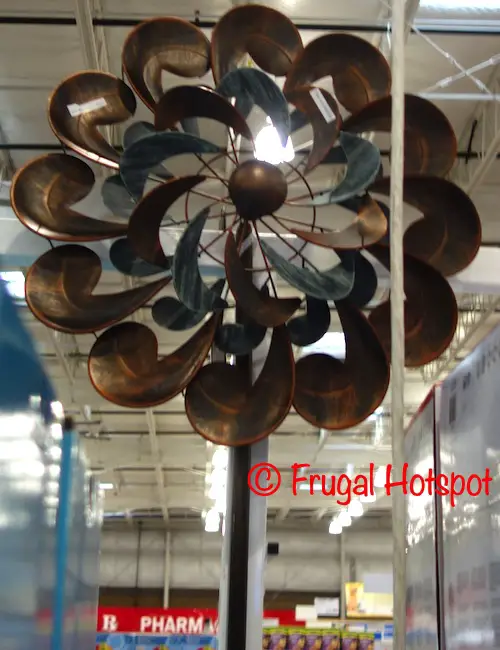 Two Tone Metal Wind Catcher more info $39.99 (Item #1902348)
LAWN CARE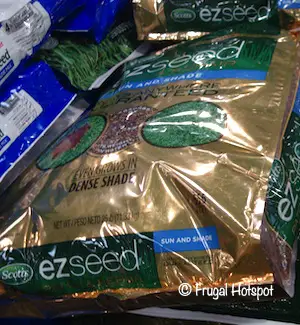 Scotts EZ Seed Sun and Shade $49.99 (Item #1117547)
(Covers 556 sq ft, seed + mulch + fertilizer, repairs bare spots)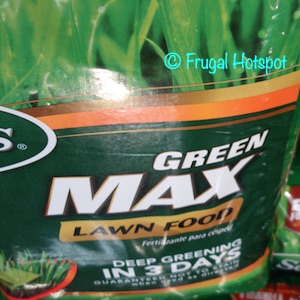 Scotts Green Max Lawn Food $49.99 (Item #1372916)
(Covers 14,000 sq ft, feeds lawn for 3 months)
Scotts Turf Builder Crabgrass Preventer $49.99 (Item #1373649)
(Covers 14,000 sq ft, stops crabgrass)
Scotts Turf Builder Sun & Shade Grass Seed 15 lbs $39.99 (Item #1118475)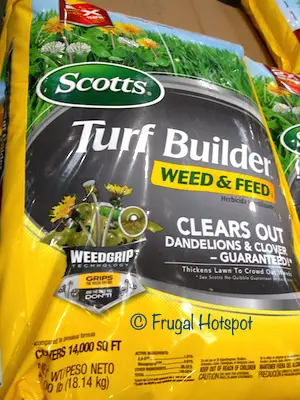 Scotts Turf Builder Weed & Feed $44.99 (Item #1373657)
(Covers 14,000 sq ft, thickens lawns, clears out dandelions and clover)
WEED MANAGEMENT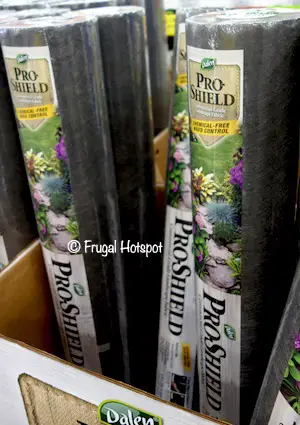 Dalen Pro Shield Landscape Fabric $29.99 (Item #933)
(Weed and erosion control, 4 ft x 22 ft, 50 staples, heavy duty fabric, retains moisture)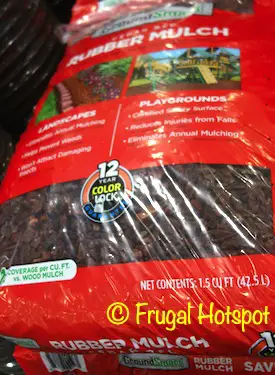 Liberty Tire Rubber Mulch 1.5 cu ft $9.99 (Item #123)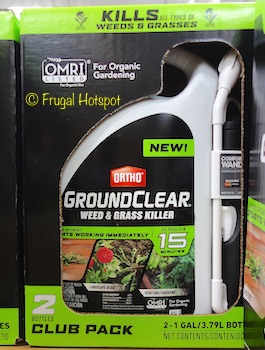 Ortho GroundClear Weed and Grass Killer 2/1 Gallon  $29.99 (Item #1299583)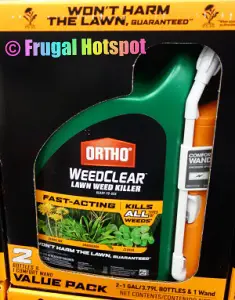 Ortho WeedClear Lawn Weed Killer 2/1 gal + 1 Wand $21.99 (Item #1385992)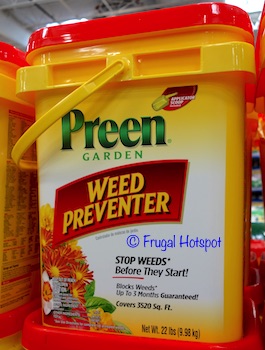 Preen Weed Preventer 22 lbs $27.99 (Item #1272331)
(Covers over 3,500 sq ft, prevents weeds for 3 months, may apply spring to fall)
MOSS MANAGEMENT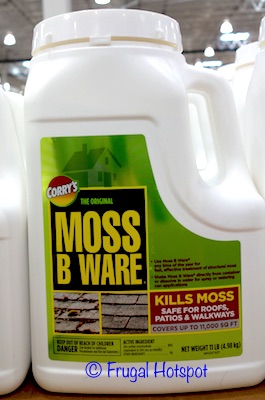 Corry's Moss B Ware 11 lbs $26.99 (Item #1193388)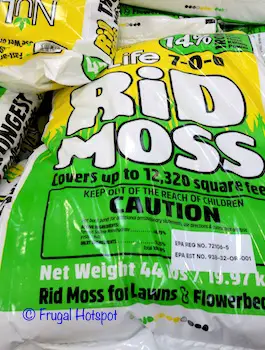 NuLife Rid Moss 44 lbs  $23.99 (Item #122058)
(Covers 12,320 sq ft, controls moss in laws and flower beds, 7-0-0 formula)
Wet & Forget Outdoors Moss, Mold, Mildew & Algae Stain Remover 68 oz $29.99 (Item #1219756)
PEST CONTROL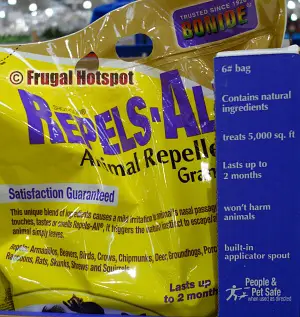 Bonide Repels-All Animal Repellent Granules 6 lbs $19.99 (Item #1206542)
(Treats up to 5,000 sq ft. Won't harm animals but repels them according to the manufacturer- armadillos, beavers, birds, crows, chipmunks, deer, groundhogs, porcupines, raccoons, rats, sunks, shrews, and squirrels. Lasts up to 2 months.)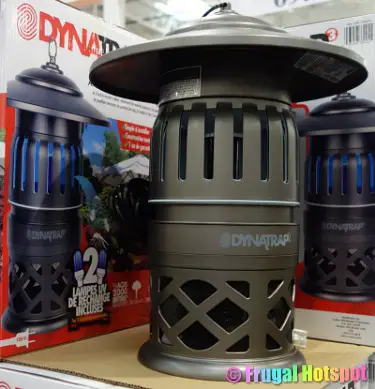 Dynatrap Insect Trap $69.99 (Item #1900710)
(Includes 2 UV bulbs. Protects up to 1/2 acre. Reduce mosquitos, wasps, biting flies, hornets, etc. Pesticide and odor free and smokeless.)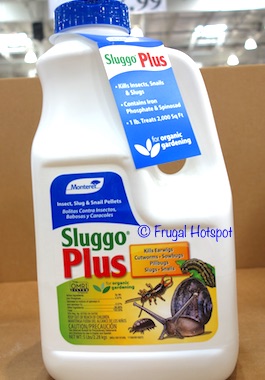 Sluggo Plus Insect, Slug and Snail Bait 5 lbs  $27.99 (Item #1198653)
(Covers up to 10,000 sq ft, ideal for vegetable gardens)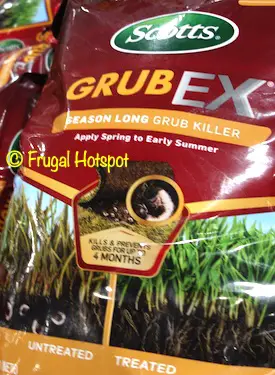 Scotts Grubex Season Long Grub Killer $39.99 (Item #1507696)
(Covers up to 10,000 sq ft, helps prevent root damage)
GLOVES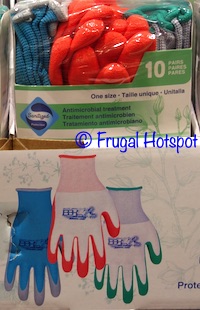 BBH Group Gardening Gloves 10-pairs $9.99 (Item #1600321)
(Antimicrobial treatment, one size, anti-slip grip)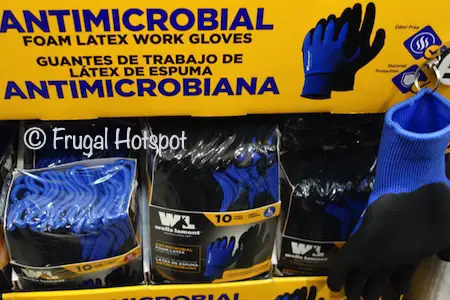 Wells Lamont Foam Latex Work Gloves 10-pairs $9.99 (Item #1600320)
(Antimicrobial treatment, size selection varies, anti-slip grip)
HOSE etc

.

Bonaire Ultimate Water Blaster $15.99 (Item #1479840)
(Connect to standard hose, extends 6ft, 2 spray patterns)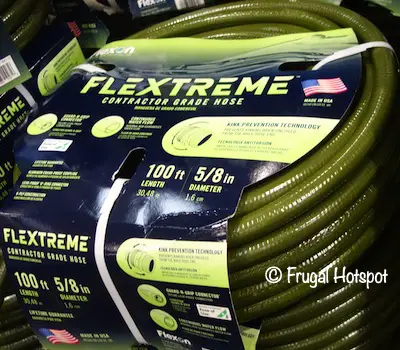 Flexon Flextreme Contractor Grade 100 ft Hose  $23.99 (Item #1184115)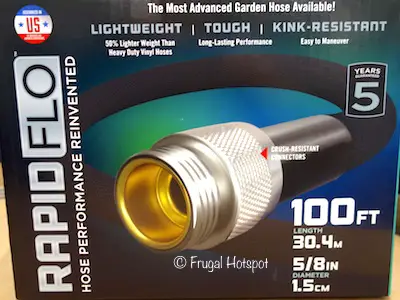 Teknor Apex 100 ft Rapid Flo Compact Garden Hose  $39.99 (Item #4008100)

Some items may be available at costco.com (sometimes for a higher, delivered price).
MISC.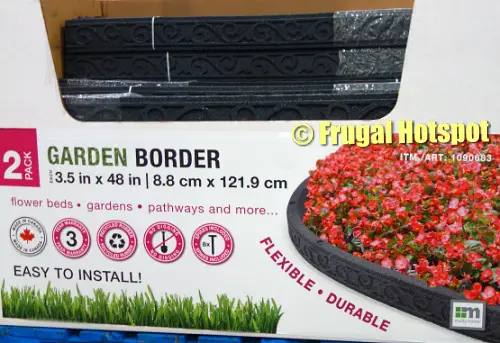 EcoTrend Flexible Rubber Garden Border 2-pack $18.99 (Item #1090683)
(48″L x 2″ W x 3.5″ H each, 95% recycled material, (8) 9″ spikes included)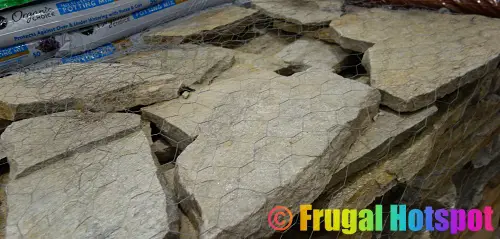 Storm Mt Flagstone 1 ton $329.99 (Item #880909)
(Quartzite, approx 90-100 sq ft, 1″-2″ thick, great for pathways, patios, stepping stones)
(Some locations like Tukwila, WA may have Costco Item #1549665 ($229.99), which is a thinner 1″ flagstone covering 90-100 sq ft.)
While supplies last. Price and participation may vary so it may not be available at your local Costco or it may not be on sale at your local Costco or it may be a different price at your local Costco. Prices & sales dates may change at any time without notice. Photos may not be a perfect representation of the product. Description of product is garnered from product packaging.
I do not sell these products. This is just a posting of a deal from Costco and is not an endorsement or recommendation of any product or of Costco. Please do your own research before making any purchase.
Thanks for visiting my blog!
EXPIRED DEALS:
Scotts EZ Seed Sun and Shade $39.99 (was $49.99 exp. 4-3-21. Item #1117547)
Scotts Turf Builder Weed & Feed $34.99 (was $44.99 exp. 4-3-21. Item #1373657)
Spring Assortment Bulbs and Perennials $16.99 (was $19.99 exp. 3-21-21. Item #125199)
Wells Lamont Hydra Hyde Work Gloves 3-pack $19.99 (was $24.99 exp. 3-28-21. Item #1369581)
Wet & Forget 68oz Moss, Mold, Mildew Remover $24.99 (was $29.99 exp. 3-28-21. Item #1219756)
Whitney Farms Organic Planting Soil 50 qt $6.49 (was $7.99 exp. 4-3-21. Item #1373262)