*UPDATE* 5/14/21.
Just a heads up that Refresh Skin Therapy Vitamin C Serum is on sale for $14.99 (after instant savings) at select Costco locations, now through May 23, 2021. That's a $5 savings! It's also on sale at costco.com, for a higher delivered price.
---
Sponsored post.
4/6/21.
Costco stores are looking a little brighter now that Refresh Skin Therapy Vitamin C Serum is finally available at select locations! Costco has been selling this fan favorite online for years and now they're putting it on their shelves. Besides the beautiful eye-catching colors and design of the packaging, the 1.0 fl oz bottle inside contains a powerful anti-aging vitamin C serum that can brighten, smooth, and hydrate skin to get you that glow!
Refresh Skin Therapy Vitamin C Serum
Look for Refresh Skin Therapy Vitamin C Serum in the beauty section of your local Costco for the amazing price of $19.99. Item #1204700. If you notice that orange droplet badge on the packaging, it means that this product has been certified by SkinSAFE as "100% SkinSAFE". If you have sensitive skin like I do, then you know how important it is to find quality skincare that is effective and produces results without damaging your skin in the process. Plus, it's easy to add this light, non-oily serum to your morning and evening skincare routine!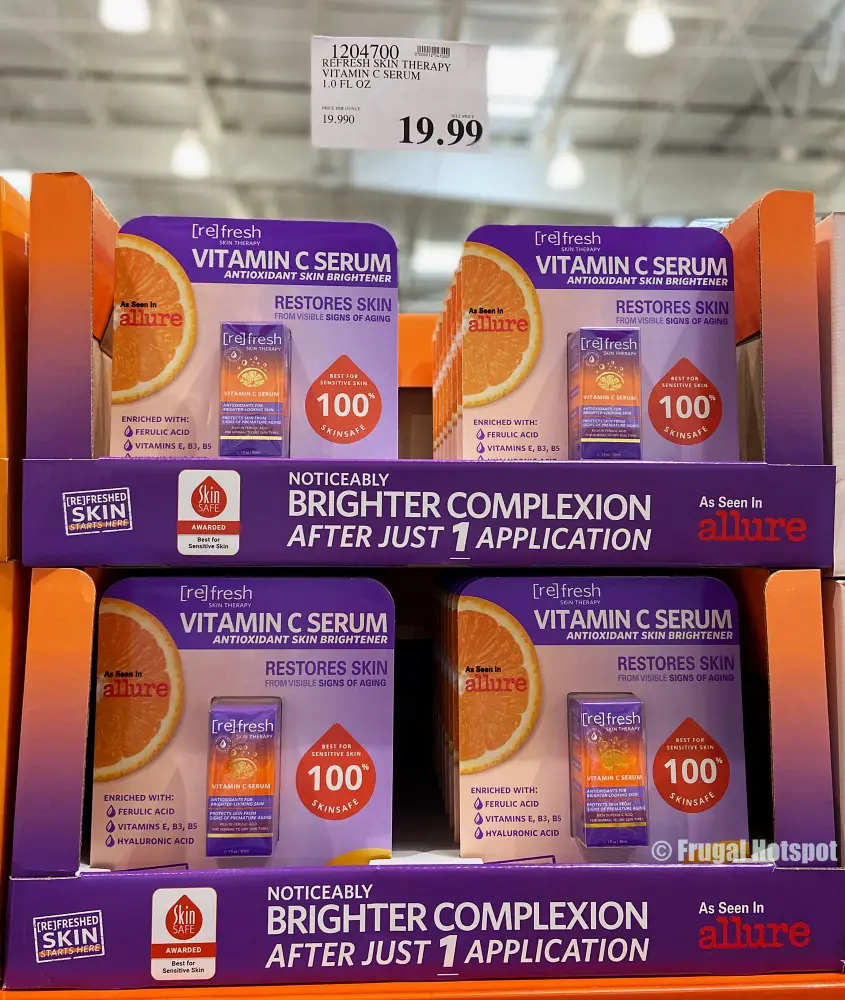 Serum Benefits
This serum is a powerful blend of Hyaluronic Acid, Ferulic Acid, and Vitamins C, B3, B5, and E to protect skin from signs of premature aging, free radical damage to skin cells, oxidative stress, UV damage, and environmental pollution.
Hyaluronic Acid provides intense hydration for even the driest skin, penetrating deeper than a regular moisturizer.
Ferulic Acid is a powerful antioxidant that prevents free radical damage to skin cells.
Clinical strength 20% Vitamin C boosts skin's collagen production to plump and firm skin and reduce the appearance of fine lines and wrinkles.
Vitamin B3 + B5 lightens dark spots, boost skin hydration and collagen production.
Vitamin E protects skin from scarring, age spots, and increases skin's hydration levels.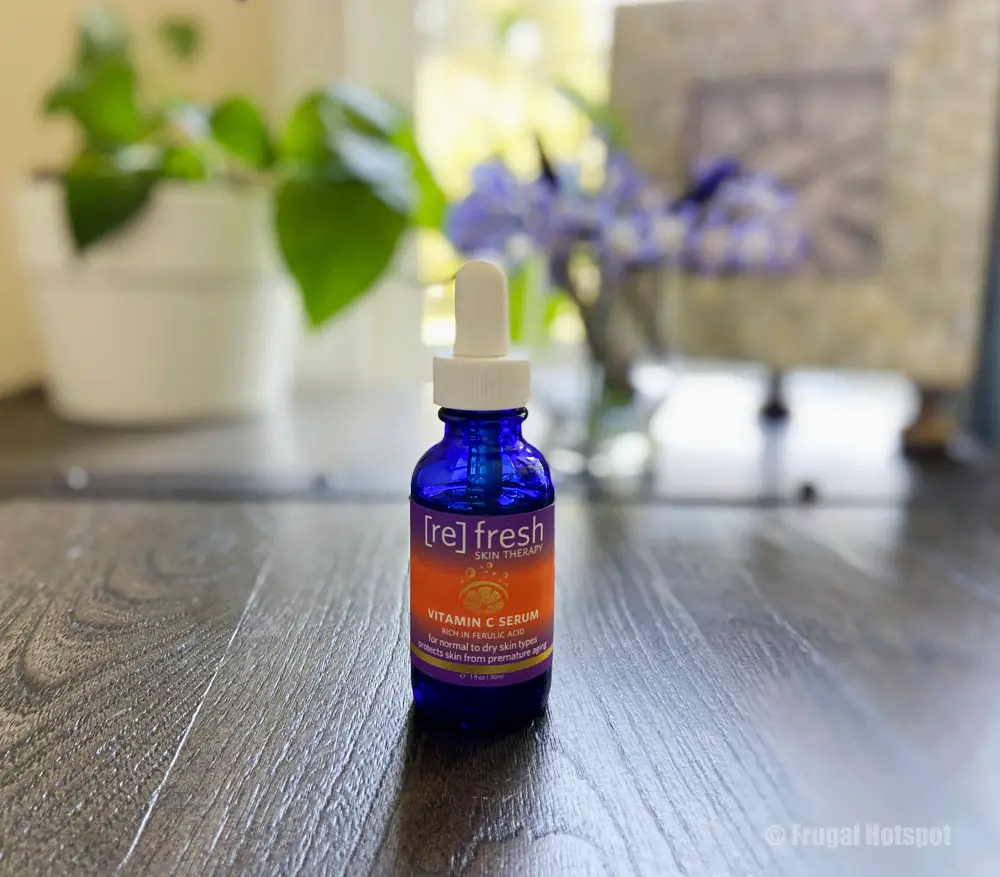 Serum Highlights
Certified by SkinSAFE as "100% SkinSAFE"
Vegan, cruelty free, alcohol free, gluten free.
Free from Parabens, phthalates, added fragrances, colors and GMOs.
Certified Cruelty-Free by Leaping Bunny.
Gold-colored liquid.
Easy to use daily, light, non-oily serum that refreshes your skin.
Convenient dropper.
Average pH of this product is 4.0pH, but it can vary by +/- 0.5 between batches.
Made in an FDA inspected production facility cGMP.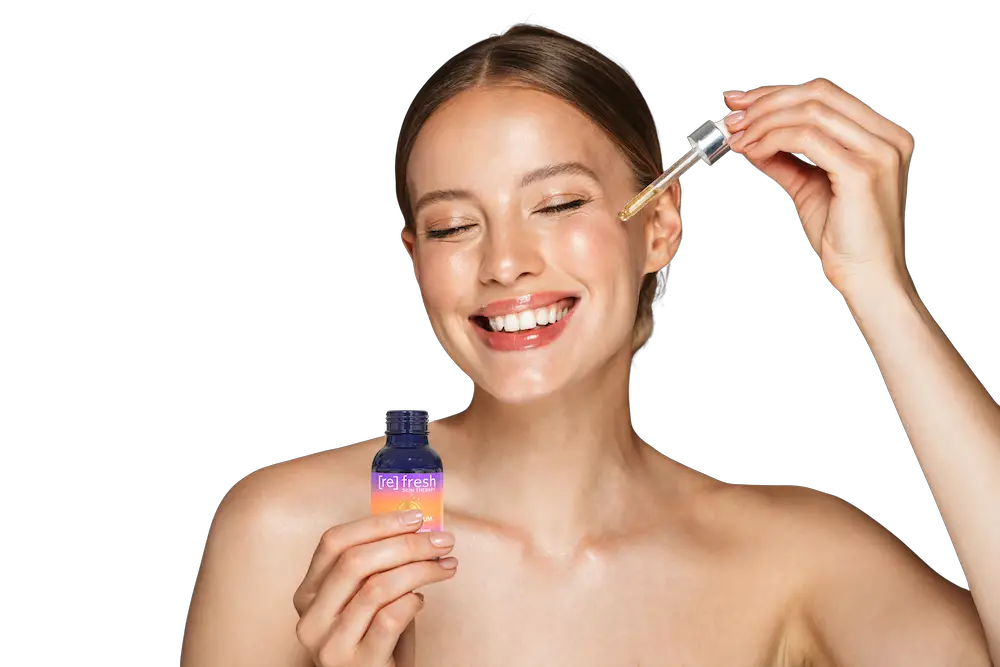 ---
How to Use Vitamin C Serum
AM & PM:

  Apply 3-5 drops to clean face, neck, and chest in the morning and evening and then allow to dry.  
Discontinue use if redness or irritation occurs. Do not ingest. 


Pro Tip:

  Apply an extra drop to the back of each hand and massage until absorbed.


Travel Tip:

  Save the black service cap when you travel to prevent spills! 
---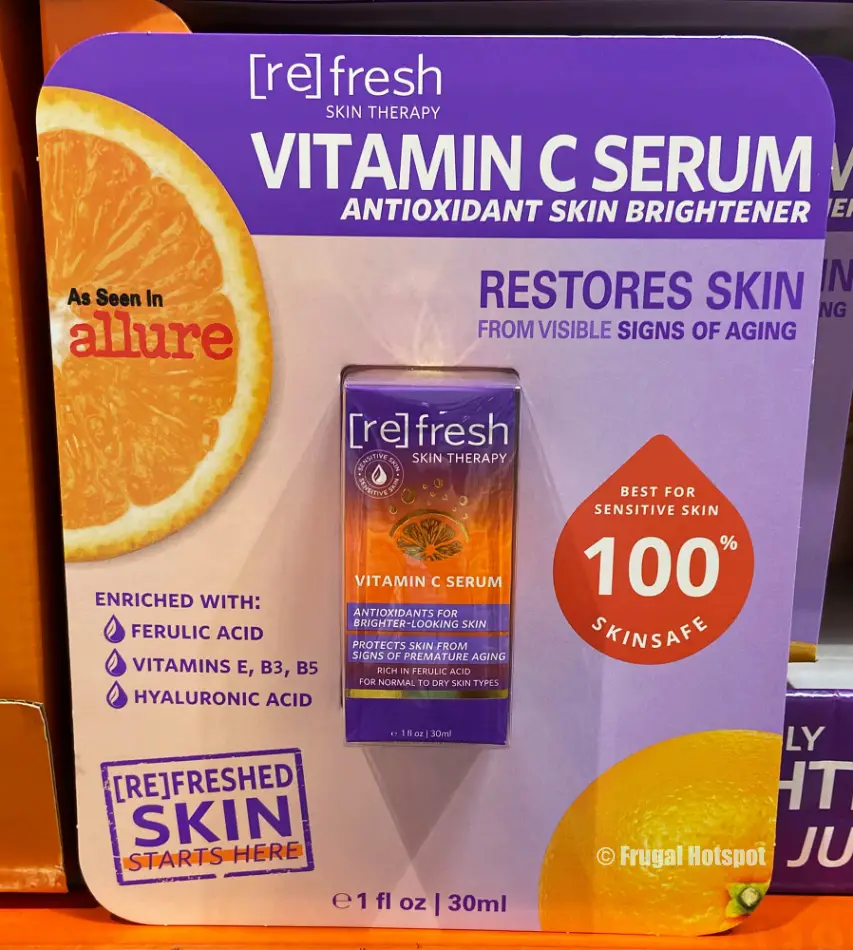 Now Available at Select Costco Stores!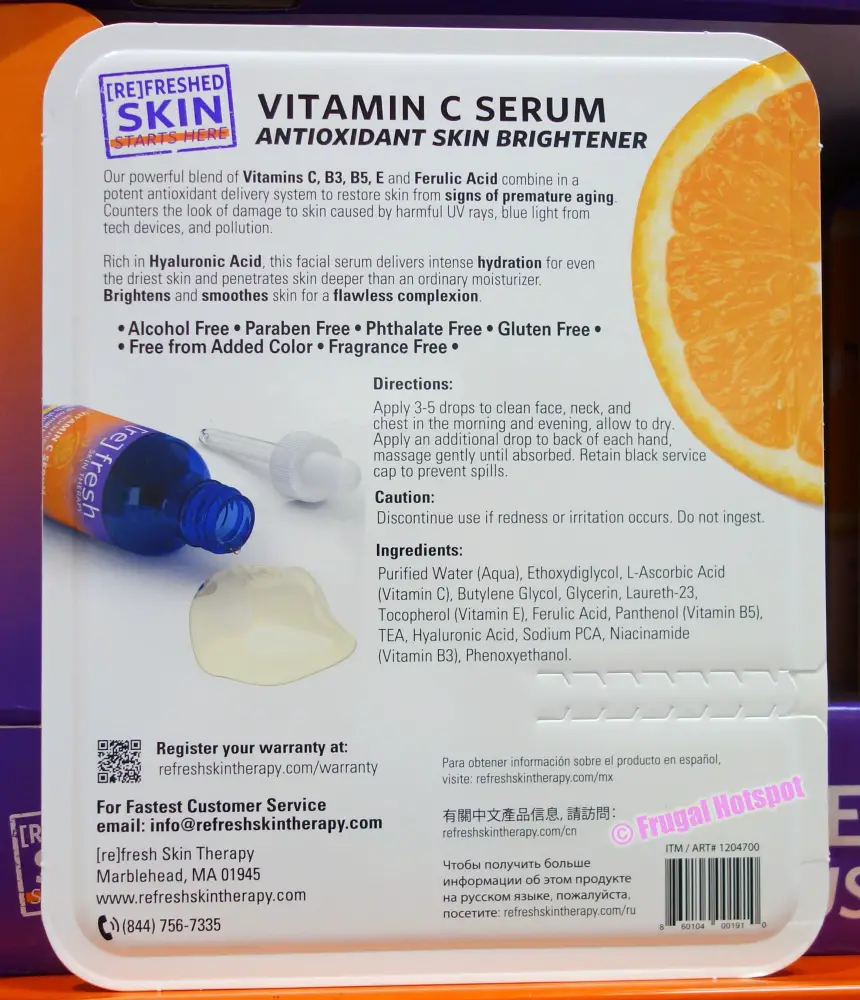 ---
Improved Complexion
Vitamin C combined with Ferulic Acid work to lighten and fade hyper pigmentation caused by acne scars or UV exposure. Vitamin B3 acts as a skin brightener, lightening melasma and preventing further darkening of freckles and dark spots.
Skin That Glows
Using a combination of both Vitamin E and C, rather than using each vitamin alone is more effective and this maximum clinical strength antioxidant, anti-aging formula can drench dry, dull skin, getting you on your way to skin that glows.
Antioxidant
Vitamin C is known to be the most effective antioxidant on the market and using a few drops per day prevents lines and wrinkles from forming and can tackle previous UV exposure. Refresh Skin Therapy Vitamin C Serum has clinical strength 20% Vitamin C!
Intense Hydration
The Hyaluronic acid binds up 1,000 times its own weight in water to skin, while Vitamin B3 and Vitamin B5 rejuvenates and heals dry, damaged skin. This intense hydration penetrates skin deeper than a regular moisturizer, even for the driest skin.
Power Serum
A powerful combination of Ferulic Acid, and Vitamins C, B3, B5, and E protects skin from premature aging, oxidative stress, free radical damage to cells, UV damage and environmental pollution.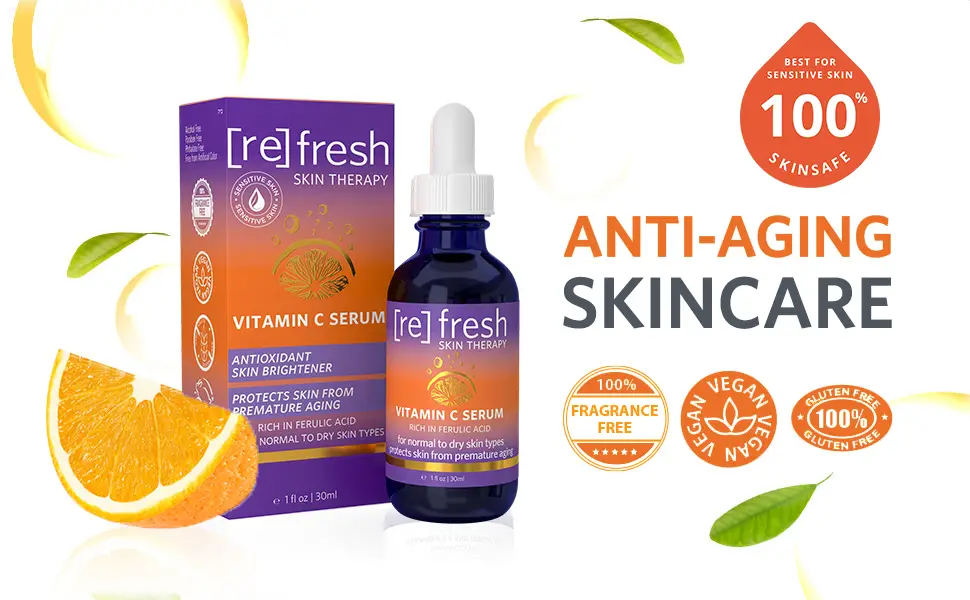 Ingredients
Purified water (Aqua), Ethoxydiglycol, L-Ascorbic Acid (Vitamin C), Butylene Glycol, Glycerin, Laureth-23, Tocopherol (Vitamin E), Ferulic Acid, Panthenol (Vitamin B5), TEA, Hyaluronic Acid, Sodium PCA, Niacinamide (Vitamin B3), Phenoxyethanol.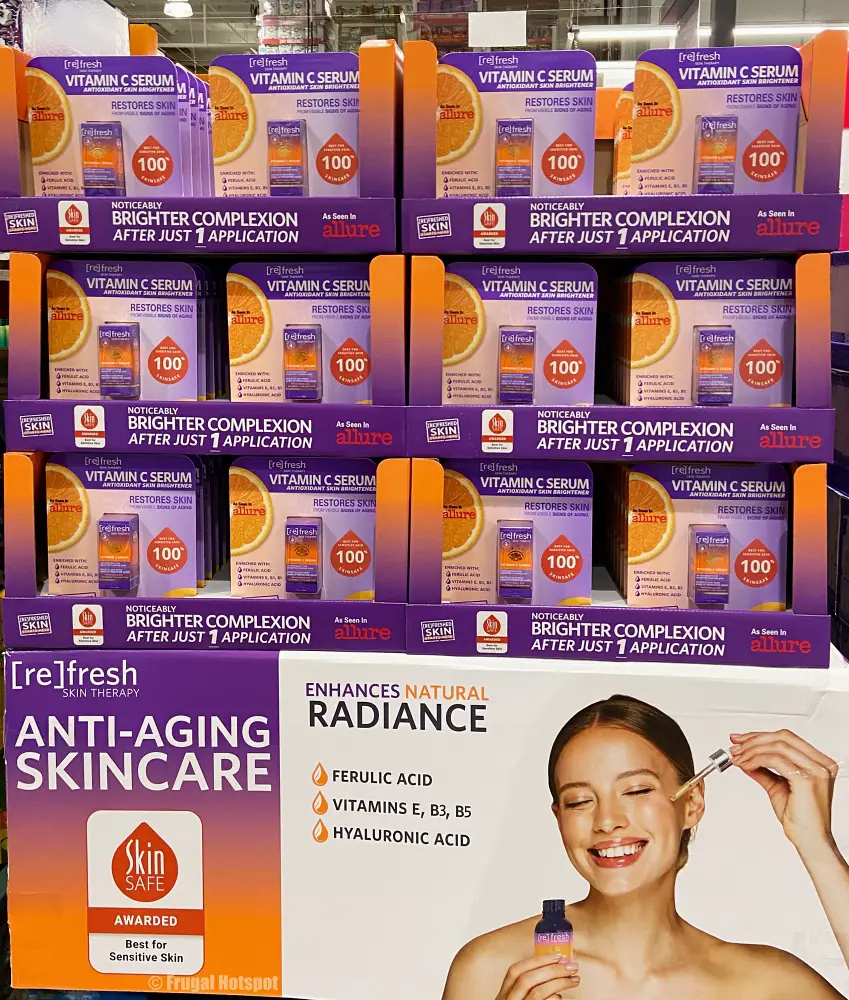 Where to Purchase
You can now buy Refresh Skin Therapy Vitamin C Serum 30 ml at participating Costco stores! Call your local Costco and ask if they have item #1204700 in stock. I spotted this at the Tukwila, WA and Covington, WA Costco locations. If it's not available at your local Costco, you can purchase it at costco.com. Costco backs every product they sell, so you can shop with confidence.
Need more information? Check out refreshskintherapy.com.

Check out my post on another great product from this company: Refresh Skin Therapy Fruit Acid Peel.
This is just a posting of a deal and not an endorsement or recommendation of any product or of Costco. Please do your own research before making any purchase.
Thanks for visiting my blog!