9/22/21.
Whether you're stocking up for kids trick-or-treating in your neighborhood this year or like to treat yourself to some sweets, Costco has really great deals on Halloween candy and snacks. They also have some fun treats like Spooky Twinkies and ScaryCakes from Hostess and Reese's Peanut Butter Pumpkins, which sell out quickly! Last year, some of these items did go on sale in October so hopefully that happens again this year!
As always, all products are while supplies last and may not be available at all locations. Prices may vary.
10 Halloween Candy and Treats from Costco: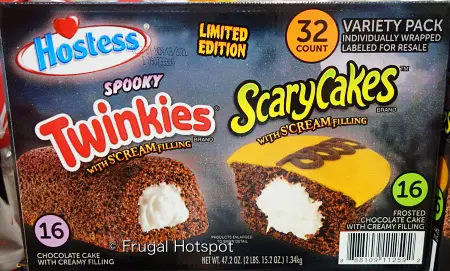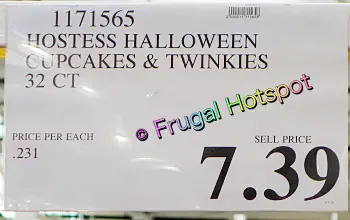 1. Hostess Spooky Twinkies and ScaryCakes 32-ct $7.39
This Hostess Limited Edition 32-count box contains 16 Chocolate Twinkies with creamy filling and 16 Frosted Chocolate Cupcake with creamy filling. The price works out to 23¢ each. Total 47.2 oz.
Costco Item #1171565
.
---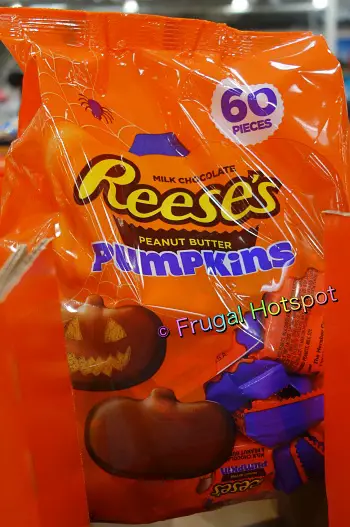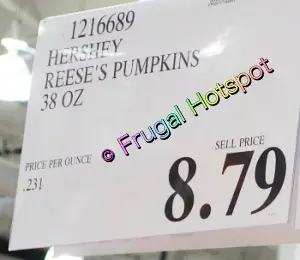 2. Reese's Peanut Butter Pumpkins 60-ct $8.79
This super popular item is usually the first Halloween treat to sell out at my local Costco. Each 38-oz bag contains 60 individually wrapped Reese's peanut butter cups in the shape of a pumpkin and covered with chocolate and works out to be 15¢ each.
Costco Item #1216689
.
---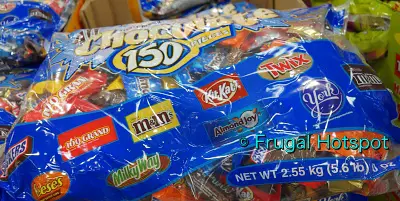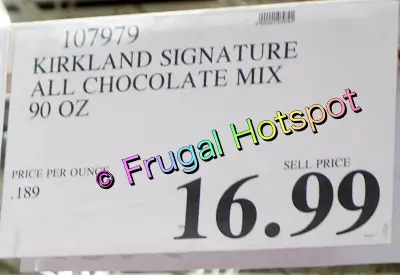 3. Kirkland Signature All Chocolate Mix 150-ct $16.99
This perennial favorite from Costco includes 5.6 pounds of chocolaty goodness: Almond Joy, 100 Grand, Kit Kat, M&M's, Milky Way, Peanut M&M's, Reese's Peanut Butter Cups, Snickers, Twix, and York Peppermint Patty. Each candy works out to be 11¢ each.
Costco Item #107979
.
---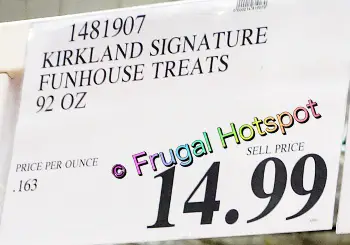 4. Kirkland Signature Funhouse Treats 175-ct $14.99
This Kirkland Signature Funhouse Treats bag contains 175 pieces of non-chocolate candy: Air Heads Mini Bars, Haribo Gold Bears, Jolly Rancher Stix, Skittles, Sour Patch Kids, Sour Punch Twists, Starburst, Swedish Fish, and Twizzlers Twists. Each piece is 9¢ each.
Costco Item #1481907
.
---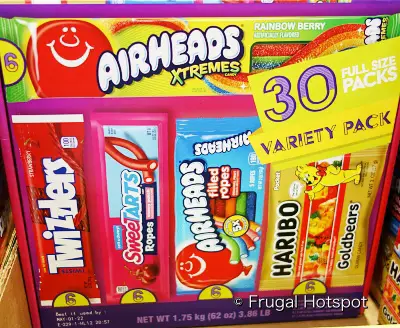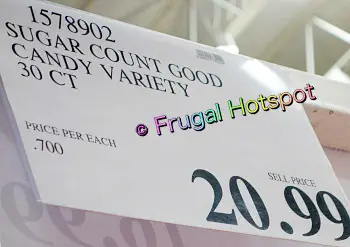 5. Sugar Count Good Candy Variety 30-ct $20.99
Kids love trick-or-treating at houses that give out full size candy bars! This pack includes 6 Airheads Xtremes, 6 Twizzlers, 6 SweeTarts Ropes, 6 Airheads Filled Ropes, 6 Haribo Goldbears. 70¢ each. Total 62-oz.
Costco Item #1578902
.
---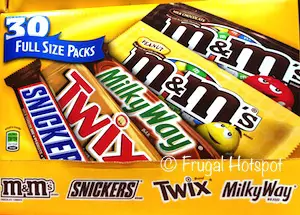 6. M&M Mars Variety Pack 30-ct $19.99 (On sale for $15.99 through 10/31/21)
These full size candy bars are treasured by trick-or-treaters and are also very delicious baked into brownies. This 62-oz pack includes 6 M&M's, 6 Peanut M&M's, 6 Milky Way, 6 Twix, and 6 Snickers.
Costco Item #705876
.
---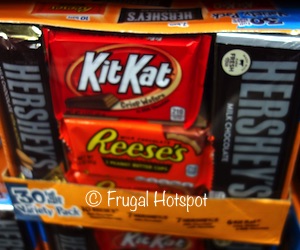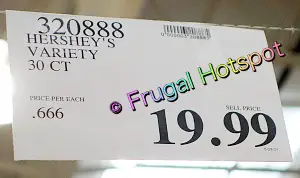 7. Hershey's Variety Pack 30-ct $19.99 (On sale for $14.99 through 10/24/21)
I like saving the Hershey Chocolate Bars and Reese's Peanut Butter Cups for making s'mores. This package contains 30 full size candy bars for 67¢ each: 7 Hershey's Milk Chocolate, 7 Hershey's Milk Chocolate with Almonds, 6 Kit Kat Bars, and 10 Reese's Peanut Butter Cups. Total 45 oz.
Costco Item #320888
.
---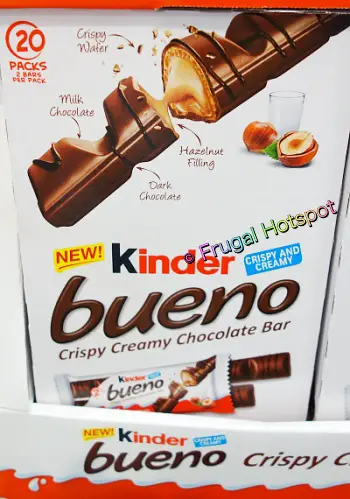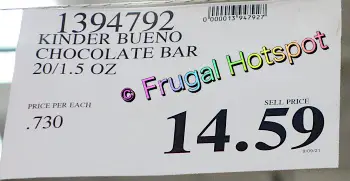 8. Kinder Bueno 20-ct $14.59
This is new! The box contains 20-packs and each pack contains 2 Kinder Bueno Crispy Creamy Chocolate Bars. 73¢ each. Total 30 oz.
Costco Item #1394792
.
---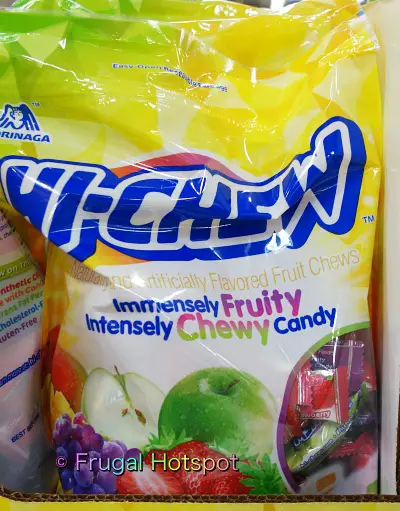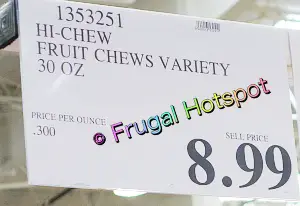 9. Hi-Chew Fruit Chews 30-oz $8.99
This 30-ounce bag contains individually wrapped fruit chews in delicious flavors: Mango, Grape, Green Apple, and Strawberry.
Costco Item #1353251
.
---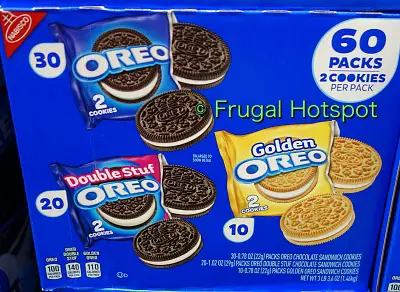 10. Nabisco Oreo Cookies Variety Pack 60-ct $11.49
Perfectly portioned bags of 2 Oreo cookies. This variety box includes 30 Oreo, 20 Double Stuf Oreo, and 10 Golden Oreo. Total 3 lb 3.6 oz. 19¢ per bag.
Costco Item #1483585
Hello! This item is on sale for $7.99 through 9/28/21.
.
These prices are from the Covington, Washington Costco.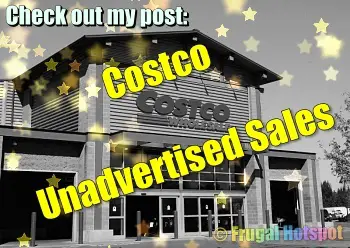 Some options may be available at costco.com for a delivered price. Delivery times may vary.