7/28/22. © Frugal Hotspot
*SALE UPDATE* 6/10/23.
The Vestergaard LifeStraw from Costco is great to have on hand whether you're an outdoor enthusiast or preparing a survival kit. This travel-friendly water filter straw allows you to drink directly from lakes, rivers, and streams, making contaminated water safe to drink and preventing most waterborne diseases by removing bacteria like E.coli and Salmonella, parasites like Giardia and Cryptosporidium and microplastics.
LifeStraw has been tested by the US Environmental Protection Agency (EPA) and NSF International/ANSI to meet drinking water standards for reduction of bacteria and parasites.
Costco's Price and Sale Dates
*SALE UPDATE* 6/10/23.
The Vestergaard LifeStraw Personal Water Purifying Filter 4-Pack is on sale at select Costco locations for $29.99, through July 9, 2023. That is $10 off Costco's new regular price of $39.99. While supplies last. Prices, inventory, and sale dates may vary by location and may change at any time without notice. To see if your local Costco carries this item, give them a call and ask about item #2622191.
Friendly Reminder: Costco will be closed on July 4, 2023 in observance of Independence Day.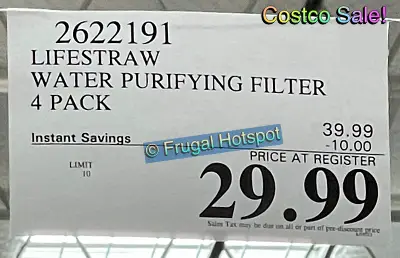 LifeStraw Features
Protects against 99.999% of Parasites (like Giardia, Cryptosporidium)
Protects against 99.999999% of Bacteria (like E.coli, Campylobacter, Vibrio cholera, Pseudomonas aeruginosa, Shigella, Salmonella)
Protects against 99.999% of Microplastics (filter pore size of 0.2 micron)
Reduces turbidity (cloudiness in water)
Meets NSF P231 and US EPA drinking water standards for reduction of bacteria and parasites
Long-lasting membrane microfilter-Up To 1,000 Gallons
Great for backpacking, camping, survival gear, hiking
BPA-free
Unlimited shelf life
Dimensions: 8.7″ x 1.6″ (22 cm x 4 cm)
Ultralight Weight: 1.7 oz (48 grams)
Climate Neutral Certified B Corp
Made in Korea
How to use LifeStraw
Rinse the bottle and top cap with safe water before 1st use.
Prime the filter by opening the bottom cap and letting the straw sit in water for 20 seconds.
Open the top cap and take 5 quick, strong sips to get the water flowing.
Regularly blow air through the LifeStraw after drinking to keep the filter clean and to prevent it from clogging.
Close both caps when not in use.
Disinfect the mouthpiece with wipes.
How do I know when the LifeStraw filter is maxed out?
When the LifeStraw filter has filtered up to 1,000 gallons, it has reached the end of its lifetime and water will no longer flow through. To maintain the longevity of the filter, blow air through it after every use.
PRECAUTIONS
Drinking untreated water may expose you to harmful microorganisms, plus increase your risk of gastrointestinal illness.
Improper use of the LifeStraw increases your risk as well.
Never use LifeStraw to filter sea water or chemically contaminated water.
Never use LifeStraw to filter water from mining tailing ponds or large agricultural operations.
Do NOT drop or place pressure on the LifeStraw, which may damage the filtration mechanism and make cause it to be inefficient and unusable.
LifeStraw must NOT be used by children without supervision of an adult.
Please see user manual for disclaimers
LifeStraw gives back
For every LifeStraw product purchased, a school child in need will receive safe drinking water for one school year! (primarily in western Kenya)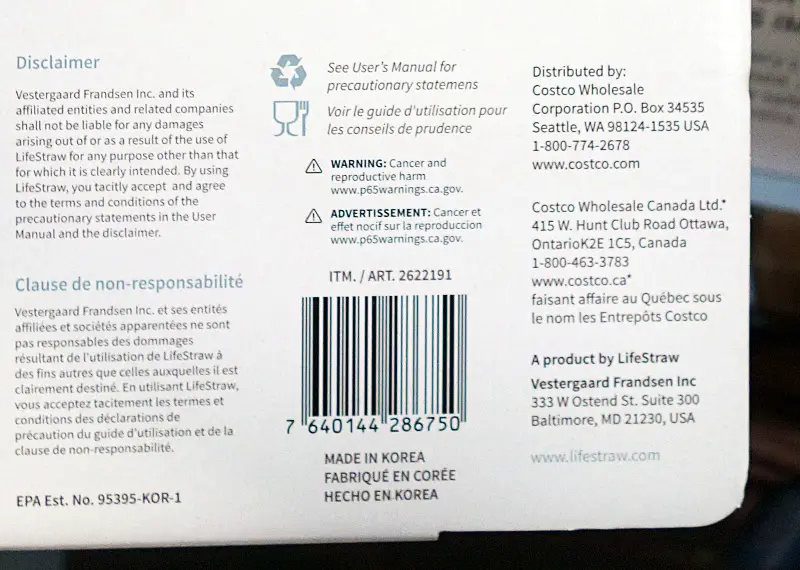 Photos may not be a perfect representation of the product, especially the color and shading.
California P65: Cancer and reproductive harm.
This is not a promoted post. Purchase at your own risk.
Visit frugalhotspot.com to see what's new and to check out deals from Costco. Other options may be available at costco.com for a delivered price, while supplies last.
PREVIOUS SALES: