*UPDATE* 9/25/23.
It's time for another edition of Costco unadvertised sales! I've highlighted some of the unadvertised deals for the month of SEPTEMBER 2023 being offered at select Costco locations, while supplies last. Some deals may be regional. I'll update this post periodically with new sales.
I spotted these products at several Washington Costco locations. Some items may not be available or may not be on sale at all Costco locations. I wish Costco would just make all the sales national but sometimes they don't. Prices may vary by location and may be higher at costco.com due to shipping and handling. When in doubt, call your local Costco before you go.
Click on 'more info' to take you to the individual post that describes the product. Happy shopping!!
---
Join Amazon Prime – Watch Thousands of Movies & TV Shows Anytime – Start Free Trial Now
As an Amazon Associate, I earn from qualifying purchases, at no additional cost to you.
---
SEPTEMBER 2023 COSTCO UNADVERTISED SALES
KITCHEN
American Standard Food Waste Disposer more info $79.99 (exp 10/23/23. $20 saved)
Glad Press'N Seal Plastic Wrap 3/140 sq ft $9.99 (exp 10/1/23. $3.70 saved)
STORAGE
iDesign Storage Bins 4-Pack more info $15.99 (exp 10/8/23. $4 saved)
BEDROOM
pureLUX Gel Memory Foam Simply Cool Pillow Queen Size more info $23.99 (exp 10/1/23. $6 saved)
BATHROOM
Marathon Bath Tissue, 2-Ply, 470 Sheets, 48 Rolls more info $25.49 (exp 10/8/23. $6.50 saved)
PERSONAL CARE
Crest 3D WhiteStrips Combo Pack more info $32.99 (exp 10/1/23. $12 saved)
Sharper Image Percussion Massager more info $59.99 (exp 10/1/23. $20 saved)
Sonicare Optimal Clean Power Toothbrush 2-Pk more info $74.99 (exp 10/1/23. $25 saved)
LIGHTING
Artika 13″ Horizon LED Flush Mount Ceiling Light $26.99 (exp 12/31/23. $3 saved. Item #2323017)
OFFICE SUPPLIES
3M Scotch Heavy Duty Shipping Tape 8ct $19.99 (exp 10/22/23. $6 saved. Item #415022)
ELECTRONICS
iBUYPOWER SlateMRI7N3601 Gaming Desktop $1,199.99 (exp 9/29/23. $200 saved. Item #1010089. 13th Gen Intel Core i7-13700F, GeForce RTX 3060, Windows 11, Model  SlateMRI7N3601)
Lenovo Flex 5 14″ 2-in-1 Touchscreen Laptop $699.99 (exp 9/30/23. $150 saved. Item #1725651. Ryzen 7 Processor, 16GB Memory, 512GB SSD)
MSI Cyborg 15.6″ Gaming Laptop $799.99 (exp. 9/30/23. $200 saved. Item #1009774. i7 Processor, 16GB Memory, 512GB SSD, NVIDIA GeForce RTX 4050 Graphics)
Netgear Orbi AX5400 Mesh WiFi6 System 3-ct $449.99 (exp 10/1/23. $100 saved. Item #1616261)
SECURITY
Ring Stick Up Cam Battery (3rd gen) + Mounts 3-Pack more info $199.99 (exp 10/1/23. $50 saved)
GARDENING / YARD
Scotts Winterguard Fall Weed and Feed 16M $79.99 (exp 10/1/23. $10 saved. Item #1742310)
AUTOMOTIVE
Kirkland Signature Full Synthetic Motor Oil (2) 5-Quart more info $30.99 (exp 10/1/23. $8 saved)
Kirkland Signature Heavy Duty Diesel Motor Oil (3) 1-Gallon more info $31.99 (exp 10/1/23. $8 saved)
MISC.
Cosco All-in-1 Hand Truck more info $99.99 (exp 10/1/23. $30 saved)
---
Some of the above deals may also be found at costco.com for a higher, delivered price, while supplies last.
Price and participation may vary so it may not be available at local Costco or it may not be on sale at your local Costco or it may be a different price at your local Costco (especially in Alaska, Hawaii, and Puerto Rico). Prices and sales dates may change at any time without notice.
Visit frugalhotspot.com to see what's new and to check out deals from Costco.
Friendly Reminder: Costco will be CLOSED on LABOR DAY (Monday, September 4, 2023). 
Expired Deals
Update 9/25/23.
Bellevue Luxury Candles 3/14 oz $15.99 (exp 9/12/23. $4 saved. Item #1675792. Scents: Coastal Driftwood + Linen, Sugared Citrus + Gardenia, Blue Eucalyptus + Cypress)
Bose Solo Soundbar Series II more info $179.99 (exp 9/17/23. $20 saved)
LG 32″ Class UHD FreeSync Monitor $249.99 (exp 9/19/23. $50 saved. Item #1751358)
LG SP7R 7.1 Ch. High Res Audio Soundbar with Rear Speaker Kit $249.99 (exp 9/24/23. $20 saved. Item #3455425)
Mohawk Rigid Vinyl Flooring 17.3 sq ft more info $36.99 (exp 9/11/23. $10 saved)
OXO SoftWorks Toilet Brush Set 2-ct more info $14.99 (exp 9/11/23. $4 saved)
Oral B Brush Heads Refill 10-ct more info $44.99 (exp 9/24/23. $10 saved)
Samsung Galaxy Buds2 Pro with $20 Google Play Gift Code more info $159.99 (exp 9/17/23. $60 saved)
Shark Cordless Pro Stick Vacuum $239.99 (exp 9/17/23. $60 saved. Item #7752553)
Update 9/11/23.
3M Filtrete Furnace Filter 3-ct $23.99 (exp 9/7/23. $6 saved. Size selection may vary)
Apache Mills Entry Mat more info $9.99 (exp 9/10/23. $5 saved)
Apple AirPods (3rd Gen.) more info $139.99 (exp 9/8/23. $30 saved)
Clorox Wipes 5/85 ct $14.99 (exp 9/10/23. $3.80 saved.)
Denon AVR S760H 7.2ch 8K AV High Power Receiver w/Dolby Atmos $379.99 (exp 9/8/23. $70 saved. Item #3360461)
Dino Buddies Chicken Nuggets 5-lbs $11.49 (exp 9/10/23. $3.50 saved)
Heinz Simply Tomato Ketchup 3/44 oz $9.99 (exp 9/10/23. $3.50 saved)
Kraft Mac & Cheese 18/7.25 oz $12.59 (exp 9/10/23. $3.30 saved)
Quaker Life Cereal 2/31 oz $6.69 (exp 9/10/23. $2 saved)
Sharper Image Percussion Massager more info $59.99 (exp 9/10/23. $20 saved)
Sony HT-SC40 2.1ch Soundbar + Wireless Subwoofer more info $159.99 (exp 9/10/23. $40 saved)
Wet Brush + Goody Hello Kitty & Friends Hair Brush Set $13.99 (exp 9/10/23. $6 saved. Item #1715739)

Update 9/5/23.
Activia Probiotic Yogurt variety 24/4 oz $7.99 (exp 9/3/23. $3.50 saved)
Bose QC 45 SE NC Wireless Headphones more info $249.99 (exp 9/3/23. $50 saved)
Bose Soundbar 550 $349.99 (exp 9/3/23. $100 saved. Item #1725853. Model #873984-1100)
Bose SoundLink Flex SE Bluetooth Speaker more info $109.99 (exp 9/3/23. $20 saved)
Delsey Paris 2-Piece Hardside Luggage Set more info $149.99 (exp 9/3/23. $40 saved)
EasyOn 36′ GutterGuard more info $59.99 (exp 9/3/23. $15 saved)
Ensure Original Nutrition Shake 30/8 fl oz $36.99 (exp 9/3/23. $8 saved)
FoodSaver FM2900 more info $74.99 (exp 9/3/23. $25 saved)
Frito-Lay Classic Chip Mix 54/1 oz $14.99 (exp 9/3/23. $5 saved)
Hidden Valley Ranch Dressing 2/40 oz $8.99 (exp 9/3/23. $3.50 saved)
Iris 12.9 Qt Storage Set 4-Pk more info $6.99 (exp 9/3/23. $3 saved)
iRobot Roomba J8+ Robot Vacuum $529.99 (exp 9/3/23. $130 saved. Item #8877550)
Kingsford Utility Lighters 5ct $4.99 (exp 9/3/23. $2 saved. Item #869870)
Kwikset Halo Touchscreen Smart Door Lock more info $179.99 (exp 9/3/23. $40 saved)
Motor City Double Pepperoni Pizza 2 ct $9.99 (exp 9/3/23. $3 saved)
Norelco All-in-One Trimmer more info $39.99 (exp 9/3/23. $10 saved)
Tiger 5.5 Cup Rice Cooker more info $69.99 (exp 9/3/23. $20 saved)
Tyson Panko Breaded Chicken Tenders 5-lbs $13.49 (exp 9/3/23. $5 saved)
Victoria Organic Marinara Sauce 2/40 oz $9.49 (exp 9/3/23. $3.50 saved)
Wallbox Pulsar Plus Level 2 EV Smart Charger 40 AMP $449.99 (exp 9/3/23. $50 saved. Item #1744753)
WeatherTech 4-Piece Trim-to-Fit Car Mat more info $23.99 (exp 9/3/23. $6 saved)
Wells Lamont Hydra Hyde Work Gloves 3-pairs $19.99 (exp 9/3/23. $10 saved. Item #1369580)
Winix True HEPA Air Purifier C545 $99.99 (exp 9/3/23. $30 saved. Item #2449587)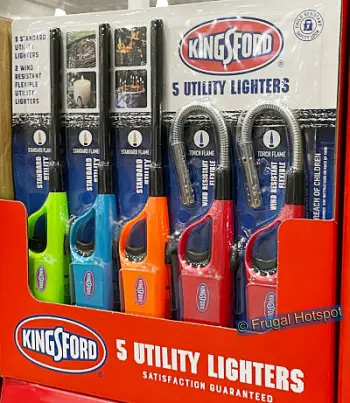 Update 9/2/23.
KitchenAid 6-Qt Bowl Lift Mixer more info $299.99 (exp 9/1/23. $100 saved)